UIL Speech Judges
If you have corrections, questions or comments regarding this list, please notify the UIL Speech department at speech@uiltexas.org or 512-471-5883.
Click on a judge's name for more information. For geographic area codes, refer to this map: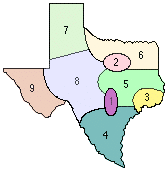 Use the search function below to narrow your search. You may search by name, meet type, expertise, etc.
Name
Meet types
Expertise
Geographic
availability
Contact Information
Acevedo, Manuel
Invitational
District
Regional
CX State
State Meet
Congress Region
Congress State
CX
LD
Extemp
Prose/Poetry
Congress
1 3 4 8
email: mannyace2000@yahoo.com
cell: 830 955-244
office:
Adams , Mitch
Invitational
District
Regional
State Meet
LD
Extemp
1 2 4 5
email: MitchAdams44@gmail.com
cell:
office:
Adcock, Kenneth
Invitational
District
Regional
CX State
State Meet
CX
LD
Extemp
Prose/Poetry
1 2 3 5 6
email: adcockkw@marshallisd.com
cell: 817 2407930
office:
Adeniji, Adeteju
Invitational
District
Regional
Congress Region
LD
Extemp
Prose/Poetry
Congress
3
email: teju.adeniji107@gmail.com
cell: 323 6082190
office:
Aguilar, Emaly
District
Regional
CX State
Prose/Poetry
3 5
email: emalyaguilar@tamu.edu
cell: 832 2573309
office:
Aguilera, Melissa
Invitational
District
Regional
CX State
State Meet
Congress State
Extemp
9
email: magui311@epcc.edu
cell:
office: 915 8312151
Akazie, Kodilichukwu
Invitational
District
CX
LD
3
email: kodakazie96@gmail.com
cell: 832 2147697
office:
Albor, Joan
Invitational
District
Regional
State Meet
Congress Region
Congress State
Extemp
Prose/Poetry
Congress
1 3 4
email: joanalbor00@gmail.com
cell: 325 4235164
office:
Ali, Mahmood
Invitational
District
Regional
CX State
State Meet
Congress Region
Congress State
LD
Extemp
4
email: rakwib@gmail.com
cell: 832 9422154
office:
Allen, Ashley
Invitational
District
Regional
State Meet
LD
Extemp
Prose/Poetry
1 2 3 4 5
email: ashleysallen713@gmail.com
cell: 832 4279202
office:
Allen, Whitney
Invitational
District
Regional
CX State
State Meet
CX
LD
Extemp
Prose/Poetry
1 2 3 5 6
email: whitneyallen2010@gmail.com
cell: 936 2017959
office:
Almaguer, Cynthia
Regional
State Meet
Prose/Poetry
4
email: cynthia.almaguer@psjaisd.us
cell:
office: 956 3542300
Alvarado, Jayloni
Invitational
District
Regional
CX State
State Meet
CX
LD
Extemp
Prose/Poetry
Congress
1 2 3 4 5 8
email: jaylonialvarado@gmail.com
cell:
office:
Anderson, Matthew
Invitational
District
Regional
State Meet
LD
Extemp
Prose/Poetry
1 2 5 6 7 8 9
email: Mattanderson1995@gmail.com
cell: 512 7052582
office:
Anderson, Hannah
Invitational
District
Regional
State Meet
Prose/Poetry
4
email: hannahanderson1901@gmail.com
cell:
office:
Anderson, Susie
Invitational
District
Regional
State Meet
LD
Extemp
Prose/Poetry
1 2 3 4 5 6 7 8 9
email: susieq.anderson5000@gmail.com
cell: 512 6367254
office: 512 4636885
Andrade, Reymundo
District
Regional
CX State
State Meet
Congress Region
Congress State
CX
LD
Extemp
Congress
1 2 3 4
email: reyandrade0574@yahoo.com
cell: 210 3140971
office:
Antonakakis, Alexis
Invitational
District
Regional
CX State
State Meet
CX
LD
1 2 5
email: Antonakakisas@gmail.com
cell:
office:
Aranda, Nicholas
CX State
State Meet
CX
LD
Extemp
Prose/Poetry
Congress
1 2 3 5 6 7 8
email: naranda@regis.edu
cell: 806 3468353
office:
Arbogast, Kathleen
Invitational
District
Regional
Prose/Poetry
1
email: karbogas@trinity.edu
cell: 512 7888705
office:
Argumaniz, Ethan
Invitational
District
Regional
State Meet
CX
LD
1 2 3 5 6 8
email: ethanargumaniz@gmail.com
cell: 469 8153056
office:
Armet, Lindsey
Invitational
District
CX
LD
Extemp
2 6
email: Lindsey.armet@risd.org
cell: 214 2128222
office: 469 5937052
Ashlin, Jeremy
Invitational
District
Regional
State Meet
CX
Extemp
Prose/Poetry
1 2 3 5
email: jbashlin@gmail.com
cell: 903 2806105
office: 281 4214400
Austin, Michael
Invitational
District
Regional
CX State
State Meet
CX
LD
Extemp
Prose/Poetry
1 2 5 6 8
email: maaustin111@yahoo.com
cell: 214 7135439
office:
Azuara, Andrew
Invitational
District
Regional
CX State
Congress Region
Congress State
CX
LD
Prose/Poetry
1 2 3 4 5 6 7 8 9
email: azuaaj17@wfu.edu
cell: 409 9958560
office:
Azzam, Amarige
Invitational
District
Regional
State Meet
Congress Region
LD
Extemp
Prose/Poetry
Congress
1 5 8
email: amarigeazzam94@gmail.com
cell: 915 7770563
office:
Baker, Chloe
Invitational
District
Regional
State Meet
LD
Extemp
1 2
email: Cedjbaker@icloud.com
cell: 214 5347499
office:
Ballinger, Garra
Invitational
District
Regional
State Meet
Extemp
Prose/Poetry
2 6
email: Garra.ballinger@tiogaisd.net
cell: 940 7368798
office: 940 4372366
Barbee, Kara
District
Regional
State Meet
CX
LD
Extemp
Prose/Poetry
8
email: kbarbee@clydeisd.org
cell:
office: 325 8932161
Barfield, Tyler
Invitational
District
Regional
State Meet
Prose/Poetry
1
email: Tyler.barfield.19@gmail.com
cell: 830 4451482
office:
Barker, Jennifer
Invitational
District
Extemp
Prose/Poetry
1 2 5
email: jennbarker1@yahoo.com
cell: 903 5909456
office: 903 8964332
Barrett, Andrew
Invitational
District
Regional
State Meet
Prose/Poetry
1 2 3 4 5 6 7 8 9
email: agbarrett23@gmail.com
cell: 281 4149221
office:
Barry, Jordy
State Meet
LD
Extemp
Prose/Poetry
1 2 3 4 5 6 7 8 9
email: jordybarry@gmail.com
cell: 702 3760638
office:
Bartee, Christopher
Invitational
District
LD
Extemp
Prose/Poetry
Congress
2
email: chris1grh@gmail.com
cell: 281 2164147
office:
Barton, Marcus
District
Regional
CX State
State Meet
Congress Region
Congress State
CX
LD
Extemp
Prose/Poetry
Congress
1 4 5 8
email: marcbarton73@gmail.com
cell:
office:
Bates, Charlie
Invitational
District
Regional
State Meet
Prose/Poetry
1 2 3 4 5 6
email: cbates@ndisd.org
cell: 903 5033665
office: 903 6638001
Beard, Carol
Invitational
District
Regional
CX State
State Meet
LD
Extemp
Prose/Poetry
3
email: cbeard@woccisd.net
cell:
office:
Bearden, Holly
Invitational
District
Regional
CX State
Extemp
Prose/Poetry
2 5 6 8
email: holly@ecrconstruction.com
cell: 325 6650887
office:
Beaver, Wyatt
Invitational
District
Regional
CX State
State Meet
Congress Region
Congress State
CX
LD
Congress
1 4 5 8
email: wyattabeaver@utexas.edu
cell: 512 9241512
office:
Becker, Diane
Invitational
District
Regional
State Meet
Extemp
Prose/Poetry
1 3 5
email: dianejbecker@hotmail.com
cell: 979 9662176
office:
Benavides, Jasmyn
State Meet
CX
LD
Extemp
Prose/Poetry
Congress
1 2 3 5 6
email: jasmynbenavides@yahoo.com
cell: 254 5417838
office:
Benavides, Jordyn
Invitational
District
Regional
CX State
State Meet
CX
LD
Extemp
2 6
email: jtb171230@utdallas.edu
cell: 254 2899233
office:
Bennett, Kaitlyn
Invitational
District
Congress Region
LD
Extemp
Congress
3
email: bennettkae@gmail.com
cell: 281 7709955
office:
Berryhill, Anthony
Invitational
District
Regional
State Meet
Congress Region
Congress State
LD
Extemp
Congress
1 2 3 4 5 6 7 8 9
email: aberryhill1982@gmail.com
cell:
office:
Bhakta, Preeya
Invitational
District
Regional
State Meet
Congress Region
Congress State
LD
Congress
2
email: preeyabhakta94@gmail.com
cell:
office:
Billings, Rayne
Invitational
District
Regional
CX State
State Meet
Extemp
Prose/Poetry
2 3 4 5 8
email: Rayneorshine1@gmail.com
cell: 360 3174246
office:
Birdi, Chanvir
Invitational
Regional
CX State
State Meet
LD
Extemp
Prose/Poetry
2 5 6 8
email: Cbirdi110@gmail.com
cell: 972 8096408
office:
Black, Elizabeth
Invitational
District
Regional
Congress Region
LD
Extemp
Prose/Poetry
1 5
email: betsywblack@gmail.com
cell: 361 4609361
office:
Blain, Joyce
Invitational
District
Regional
State Meet
Extemp
Prose/Poetry
1 3 4 5
email: jblain@bmtisd.com
cell:
office: 409 6176600
Bobadilla, Jason
Invitational
District
Regional
State Meet
Prose/Poetry
1 2 3
email: mr.jasonbobadilla@gmail.com
cell: 972 8349515
office:
Bohannon, Olivia
Invitational
District
Regional
State Meet
Congress Region
Congress State
CX
LD
Extemp
Prose/Poetry
Congress
7 8
email: oliviabbohannon@gmail.com
cell:
office:
Bohannon, Olivia
Invitational
District
Regional
State Meet
Congress Region
Congress State
LD
Extemp
Prose/Poetry
Congress
1 7 8
email: oliviabbohannon@gmail.com
cell:
office:
Borne, Kyle
Invitational
District
Regional
CX State
State Meet
CX
LD
Extemp
2 6
email: kborne@aledoisd.org
cell: 817 4709376
office: 817 4418711
Boston, Deborah
Invitational
District
Regional
State Meet
LD
Extemp
Prose/Poetry
Congress
2 5 6 8
email: Dkaboston@gmail.com
cell: 817 8803136
office:
Box, Dianne
Invitational
District
Regional
Extemp
Prose/Poetry
1 5
email: Dbox@austindiscoveryschool.org
cell: 512 7853228
office:
Boyd, Lee
Invitational
District
Regional
State Meet
LD
Extemp
1
email: lee.l.boyd@gmail.com
cell:
office:
Brannen, Christopher
Invitational
District
Regional
CX State
State Meet
Congress Region
Congress State
CX
LD
Extemp
Prose/Poetry
Congress
1 2 3 5
email: chrisbrannen@gmail.com
cell: 832 6479610
office: 281 5762221
Brannen, Christopher
Invitational
District
Regional
CX State
State Meet
Congress Region
Congress State
CX
LD
Extemp
Prose/Poetry
Congress
1 2 3 4 5 6
email: christopher.brannen@bhisd.net
cell:
office: 281 5762221
Braziel, Evan
State Meet
LD
Extemp
Prose/Poetry
1 5
email: evanbraziel@gmail.com
cell: 580 3175325
office:
Brighton, Mason
Invitational
District
Regional
CX
LD
Extemp
2 6
email: Masonbrighton@yahoo.com
cell: 214 609-340
office:
Brister, Gary
Invitational
District
State Meet
Extemp
Prose/Poetry
1 2 5 7 8
email: gbrister@hico-isd.net
cell: 254 9772966
office: 254 7962182
Brister, Gary
Invitational
District
State Meet
Extemp
Prose/Poetry
1 2 5 8
email: gbrister@hico-isd.net
cell: 254 9772966
office: 254 7962182
Brown, Wes
Invitational
District
Regional
Extemp
Prose/Poetry
7
email: wbrown@vegalonghorn.net
cell: 806 3760528
office: 806 2672123
Brown, Julie
Invitational
District
Regional
Extemp
Prose/Poetry
2 3 4 5 6 8
email: Jb1141963@gmail.com
cell: 936 5534371
office:
Bryant, Michael
Invitational
District
Regional
State Meet
Extemp
Prose/Poetry
1 2 3 4 5 6 7 8 9
email: c4reigns@gmail.com
cell: 580 9173382
office:
Buchanan, Renee
State Meet
Prose/Poetry
1 2 5
email: DFWRenee@gmail.com
cell: 817 3724648
office:
Burk, Ryan
District
Regional
LD
7
email: ryanpaulburk@gmail.com
cell: 806 4385567
office:
Burkhalter, Chad
Invitational
District
Regional
CX
Extemp
Prose/Poetry
6
email: chadburkhalter@gmail.com
cell: 903 7671193
office:
Burn, Abbey
Invitational
District
Regional
CX State
CX
Extemp
1 3 4 5 8
email: abbzburn@gmail.com
cell: 512 8252983
office:
Burrell, Christopher
District
Regional
State Meet
Extemp
Prose/Poetry
7
email: burrell.christopher@clarendonisd.net
cell: 806 8939311
office:
Burrows, Amy
Invitational
District
Regional
CX State
Congress Region
CX
LD
Extemp
Prose/Poetry
Congress
2 5 6
email: scout7860@gmail.com
cell: 903 6699484
office:
Cai, Evelyn
Regional
CX State
State Meet
CX
LD
Extemp
Prose/Poetry
1
email: evcai@utexas.edu
cell: 713 9095405
office:
Caldwell, Alexandra
State Meet
LD
2 3 5 8
email: caldwale133@gmail.com
cell: 254 5951647
office:
Caldwell, Abby
Invitational
District
Regional
CX
LD
Extemp
Prose/Poetry
Congress
1 2
email: Abby.caldwell702@gmail.com
cell: 903 5694943
office:
Cannedy, Zetta
Invitational
District
Regional
Congress Region
CX
Extemp
Prose/Poetry
Congress
2 6
email: zettanoelle01@gmail.com
cell: 940 7046770
office:
Cantrell, Olivia
Invitational
District
State Meet
Extemp
Prose/Poetry
1 3 5
email: cantrell.olivia@gmail.com
cell:
office:
Cantrell, Olivia
Invitational
District
Regional
Extemp
Prose/Poetry
1 3 5
email: cantrell.olivia@gmail.com
cell:
office:
Cantu, Imelda M
Invitational
State Meet
Prose/Poetry
4
email: imcantu1@brookscountyisd.net
cell: 361 4740910
office: 361 3258090
Carnes, Ronald
Invitational
District
Regional
LD
Extemp
2 5
email: rcloneoaj@gmail.com
cell:
office:
carr, shalem
Invitational
District
Regional
Prose/Poetry
3 6
email: scarr@hisd.com
cell:
office:
Carroll, Kendall
Invitational
District
Regional
CX
LD
Extemp
1
email: Kgc61@txstate.edu
cell: 817 6590016
office: 817 6590016
Carroll, Charles
Invitational
District
Regional
Extemp
1 2 5 6 8
email: ctcarroll@weatherfordisd.com
cell: 817 9019575
office: 817 5962858
Castleman, Charlie
Invitational
District
Regional
CX State
State Meet
CX
LD
Extemp
1 3 4
email: charlie@esdandassociates.com
cell: 908 5815887
office: 210 3488008
Cato, Camryn
Invitational
District
Regional
State Meet
LD
Extemp
Prose/Poetry
1 2 5 6 7 8
email: Camryncato@aol.com
cell: 940 8679360
office:
Cavitt, Jaci
Invitational
District
Regional
CX State
State Meet
Congress Region
Congress State
CX
LD
Extemp
2
email: jacicavitt19@gmail.com
cell:
office:
Chapa, Velissa
District
Regional
State Meet
LD
Extemp
1
email: velissarchapa@gmail.com
cell:
office:
Chavez, Justin
Invitational
District
Regional
State Meet
LD
Extemp
1 4
email: Chavezjustin00@gmail.com
cell: 956 4783264
office:
Chen, Sean
CX State
CX
1
email: sean.chen@utexas.edu
cell: 972 3351461
office:
Christensen , Deanne
Invitational
District
Regional
CX State
State Meet
Congress Region
Congress State
CX
LD
Extemp
Prose/Poetry
Congress
1 2 3 5
email: dchristensen58@gmail.com
cell: 832 2573275
office:
Cloyd, Michaela
Invitational
District
Regional
Extemp
Prose/Poetry
2 6
email: cloydmichaela@gmail.com
cell: 254 6245257
office:
Cole, Tyler
Invitational
District
Regional
CX State
State Meet
Congress Region
Congress State
CX
LD
Extemp
Prose/Poetry
Congress
1 3 4 5 6 8
email: t.cole1996@gmail.com
cell: 903 7149840
office:
Coleman, Sydney
Invitational
District
Regional
State Meet
Extemp
1 2 3 5
email: sydmcoleman@gmail.com
cell: 806 8914585
office:
Collins, Amy
Invitational
Prose/Poetry
3
email: amy.collins@silsbeeisd.org
cell: 409 6519089
office: 409 9807800
Cordell, Georgian
Invitational
District
Regional
CX State
State Meet
CX
LD
Prose/Poetry
1 3 4 8 9
email: gigi1967.gc@gmail.com
cell: 512 3182
office:
Cornes, Alanna
Invitational
District
Regional
State Meet
Congress Region
Congress State
CX
Extemp
Prose/Poetry
Congress
3 5
email: amrcornes@gmail.com
cell: 409 5949408
office:
Cornett, Travis
Invitational
District
Regional
State Meet
Extemp
Prose/Poetry
4
email: traviscornett16@gmail.com
cell: 361 9451651
office:
Costanzi, Amanda
Invitational
District
Regional
CX
LD
1
email: ascostanzi35@gmail.com
cell: 210 2737986
office:
Costello, Isabelle
Invitational
District
Regional
State Meet
Extemp
Prose/Poetry
1 5
email: icostello@utexas.edu
cell: 830 4462842
office:
Council, Nathaniel
Invitational
District
Regional
CX State
State Meet
Congress Region
Congress State
CX
LD
Extemp
Prose/Poetry
Congress
7 8
email: nathanielcouncil@herefordisd.net
cell:
office: 806 3637620
Courmier, Sharon
Invitational
District
LD
Extemp
Prose/Poetry
3 4 5
email: scourmier@lcmcisd.org
cell: 409 3659587
office:
Craighead, Burke
Invitational
District
Regional
CX State
State Meet
CX
LD
Extemp
5
email: michael_craighead1@baylor.edu
cell:
office:
Cree, Alexis
Invitational
District
Regional
LD
Extemp
2
email: lexiehcree@gmail.com
cell: 816 5853354
office:
Crier, Jamal
Invitational
District
Regional
State Meet
Congress Region
Congress State
LD
Extemp
Prose/Poetry
Congress
1 2 5
email: jamalcrier@gmail.com
cell:
office:
Crowson, Vincent
Invitational
District
Regional
State Meet
Congress Region
Congress State
LD
Extemp
Congress
2 3 5
email: spiesva@gmail.com
cell:
office:
Cruces, Juan
Invitational
District
Regional
State Meet
Prose/Poetry
1 2 3 4 5 8
email: jccruces151@me.com
cell: 830 3770631
office:
Cruz, Cindy
District
Regional
CX
LD
Extemp
2
email: cindycruzrod@gmail.com
cell:
office:
Cruz, Miguel
Invitational
District
Regional
State Meet
LD
Extemp
1 4 5 8
email: miguel.a.cruz05@gmail.com
cell: 512 8176063
office: 512 5177188
CUELLAR, DANIELLA
Invitational
District
Regional
CX State
State Meet
CX
LD
Extemp
1 4 5 8
email: ccuellar39@gmail.com
cell:
office:
Cupo, Benny
CX State
CX
1
email: bennycupoxc@gmail.com
cell: 361 6495517
office:
Cupo, Hazel
CX State
State Meet
CX
LD
Extemp
1 3 4
email: hazelcupo@gmail.com
cell: 361 6495517
office:
Curran Meyer, Wendy
Invitational
District
LD
6
email: curranmeyerw@lisd.net
cell:
office:
Dallas, Deidra
Invitational
District
Regional
CX State
State Meet
CX
LD
Extemp
Prose/Poetry
1 2 5 8
email: deidra@reviewmypaper.com
cell: 972 7542652
office:
Dass, Govinda
Invitational
District
Regional
CX State
State Meet
CX
LD
Extemp
Prose/Poetry
Congress
1 2 3 5
email: gavindass@gmail.com
cell: 903 5049738
office:
Davalos, Ashley
Invitational
District
Regional
State Meet
LD
Extemp
Prose/Poetry
1 3 4 5
email: ashdavalos@hotmail.com
cell:
office:
Davidson, Senae
District
Regional
CX State
State Meet
CX
LD
Extemp
Prose/Poetry
3 4
email: sdavidson@vctx.org
cell: 361 2128702
office:
Davidson, Camberly
District
Regional
State Meet
Congress Region
Congress State
CX
LD
Extemp
Congress
1 2 3 4 5 6 7 8
email: camidavidson21@gmail.com
cell:
office:
Davila, Anevay
Invitational
District
CX State
State Meet
Congress State
CX
LD
Extemp
Prose/Poetry
Congress
1
email: anevaydavila@txstate.edu
cell: 915 8010113
office:
Davis, Helen
Invitational
District
Regional
CX State
State Meet
CX
LD
Extemp
Prose/Poetry
1 7
email: rambomom66@gmail.com
cell: 806 2681654
office:
Davis, Mina
Invitational
District
Regional
State Meet
Congress Region
LD
Extemp
Prose/Poetry
Congress
1 2 3 5 8
email: mina.davis2010@gmail.com
cell: 402 7070030
office:
Davis , Nicholas
Invitational
District
LD
Extemp
2 5
email: nt_davis@outlook.com
cell: 254 2056105
office:
De Belen, Michelle
Invitational
District
State Meet
Prose/Poetry
1 2 3 5
email: michelle.debelen@gmail.com
cell: 832 3825956
office:
De La O, Dino
CX State
CX
LD
1
email: delaodino21@gmail.com
cell:
office:
DeBord, Logan
Invitational
District
Regional
CX State
State Meet
CX
LD
Extemp
Prose/Poetry
1 2 3 4 5 6 7 8 9
email: logan.debord@utexas.edu
cell: 361 7883745
office:
Decker, Alexander
State Meet
LD
1
email: alexander.decker@basised.com
cell:
office:
DeLeon, Mercedes
Invitational
District
Regional
Prose/Poetry
Congress
1
email: thaliadeleon16@gmail.com
cell: 361 9474606
office:
Deliganis, Tom
District
Regional
CX State
CX
LD
Extemp
Prose/Poetry
3 4
email: tdeliganis@gmail.com
cell: 281 6154143
office:
Demetrion, Tom
Invitational
District
Regional
CX State
State Meet
Congress Region
Congress State
CX
LD
Extemp
Congress
1 2
email: tdemetrion@cisdtx.net
cell: 940 5956369
office: 940 6650540
Denny, Mellessa
District
Regional
Congress Region
CX
LD
Extemp
Prose/Poetry
Congress
6 7 8
email: mellessa.denny@amaisd.org
cell: 806 2360190
office: 806 3262049
Dickens, Micheal
Invitational
District
Regional
CX State
State Meet
Congress Region
Congress State
CX
LD
Extemp
Prose/Poetry
Congress
1 2 3 4 5 6 7 8 9
email: madteacher89@gmail.com
cell: 903 5745164
office:
Dickson, Christopher
Invitational
District
Regional
CX State
State Meet
Congress Region
Congress State
CX
LD
Extemp
Prose/Poetry
Congress
2 3 5 6
email: cdickson@hisd.com
cell: 512 7579736
office: 903 6685990
Dillard, Vicki
Regional
State Meet
CX
LD
Extemp
Prose/Poetry
Congress
1 2 5 6 7 8
email: Vdillard53@gmail.com
cell: 940 7813884
office:
Dobbs, Haylee
Invitational
District
Regional
State Meet
Congress Region
Extemp
Prose/Poetry
Congress
1 3 4
email: hayleedobbs@gmail.com
cell: 361 4366472
office:
Dominy, Brandon
Invitational
District
Regional
CX State
State Meet
CX
Extemp
Prose/Poetry
1 2 3 4 5 6 8
email: brandondominy33@gmail.com
cell: 512 4668091
office:
Dougherty , Taylor
CX State
CX
1
email: Taylordougherty80@gmail.com
cell:
office: 469 3969664
Dungan, Heather
Invitational
District
Regional
State Meet
Extemp
Prose/Poetry
2 6
email: Deservicesinc@yahoo.com
cell:
office:
Echegoyen, Astrid
Invitational
District
Regional
State Meet
Extemp
Prose/Poetry
1 2 5
email: Astrid.eche01@gmail.com
cell: 972 3527649
office:
Egan, Donald
Invitational
District
Regional
CX State
State Meet
Congress Region
Congress State
Extemp
Prose/Poetry
1 2 3
email: donaldegan@utexas.edu
cell:
office:
Egly, Bernadette
Invitational
District
Regional
State Meet
Extemp
Prose/Poetry
1 4
email: beglyson@aol.com
cell: 956 3711362
office:
Elliott, Cheyenne
Invitational
District
Regional
State Meet
LD
Extemp
Prose/Poetry
1 2 5
email: cheyenne_elliott@baylor.edu
cell:
office:
Elliott, Cheyenne
Invitational
District
Regional
State Meet
Congress Region
Congress State
LD
Extemp
Prose/Poetry
Congress
1 2 3 5 8
email: cheyenne_elliott@baylor.edu
cell:
office:
Ellis, Tanisha
Invitational
District
Regional
CX State
State Meet
CX
LD
Extemp
Prose/Poetry
1
email: tanisha.ellis87@gmail.com
cell: 210 8314668
office:
Evans, Halie
Invitational
District
Regional
State Meet
Extemp
Prose/Poetry
1 2
email: haliesue.evans@gmail.com
cell: 214 4306316
office:
Evans, Zane
Invitational
District
Regional
CX State
State Meet
CX
LD
Extemp
Prose/Poetry
Congress
1
email: bigzane97@gmail.com
cell:
office:
Evans, Halie
Invitational
District
Regional
CX State
State Meet
Extemp
Prose/Poetry
2 6
email: haliesue.evans@gmail.com
cell: 214 4306316
office: 817 5189120
Fairchild, Sophia
Invitational
District
Regional
CX State
State Meet
CX
Extemp
1
email: sophiaef2001@gmail.com
cell: 913 4064780
office:
Farrell, Aimee
Invitational
District
Regional
State Meet
Extemp
Prose/Poetry
1 4 5 8
email: aimee.n.farrell@gmail.com
cell:
office:
Favors, Andre
Invitational
District
Regional
Extemp
Prose/Poetry
5
email: afavors@lamar.edu
cell: 409 2010622
office: 409 8807135
Fawver, AJ
Invitational
District
Regional
State Meet
Extemp
7 8
email: aj.fawver@yahoo.com
cell: 325 6503264
office: 806 3783020
Fellers, Natalie
Invitational
District
Regional
State Meet
LD
Extemp
Prose/Poetry
3 4 5
email: nbf004@shsu.edu
cell: 361 3080041
office:
Ferose, Cathleen
Invitational
CX State
CX
LD
Extemp
Prose/Poetry
1
email: cferose@gmail.com
cell: 512 8262710
office:
Fields, Jamille
Invitational
District
Regional
CX State
Congress Region
Congress State
CX
1 2 3 4 5 6 7 8 9
email: jafields@dallasisd.org
cell: 214 9495763
office:
Fitzwater, Jordan
Invitational
District
CX State
CX
Extemp
2 5 6
email: jordan.fitzwater@communityisd.org
cell: 214 8370601
office: 972 8436500
Fleming , Patricia
Invitational
District
Regional
CX State
State Meet
Congress Region
Congress State
CX
LD
Extemp
Prose/Poetry
Congress
1 2 3
email: mmpfleming1@msn.com
cell:
office:
Fleming , Desiree'
Invitational
District
CX
LD
Extemp
2 5 6
email: flemdesi1203@go.kilgore.edu
cell: 903 8086901
office:
Fletcher, Anna
Invitational
District
Regional
CX
Prose/Poetry
Congress
8
email: afbc4622@gmail.com
cell: 806 2154493
office:
Floyd, Matthew
Invitational
District
Regional
State Meet
Prose/Poetry
1 2 3 4 5 6 7 8
email: mfloyd2@harding.edu
cell: 469 5859522
office:
Fonseca, Danielle
Invitational
District
CX State
CX
7 8
email: Danielle.Fonseca@ttu.edu
cell:
office:
Forbes, Diane
Invitational
District
Regional
LD
Extemp
Prose/Poetry
1 2
email: Dforbes50@yahoo.com
cell: 214 7329628
office:
Ford, Karis
Invitational
District
Regional
CX State
State Meet
CX
LD
Extemp
Prose/Poetry
1 2 3 5 6
email: karisford25324@gmail.com
cell: 214 6957168
office:
Ford, Caleb
CX State
State Meet
CX
Extemp
1
email: calebford@utexas.edu
cell: 940 5365655
office:
Fowler, Johnny
Invitational
District
Regional
State Meet
Extemp
Prose/Poetry
2 5 6 7 8
email: johnnywfowler@outlook.com
cell: 806 5778042
office:
French, Samantha
CX State
State Meet
Congress State
CX
Extemp
Congress
1
email: samantha.french@ttu.edu
cell: 432 2158554
office:
Funkhouser, Katie
1 2 3
email: Pottervoldermort@gmail.com
cell: 832 7525553
office:
Galindo, Alex
Invitational
District
Regional
CX State
State Meet
CX
LD
Extemp
Prose/Poetry
1 2 3
email: alexgalindo@utexas.edu
cell: 325 2611243
office:
Galloway, Tanya
Invitational
District
Regional
CX State
State Meet
CX
LD
Extemp
Prose/Poetry
1 2 3 6 7 8
email: tanya.r.galloway@gmail.com
cell: 469 6823393
office:
Gambill, Daniel
Invitational
District
Regional
State Meet
Extemp
Prose/Poetry
2 5 6
email: dgambill@crandall-isd.net
cell: 903 3167850
office: 972 4276150
Garcia, Ivan
Invitational
District
Regional
CX State
State Meet
CX
LD
Extemp
1 4 5 8
email: ivang1129@yahoo.com
cell:
office:
Garcia, Isaac
Invitational
District
Regional
State Meet
LD
Extemp
1
email: IKG6@txstate.edu
cell: 830 2008471
office: 830 2008471
Garcia, Ivan
Invitational
District
Regional
CX State
State Meet
Congress Region
Congress State
CX
LD
Extemp
Congress
1
email: ivang1129@yahoo.com
cell:
office:
Gardner, Dyess
Invitational
District
Regional
Prose/Poetry
1 2 3 5 6
email: dyess.gardner@gmail.com
cell: 903 6384099
office:
Garrett, Stephen
Invitational
District
Regional
CX State
State Meet
CX
LD
Extemp
1 3 4
email: sgarrett05@gmail.com
cell:
office:
Garrett, Emily
District
Regional
Prose/Poetry
2
email: emilyeg12@gmail.com
cell:
office:
Garza, Alejandra
Invitational
District
Regional
CX State
State Meet
CX
LD
Extemp
Prose/Poetry
1 4 5 8
email: alejandracgarza@yahoo.com
cell: 361 8133951
office:
Garza, Diana
District
Regional
State Meet
Extemp
Prose/Poetry
1 4
email: diana.garza@webbcisd.com
cell:
office: 361 7475415
Gaskamp, Jonathan
Invitational
District
Regional
CX State
State Meet
CX
Extemp
1 2 3
email: jgaskamp27@gmail.com
cell:
office:
Gattis, Tucker
Invitational
District
Regional
CX State
State Meet
Congress Region
Congress State
CX
Extemp
Congress
1 2 5 6 7 8
email: gattis.tucker@gmail.com
cell: 903 3287992
office:
George, Terrell
Invitational
District
Regional
State Meet
1 2 5 6 7
email: tgeorge9@twu.edu
cell: 214 5634833
office:
Gervais, Harley
Invitational
District
Regional
CX State
State Meet
Congress Region
Congress State
Extemp
Prose/Poetry
1 2 5
email: Hgervais@gmail.com
cell: 254 7156174
office:
Gibbs, Logan
Invitational
District
Regional
CX State
State Meet
CX
LD
Extemp
Prose/Poetry
2
email: zekegibbs3@gmail.com
cell: 979 6651187
office: 979 6651187
Gillenwaters, G
Invitational
District
Regional
CX State
State Meet
CX
LD
Extemp
Prose/Poetry
1 4 5
email: GGillenwaters@GMail.com
cell:
office:
Gilliland, Justin
Invitational
District
Regional
CX State
CX
5
email: rabidrubrdukky@gmail.com
cell: 254 3390335
office:
Goemmer, Collin
District
Regional
CX State
State Meet
CX
LD
Extemp
Congress
1
email: crgoemmer@gmail.com
cell: 832 9408227
office:
Gonzalez, Ramiro
District
Regional
CX State
State Meet
Congress Region
Congress State
CX
1 2 4
email: Rgonzalez0006@gmail.com
cell: 956 7780667
office:
Gonzalez, Ramiro (RJ)
Invitational
District
Regional
CX State
State Meet
CX
LD
Extemp
Congress
1 4 8
email: rgonzalez0006@gmail.com
cell: 956 6845076
office:
Gordon, Kelly
Invitational
Congress State
Prose/Poetry
Congress
7 8
email: kgordon@bccoyotes.net
cell: 254 5414220
office: 806 7564313
Graham, Leslie
Invitational
District
State Meet
Prose/Poetry
2 6 7 8
email: lgraham@archercityisd.net
cell: 940 6360487
office: 940 574713
Grandstaff, Rachel
Invitational
District
Regional
CX State
CX
Extemp
Congress
1 2 5
email: rachel.grandstaff@redoakisd.org
cell: 715 2121207
office: 972 6173535
Graves, Victoria
Invitational
District
Regional
CX State
State Meet
Congress Region
Congress State
CX
LD
Extemp
Prose/Poetry
Congress
3
email: vgraves@tcisd.org
cell: 713 2407435
office: 409 9160932
Green, Thomas
Invitational
District
Regional
State Meet
Extemp
Prose/Poetry
1 4
email: thomas.green@psjaisd.us
cell: 956 6559632
office: 956 3542388
Greene, Emily
District
Regional
CX State
State Meet
CX
LD
Extemp
Prose/Poetry
8 9
email: emarcum3661@gmail.com
cell:
office:
Gregory, Tessa
Invitational
CX State
State Meet
Congress State
CX
Extemp
Prose/Poetry
Congress
1 4
email: trgregory97@gmail.com
cell: 210 8483049
office:
Grijalva, Joshua
Invitational
District
Regional
CX State
State Meet
Congress Region
Congress State
CX
LD
Extemp
Prose/Poetry
Congress
1 2 5
email: joshgrijalva@icould.com
cell: 254 3150665
office:
Grisham, Reagan
Invitational
District
Regional
CX
Extemp
Prose/Poetry
2 8
email: rgrisham14@gmail.com
cell: 817 521-199
office:
Grissom, Heather
Invitational
District
Regional
CX State
State Meet
Congress Region
Congress State
CX
Extemp
Prose/Poetry
Congress
4 5
email: heather@grissoms.us
cell: 979 5339116
office:
Grrancis, Devin
Invitational
District
Regional
CX
LD
Extemp
1
email: devin@devinwfrancis.com
cell:
office:
Guia Garza , Josue
Invitational
District
Regional
LD
Extemp
Prose/Poetry
1 2 4 8
email: josueguiagarza@ymail.com
cell: 254 3965903
office:
Gurka, Logan
Regional
State Meet
LD
Prose/Poetry
1
email: lwg18@txstate.edu
cell: 97o 5837383
office:
Haley, Erin
Invitational
District
Regional
State Meet
Extemp
Prose/Poetry
1 2 5 9
email: erinlee122@gmail.com
cell:
office:
Hall, Bailey
Invitational
District
Regional
State Meet
CX
Extemp
Prose/Poetry
1 4 5 8
email: bailey.hall@utexas.edu
cell: 903 9463575
office:
Hall, Kyle
Invitational
District
Regional
State Meet
LD
Extemp
Prose/Poetry
2 6
email: khall2013@yahoo.com
cell: 214 9279971
office:
Hamby, Seth
CX State
CX
Extemp
1
email: zsh41999@yahoo.com
cell:
office:
Harlan, Michael
District
Regional
State Meet
Prose/Poetry
1 2 4 5 8
email: michaelharlan1301@gmail,com
cell: 512 9224868
office:
Harris, Andrea
Invitational
District
LD
Extemp
Congress
2
email: Aharris41@patriots.uttyler.edu
cell: 903 9204206
office:
Hassler, Lisa
State Meet
Extemp
Prose/Poetry
1 5
email: hass917@yahoo.com
cell: 214 6976919
office: 214 9692402
Hawkins, Summer
Regional
State Meet
Prose/Poetry
1
email: summernicoleh@gmail.com
cell: 512 2899069
office:
Haynes, Katelynn
Invitational
District
Congress Region
Extemp
Congress
3
email: katelynn4170@gmail.com
cell: 409 9888242
office:
Haynes, Marley
Invitational
District
CX
Extemp
Prose/Poetry
7
email: marleyvhaynes@gmail.com
cell: 806 570-051
office:
Haynes, Timothy
Invitational
District
Regional
CX State
State Meet
Congress Region
Congress State
CX
LD
Extemp
Prose/Poetry
Congress
7 8 9
email: thaynes@rankinisd.net
cell: 325 2014398
office: 432 6932451
Heirigs, Colter
District
Regional
CX State
State Meet
CX
LD
Extemp
Prose/Poetry
2
email: colter.heirigs@gmail.com
cell:
office:
Hemphill, Brooklyn
Invitational
District
Regional
CX State
CX
Prose/Poetry
1 5
email: brooklynleigh5683@gmail.com
cell: 512 7483864
office:
Henderson, Jonathan
Invitational
District
Regional
State Meet
Congress Region
Congress State
CX
LD
Extemp
Prose/Poetry
Congress
2 6
email: Jonathan.henderson@unt.edu
cell: 940 2479326
office: 972 4100126
Henderson, Dominic
Invitational
District
Regional
CX State
State Meet
CX
LD
Extemp
Prose/Poetry
1 5 8
email: dohohenderson@gmail.com
cell: 347 8867916
office: 512 6468241
Hendricks, Dillon
Invitational
District
Regional
CX State
State Meet
Congress Region
Congress State
CX
Extemp
Congress
3 5 6
email: Bobbyehendricks@yahoo.com
cell:
office:
Hendricks, Dillon
Invitational
District
Regional
CX State
State Meet
Congress Region
Congress State
CX
Extemp
Congress
2 3 5 6
email: bobbyehendricks@yahoo.com
cell:
office:
Hensley, Colton
Invitational
District
Regional
CX State
State Meet
CX
LD
Extemp
Prose/Poetry
2 6
email: coldhensley@gmail.com
cell: 903 2778695
office:
Hernandez , Aaron
Invitational
District
Regional
CX State
State Meet
Congress Region
Congress State
CX
LD
Extemp
Prose/Poetry
Congress
9
email: AaronRyanHernandez@yahoo.com
cell: 979 3737663
office:
Herrera, Jonathon
Regional
CX State
State Meet
CX
LD
Congress
1
email: jonathon.herrera0422@gmail.com
cell: 956 2073216
office:
Hewitt, Allyn
Invitational
District
Regional
State Meet
Prose/Poetry
1 3 5
email: allynhewitt@tamu.edu
cell: 979 2153000
office:
Hickman, Kelli
Invitational
District
Regional
State Meet
Prose/Poetry
1 3 4 5
email: kthumann@weimarisd.org
cell: 979 7332937
office: 979 7259504
Hilton, Laura
Invitational
District
Regional
Extemp
Prose/Poetry
2 5
email: lahilton@dallasisd.org
cell:
office:
Hoang, Keith
Invitational
District
Regional
State Meet
CX
LD
Extemp
3
email: khoang@utexas.edu
cell:
office:
Hobson, Kasen
Invitational
District
CX State
CX
1 2 3 5
email: kasenhobson@gmail.com
cell: 936 2227256
office: 936 6873986
Hobson, Kasen
CX State
CX
1 3 5
email: kasendebate@gmail.com
cell:
office:
Hoelscher, Krisha
Invitational
District
Regional
State Meet
LD
Extemp
1 7 8
email: khoelscher@southplainscollege.edu
cell: 806 7782956
office: 806 7162244
Hoff, Roxanne
Invitational
District
Regional
CX
LD
Extemp
Prose/Poetry
1 3 4
email: rhoff@londonisd.net
cell: 281 8445745
office: 361 8550092
Holland, Justin
Invitational
District
Regional
CX State
State Meet
Congress Region
Congress State
CX
LD
Extemp
Prose/Poetry
Congress
2 8
email: thisjustinholland2019@gmail.com
cell:
office:
Holland, Kandace
Invitational
District
Regional
CX State
State Meet
CX
LD
Extemp
Prose/Poetry
1 2 5 8
email: kandacedonald.kd@gmail.com
cell: 325 3304600
office: 254 8938240
Holloway, Julie
Invitational
District
State Meet
Congress Region
CX
Extemp
Prose/Poetry
Congress
1 2 5
email: jholloway@gvisd.org
cell: 817 3608591
office: 817 8663320
Honea, William
Invitational
District
Regional
CX State
State Meet
Congress Region
Congress State
CX
LD
Extemp
Prose/Poetry
Congress
7 8
email: William.honea@ttu.edu
cell: 903 6766848
office:
Horne, Christopher
Invitational
District
Regional
State Meet
LD
Extemp
1 2 3 5
email: christopher.790121@yahoo.com
cell: 254 4496199
office:
Horton, Jammie
Invitational
District
Regional
Extemp
Prose/Poetry
1 2 5
email: jhorton@springtownisd.net
cell: 817 3044034
office: 817 2203888
Howard, LaMonde
Invitational
District
Regional
CX
LD
Extemp
Prose/Poetry
1 2 3
email: lhowar1@springisd.org
cell: 281 5708435
office: 281 8917228
Howe, Kathleen
Invitational
District
Regional
CX State
State Meet
Extemp
Prose/Poetry
1 2 8
email: katie10314@yahoo.com
cell: 325 2325003
office:
Howington, R Tessa
Invitational
District
Regional
CX State
State Meet
CX
LD
Extemp
Prose/Poetry
1 5 6
email: rthowington@aol.com
cell:
office:
Hu, Jason
Invitational
District
Regional
CX State
State Meet
Congress Region
Congress State
CX
LD
Extemp
Prose/Poetry
Congress
1 2
email: jason.hu@fwisd.org
cell: 412 3529302
office:
Huffman, Tanner
Invitational
District
Regional
State Meet
Extemp
Prose/Poetry
1 2 5 6 8
email: thuffman4541@gmail.com
cell: 817 9132109
office:
Huggins, Haleigh
Invitational
District
Regional
CX State
State Meet
Congress Region
Congress State
Prose/Poetry
3 5
email: haleighhuggins@tamu.edu
cell:
office:
Hunt, Katie
Invitational
District
Regional
CX State
State Meet
CX
LD
Extemp
Prose/Poetry
1 2 3 5
email: Katie77092@hotmail.com
cell: 713 3200302
office:
Huseman, Cindy
Invitational
District
Regional
State Meet
Extemp
Prose/Poetry
1
email: cindy.huseman@nazarethisd.net
cell: 806 2402816
office: 806 9452231
Islamoglu, Sumeyye
Invitational
District
Regional
LD
Extemp
Prose/Poetry
1 3
email: sumeyyeislamoglu@gmail.com
cell: 832 3406899
office:
Jackson, Matthew
Invitational
District
Regional
CX State
State Meet
Prose/Poetry
1 8
email: m.bison49@gmail.com
cell: 405 3170546
office:
Jackson, Emily
Invitational
District
Regional
CX State
State Meet
CX
LD
1 2 6
email: emilujackson@gmail.com
cell:
office:
James, Brooklynn
District
Regional
Extemp
Prose/Poetry
6 7 8
email: brooklynn.james@canyonisd.net
cell: 432 9555913
office:
Johnson, Ariauna
Invitational
District
Regional
Prose/Poetry
2 6
email: Ari2244@hotmail.com
cell: 214 8095630
office:
Johnson, Eric
Invitational
District
Regional
CX State
State Meet
CX
LD
Congress
2 6
email: ecjohnsoniv@gmail.com
cell:
office:
Johnson, Amanda
Invitational
District
Regional
CX State
State Meet
Congress Region
Congress State
CX
LD
Extemp
Prose/Poetry
Congress
2 6 7 8
email: amanda.johnson@grahamisd.com
cell: 512 9978246
office: 940 5492002
Johnson, Pamela
CX State
CX
LD
Extemp
Prose/Poetry
1 2 3 5
email: Pammienicole333@gmail.com
cell: 630 8158492
office:
Johnston, Ian
Invitational
District
CX
4
email: ijohnst2@nd.edu
cell: 361 4429560
office:
Johsnon, Jesus
State Meet
CX
1
email: jesusjohnson_15@yahoo.com
cell: 956 4899012
office: 956 4899012
Karmany IV, William
District
Regional
State Meet
Prose/Poetry
1 2 5 6 8
email: william.karmany@gmail.com
cell: 817 8815793
office:
Keeton, Pamela
Invitational
Prose/Poetry
4
email: pamela.keeton@stbobcats.net
cell:
office:
Keith, Jeff
Invitational
District
Regional
CX State
State Meet
CX
LD
Extemp
1 3 5
email: jkeith26@yahoo.com
cell:
office: 281 2062729
Kelley, Logan
Invitational
District
Regional
CX State
State Meet
CX
LD
Extemp
Prose/Poetry
1 2 5
email: logan.kelley@ttu.edu
cell: 806 4747057
office:
Khaleque, Yash
CX State
CX
1 2 5 6 8
email: yashkhaleque2@gmail.com
cell: 469 4384855
office:
King, Katie
Invitational
District
Regional
CX
Extemp
Prose/Poetry
2 5 6
email: ktking6894@gmail.com
cell: 940 9997684
office:
King, Nia
District
Regional
CX State
State Meet
CX
LD
Extemp
Congress
1 2 3 8
email: nia.deanna.king@gmail.com
cell:
office:
King, Emily
Regional
State Meet
Extemp
Prose/Poetry
1 8
email: eking@sundownisd.com
cell: 806 8919552
office: 806 2293021
Kirkpatrick, Kaylyn
Invitational
District
Regional
State Meet
LD
Extemp
Prose/Poetry
1 5
email: kirkpatrickkay@aggienetwork.com
cell:
office:
Klassen, John
District
Regional
LD
Extemp
Prose/Poetry
7 8
email: jklassen@trinitymidland.org
cell: 432 6387332
office:
Kleinburg, Emily
State Meet
LD
Extemp
1
email: emily.kleinburg@simplebills.com
cell:
office:
Knopp, Heather
Invitational
District
Regional
State Meet
Prose/Poetry
3 4 5 6
email: heather.knopp@colmesneilisd.net
cell: 228 2296927
office: 228 2296927
Koehl, Mason
Invitational
District
LD
Extemp
Prose/Poetry
1 4
email: koehl.mason@gmail.com
cell: 361 5410522
office:
Kotamraju, Kartikeya
Invitational
District
Regional
CX State
LD
Extemp
Prose/Poetry
1 2 3 4 5 6 7 8 9
email: kotamrajukartikeya@gmail.com
cell: 512 9447692
office:
Kramarz, Ashley
Invitational
District
State Meet
Extemp
4
email: ashleykramarz@gmail.com
cell: 361 4251485
office:
Krecklow, Robert
Invitational
District
Regional
CX State
State Meet
Extemp
Prose/Poetry
2 5 6 8
email: rwlkrecklow@gmail.com
cell: 646 3308197
office:
Lackey, Ciara
Invitational
District
Regional
State Meet
LD
1 2 5 6 7 8
email: ciara.m.lackey-1@ou.edu
cell: 210 8445567
office:
Laffler, Cookie
Invitational
District
Regional
CX
LD
Extemp
Prose/Poetry
9
email: LafflerL@tisd.us
cell: 915 7405869
office: 915 7653500
Lambus, Shalissa
Invitational
District
Regional
State Meet
Congress Region
LD
Extemp
Congress
3
email: shalissa.lambus3@gmail.com
cell: 832 8828871
office:
Lancaster, Derick
Invitational
District
Regional
CX State
State Meet
CX
LD
Extemp
1 3
email: dl@dericklancaster.com
cell:
office:
Landry, John
Invitational
District
Regional
CX State
State Meet
CX
LD
Extemp
Prose/Poetry
2 5 7 8
email: jlandry@andrews.esc18.net
cell: 806 2156874
office:
Lange, Dominique
Invitational
District
Regional
State Meet
Prose/Poetry
2
email: dlange31524@gmail.com
cell: 214 5162693
office:
Lappin, Jessica
Invitational
District
Regional
CX
LD
2 6
email: jklappin@aggienetwork.com
cell: 903 3489969
office:
Laramore, Jeffery
Invitational
District
Regional
CX State
State Meet
Congress Region
Congress State
CX
LD
Extemp
1 2 5 6 8
email: jefferytlaramore@gmail.com
cell: 254 3961599
office:
Larsen, Christel
Invitational
District
Regional
Prose/Poetry
1
email: rickandchristel@gmail.com
cell: 512 9680603
office:
Lauterbach, Riley
State Meet
LD
Extemp
Prose/Poetry
1
email: rileydwing@gmail.com
cell: 210 6202150
office:
Lawrence, Cindy
State Meet
Prose/Poetry
1
email: lawrencec@shinerisd.net
cell: 361 7724078
office: 361 5943131
Le, Feifei
Congress Region
Congress State
Congress
1 2 3 6
email: feifei_le@utexas.edu
cell: 737 2031649
office:
Leal, Matthew
Invitational
District
Regional
CX State
State Meet
CX
2 5 6 7 8
email: matthewdavisleal@gmail.com
cell:
office:
Leatherwood, Rob
Invitational
CX State
State Meet
CX
LD
5
email: r.leatherwood2010@gmail.com
cell: 806 2522544
office:
Lee, Edward
Invitational
District
Regional
State Meet
CX
LD
1 2 3 5
email: doctalee@gmail.com
cell: 903 2592854
office:
Lee, Grant
CX State
CX
LD
Extemp
Prose/Poetry
1 2 3
email: grantlee@letu.edu
cell:
office:
lee, dylan
Invitational
District
Regional
CX State
State Meet
Congress Region
Congress State
CX
LD
Extemp
Prose/Poetry
2 6
email: dylanlee8282@gmail.com
cell:
office:
Lefferd, Gordon
Invitational
District
Regional
State Meet
LD
1 2 4 5 8
email: gordon.lefferd@gmail.com
cell:
office:
Lege, Bethanie
Invitational
District
Regional
CX State
State Meet
Congress Region
Congress State
CX
Prose/Poetry
Congress
3
email: Belege@my.lonestar.edu
cell: 832 9238654
office:
Leos, Emma
Regional
State Meet
Extemp
Prose/Poetry
Congress
1
email: emmaleos031421@gmail.com
cell:
office:
Lesell, Kerry
Invitational
District
Regional
State Meet
Congress Region
Congress State
LD
Prose/Poetry
2
email: klesell@harmonytx.org
cell:
office: 817 3865505
Ley, Nolan
CX State
CX
1
email: nolan.ley@gmail.com
cell: 512 5864136
office:
Lipps, Kiersten
Invitational
District
Regional
CX
LD
Extemp
Prose/Poetry
7 8
email: kiersten.lipps@gmail.com
cell: 806 2413703
office:
Lischka, Emma
Invitational
District
Regional
CX State
State Meet
Congress Region
Congress State
CX
Extemp
Congress
1 2 5
email: emma_lischka1@baylor.edu
cell:
office:
LONGORIA, RICARDO
Invitational
District
Regional
State Meet
Prose/Poetry
1 4
email: RICARDOLONGORIA8@GMAIL.COM
cell: 361 4740333
office:
Loper, Lauren
Invitational
District
Regional
CX State
State Meet
CX
Extemp
1
email: laurenelizabethloper@gmail.com
cell:
office:
Lopez, Dago
Invitational
District
Regional
State Meet
Extemp
Prose/Poetry
1 4
email: Dagolopez86@gmail.com
cell: 956 3695672
office:
Lovejoy, Stacy
Invitational
CX
LD
Extemp
Prose/Poetry
6 7
email: slovejoy@sfisd.net
cell: 806 4770226
office: 806 3970159
Lugo, Jacob
Invitational
District
Regional
CX State
State Meet
CX
LD
1 2 3 4 5
email: jacoblugo101@gmail.com
cell: 210 8673504
office:
Ly, Tracy
Invitational
District
Regional
State Meet
Extemp
Prose/Poetry
3
email: tracytracy516@yahoo.com
cell: 346 2168888
office:
Machart, Julie
Invitational
District
Regional
CX State
State Meet
CX
LD
2 5 6 8
email: jmachart@uplifteducation.org
cell: 817 6006871
office: 817 6006871
Maddox , Cecilia
Invitational
District
Regional
CX State
State Meet
Congress Region
Congress State
CX
LD
Extemp
Prose/Poetry
Congress
1 3 4 5 8
email: maddoxrc5@gmail.com
cell: 210 3838079
office:
Maenius, Jacki
State Meet
Prose/Poetry
1
email: jacki.maenius@masonisd.net
cell: 806 4017323
office: 325 3471122
Mann, Kyra
Invitational
District
Regional
State Meet
Extemp
Prose/Poetry
1 5
email: kyra.mann@saladoisd.org
cell: 940 5671414
office: 254 9475429
Mann, Cameron
Invitational
District
Regional
Congress Region
Congress State
CX
LD
Extemp
Prose/Poetry
Congress
1 2 4 5 8
email: Mannleecameron@gmail.com
cell:
office:
Marichalar, Brenda
Invitational
District
Regional
CX State
State Meet
Congress Region
Congress State
CX
LD
Extemp
Congress
1 2 3 4
email: bmarichalar@gmail.com
cell: 355 3318
office:
Marsh, Mollie
Invitational
District
Regional
Extemp
Prose/Poetry
1 2 3 4 5
email: mmarsh77836@yahoo.com
cell:
office:
Marshall, Sherry
Invitational
District
Regional
State Meet
Extemp
Prose/Poetry
1 3 5
email: sherry_marshall@wisd.net
cell: 361 3309379
office: 361 5434518
Martinez, Ruben
Invitational
District
Regional
CX State
Congress Region
CX
LD
Extemp
Prose/Poetry
Congress
1 3 4 5 8
email: rmartinez6354@gmail.com
cell: 210 3711205
office: 361 4602013
Martinez, Christian
Invitational
District
Regional
CX State
State Meet
Congress Region
Congress State
CX
LD
Extemp
Prose/Poetry
Congress
2 5 6
email: Cmartcan@gmail.com
cell: 214 3158850
office:
Martinsen, Anne
Invitational
District
Regional
CX State
CX
LD
Extemp
Prose/Poetry
2 6 7
email: ann.martinsen@charter.net
cell:
office: 817 6993285
Mathis, Jimmy
Invitational
District
Regional
CX
Extemp
3
email: jmathi1@springisd.org
cell:
office:
May, Brett
CX State
CX
Extemp
Congress
1 4 5 8
email: Brettmay1@icloud.com
cell:
office:
Mayfield, Mollie
Invitational
District
Regional
State Meet
Extemp
1 2 5
email: molliem.2014@gmail.com
cell:
office:
McCasland, Kristen
District
Regional
Prose/Poetry
2 3 5
email: kmccasland@atlisd.net
cell: 903 7332405
office: 903 7964411
McCauley, Ryan
Invitational
District
Regional
CX State
State Meet
Congress Region
Congress State
LD
Extemp
Congress
1 3 5
email: rmccauley01@gmail.com
cell: 405 8880316
office:
McCurry, Deric
Invitational
District
Regional
CX State
State Meet
Congress Region
Congress State
CX
LD
Extemp
Prose/Poetry
Congress
1 2 6 7
email: ericwithad26@gmail.com
cell: 806 7904404
office:
McDonald, Janice
Invitational
District
Regional
CX State
State Meet
CX
LD
Extemp
Prose/Poetry
1 3 4
email: janice.mcdonald@ebisd.org
cell: 979 5339109
office: 979 3357519
McDonnough, Larrisha
Invitational
District
Regional
CX State
State Meet
Congress Region
Congress State
CX
LD
Extemp
Prose/Poetry
Congress
3
email: larrishacmcdonnough@katyisd.org
cell: 832 9033864
office:
McGhee, Judith Ann
Invitational
District
Regional
State Meet
Congress Region
Congress State
Extemp
Prose/Poetry
Congress
1 2 3 4 5 6 7 8 9
email: mcgheej@lisdtx.org
cell: 512 5561030
office:
McGhee, Judith Ann
Invitational
District
Regional
CX State
State Meet
Extemp
Prose/Poetry
1 2 3 4 5 6 7 8 9
email: mcgheej@lisdtx.org
cell: 512 556-103
office: 512 564-231
McKinney, Tabitha
Invitational
District
Regional
CX State
CX
1 2 5 6 7 9
email: Tabitha.76437@gmail.com
cell: 325 5136938
office:
McKneely, Curt
Invitational
District
Regional
State Meet
Prose/Poetry
1 8
email: curt.mckneely@milesisd.net
cell: 325 8128434
office:
McLuckie, Gloria
Invitational
District
Regional
State Meet
Extemp
Prose/Poetry
7 8 9
email: gloria.mcluckie@dcisd.org
cell: 903 2413551
office: 806 5925950
McPhearson, Ian
Regional
State Meet
LD
Extemp
Congress
1
email: ianbmcphearson@gmail.com
cell:
office:
Medrano, Jonathan
Invitational
District
Regional
CX State
CX
2 6
email: jonathanmedrano5210@gmail.com
cell: 469 5343289
office:
Meis, Calder
Regional
State Meet
CX
LD
Extemp
Congress
1 2 3 5
email: caldermeiscx@gmail.com
cell:
office:
Menser, Nathan
Invitational
District
Regional
CX State
State Meet
LD
Extemp
2 5 6
email: layzmozes22@gmail.com
cell: 903 3481339
office:
Merbach, Mackenzie
Invitational
District
Regional
CX State
State Meet
Congress Region
Congress State
CX
LD
Extemp
Congress
1 2 3 5
email: Merbachkennie@gmail.com
cell:
office:
Miller-Wyatt, Lydia
Invitational
District
Regional
CX State
State Meet
Congress Region
Congress State
CX
LD
Extemp
Prose/Poetry
Congress
1 4 5 8
email: lydmill@hotmail.com
cell:
office:
Miller-Wyatt, Lydia
Invitational
District
CX State
State Meet
Congress State
CX
LD
Extemp
Prose/Poetry
Congress
1 4 5 8
email: lydmill@hotmail.com
cell:
office:
Mills, Kim
Invitational
District
Regional
CX State
State Meet
Congress Region
Congress State
CX
LD
Extemp
1 2 5 6
email: ideamill@icloud.com
cell: 210 3179340
office:
Mizell, Eden
Invitational
District
Regional
Extemp
Prose/Poetry
1 4 5
email: edenelizabethmizell@yahoo.com
cell: 469 5021596
office:
Mizell , Maggie
Invitational
District
Regional
State Meet
Prose/Poetry
1 2 5
email: qnmab2@gmail.com
cell: 903 8803780
office:
moir, ethan
Invitational
District
Regional
CX State
State Meet
Congress Region
Congress State
CX
LD
Extemp
Congress
1 3
email: em85976@gmail.com
cell:
office:
Moore, Dr. Kerry
Invitational
District
Regional
CX State
State Meet
CX
LD
Extemp
Prose/Poetry
7 8
email: kmoore@muleshoeisd.net
cell: 806 3152664
office: 806 2727302
Moore, Mason
Invitational
District
Regional
State Meet
Prose/Poetry
1 2 3
email: mhmoore24@gmail.com
cell: 214 3040333
office:
Morales, Jacob
Invitational
District
Regional
LD
1
email: jacobmorales155@utexas.edu
cell: 520 2081498
office:
Moreland, Carson
State Meet
Extemp
Prose/Poetry
1 2 3 4 5 6
email: morelandc17@gmail.com
cell: 903 7999378
office:
Morgan, Nicole
Invitational
District
Extemp
Prose/Poetry
3
email: Nicole.Morgan@misd.org
cell: 713 7051425
office: 936 2763000
Morgan, Nicole
Invitational
Extemp
Prose/Poetry
3
email: nicole.morgan@misd.org
cell: 713 7051425
office:
Morris, Allison
Invitational
District
Regional
State Meet
Congress Region
Congress State
LD
Extemp
Prose/Poetry
Congress
1 2 3 5
email: allygracemorris@gmail.com
cell: 512 6950580
office:
Morrison, Coleman
Invitational
District
Regional
State Meet
Extemp
Prose/Poetry
2 5 6 8
email: coleman.ray08@gmail.com
cell: 817 2190887
office:
Morrow, Cody
State Meet
CX
LD
Extemp
1
email: Codymorrowtx1@gmail.com
cell: 940 3897490
office:
Mosley, Charli
Invitational
CX
3
email: cmosley@bigsandyisd.net
cell: 936 7274637
office: 936 5631007
Moss-Barry, Tanya
State Meet
LD
Extemp
Prose/Poetry
1 2 3 4 5 6 7 8 9
email: courtneyireid@icloud.com
cell: 702 9946505
office:
Motley, Miller
Invitational
District
Regional
Extemp
Prose/Poetry
5
email: miller.motley@trinidadisd.com
cell: 903 5194777
office:
Mott, Jennifer
Invitational
Prose/Poetry
2
email: cheeto04@sbcglobal.net
cell: 806 8318915
office: 806 8921900
Mottu, Megan
Invitational
District
Regional
LD
Extemp
Prose/Poetry
3 5
email: meganmottu@gmail.com
cell: 713 7055829
office:
Muellner, Jonathan
Invitational
District
Regional
CX State
State Meet
Congress Region
Congress State
CX
LD
Extemp
Prose/Poetry
1 3 4 5
email: jmuellner5@gmail.com
cell: 409 7815919
office:
Mulji, Aneesa
Invitational
District
Regional
State Meet
CX
LD
Prose/Poetry
1 2 3
email: aneesa16m@gmail.com
cell: 469 3215316
office:
Mullen, Gabriel
Invitational
District
Regional
State Meet
Extemp
Prose/Poetry
3 5
email: gabriellawrence2001@gmail.com
cell: 903 2457885
office:
Mullenix, Ryan
Invitational
District
Regional
CX State
State Meet
Congress Region
Congress State
CX
LD
Extemp
Prose/Poetry
Congress
9
email: rmullenix@yisd.net
cell: 915 4225501
office: 915 4346166
Munoz, Roberto
Invitational
District
Regional
State Meet
Congress Region
Congress State
Extemp
Congress
1
email: Robertoseth00@gmail.com
cell: 210 8158351
office:
Murray, Faith
Invitational
District
Regional
CX State
State Meet
LD
Extemp
Congress
1 2 3 5 7 8
email: gsdmom2fallonvain@yahoo.com
cell: 903 2688603
office:
Nance, Madeline
Invitational
District
Regional
State Meet
Extemp
Prose/Poetry
1 3 5
email: madelinej.nance@gmail.com
cell: 936 2018031
office:
Nash, Reagan
Invitational
District
Regional
State Meet
Extemp
Prose/Poetry
1 2 3 5 6
email: reaganbnash@gmail.com
cell: 214 2065435
office:
Neidhardt, Tanner
Invitational
District
CX State
State Meet
CX
Extemp
1
email: tanner_n@hotmail.com
cell: 940 7369222
office: 512 2572033
Newman, James
Invitational
District
Regional
CX State
State Meet
CX
LD
Extemp
1 2 3 5 6 7 8
email: jnewman03@gmail.com
cell:
office:
Newton, Karen
Invitational
District
Regional
Congress Region
CX
Congress
3
email: knewton@kirbyvillecisd.org
cell: 409 3511080
office: 409 4237500
Nguyen, Kevin
Invitational
District
Regional
CX State
State Meet
CX
LD
1 3
email: xkevinnguyen1004@gmail.com
cell: 832 7817462
office:
Nicholson, Mark
Invitational
District
Regional
CX State
CX
LD
Extemp
3 7 8
email: mrnjr1987@gmail.com
cell:
office:
Nicholson, Gregory
Invitational
District
Regional
CX State
State Meet
CX
LD
Extemp
Prose/Poetry
1 3 5
email: dnic95@icloud.com
cell: 409 7309337
office:
Nieto, Isabella
Invitational
District
Regional
CX State
State Meet
Congress Region
Congress State
CX
Extemp
Prose/Poetry
Congress
1 8
email: nieto.isabella2002@gmail.com
cell: 432 2359943
office:
Nikoubin, Nika
Invitational
District
Regional
CX State
State Meet
Congress Region
Congress State
CX
LD
Extemp
Congress
1 2 7
email: nikanik@g.ucla.edu
cell:
office:
Noriega, Benjamin
CX State
CX
LD
1
email: benjaminnoriega9@gmail.com
cell: 956 3760178
office:
Novy, Tyler
Invitational
District
Regional
LD
Extemp
1 2 3 5
email: novytyler@gmail.com
cell: 214 2406578
office:
Nunley, Hannah
Invitational
District
Regional
CX State
Congress Region
Congress State
CX
Extemp
Congress
1 2 5 6 7
email: Hannahmn99@gmail.com
cell: 318 5602148
office:
Ocker, Marilyn
Invitational
District
LD
Extemp
Prose/Poetry
1 3 5
email: mocker@springisd.org
cell: 281 7014154
office:
Ogunmefun, Faidat
Invitational
District
Regional
CX State
CX
LD
Extemp
Prose/Poetry
3
email: phayeedat@gmail.com
cell: 346 2475956
office:
Olivarez, Bethany
Invitational
District
Regional
CX State
State Meet
Congress Region
Congress State
CX
LD
Extemp
Congress
1 2 3 4 5
email: beth.o.1198@gmail.com
cell: 956 2703422
office:
Oliver, Sheryl
Invitational
District
Regional
CX
LD
Extemp
7 8
email: Sheryl.oliver@panhandleisd.net
cell: 806 5706642
office: 806 537-385
Osburn, Annabel
Invitational
District
Regional
CX State
State Meet
Congress Region
Congress State
CX
Extemp
Prose/Poetry
Congress
1 3 5
email: Annabelosburn@gmail.com
cell: 316 2534042
office:
Owens, Katherine
Invitational
District
Regional
State Meet
Extemp
Prose/Poetry
1 5
email: keo5000@yahoo.com
cell: 254 5414375
office: 254 2955512
Pacheco, Louie
District
Regional
State Meet
Congress Region
LD
Extemp
Prose/Poetry
Congress
1 2 7 8 9
email: lpacheco@muleshoeisd.net
cell: 575 6932889
office: 806 2727301
Pacheco, Louie
District
Regional
State Meet
Congress Region
Congress State
CX
LD
Extemp
Prose/Poetry
Congress
1 2 6 7 8
email: lpacheco@frionaisd.com
cell: 806 3152134
office: 806 2503951
Padgett, Amaya
Invitational
District
Regional
State Meet
Prose/Poetry
1 4 8
email: padgett.amaya99@gmail.com
cell: 832 8132605
office: 832 8132605
Pan, Evan
CX State
State Meet
CX
LD
Extemp
Congress
1 3
email: evan.pan@utexas.edu
cell: 903 8058012
office:
Pando, Chrysten
Invitational
District
CX
Prose/Poetry
3
email: chrysten2012@gmail.com
cell: 432 2191640
office:
Panella, Brenda
Invitational
District
Regional
CX State
State Meet
Congress Region
Congress State
CX
LD
Extemp
Prose/Poetry
Congress
1 2 3 4 5
email: bdoming8@aol.com
cell:
office:
Parmer, Emily
Invitational
District
Regional
State Meet
Extemp
Prose/Poetry
1 2 3 4 5 8
email: emilycparmer@utexas.edu
cell: 325 7280405
office:
Parsons, Jason
Invitational
District
CX
1 2 5
email: jparsons@mcgregor-isd.org
cell: 254 3150066
office:
Pasch, Alexander
Invitational
District
Regional
State Meet
LD
Extemp
1 2 4 5 8
email: alexanderpasch@gmail.com
cell:
office:
Patton, Jestin
District
Regional
CX State
State Meet
CX
LD
Extemp
Prose/Poetry
1 2 3 5
email: jestinpatton@gmail.com
cell: 214 4767532
office: 214 7061733
Patton, Ken
Invitational
District
Regional
CX State
State Meet
Congress Region
Congress State
CX
LD
Extemp
Congress
1 3 4
email: kpatton85@austin.rr.com
cell:
office:
Patton, Miriam
Regional
CX State
State Meet
CX
LD
Congress
1 3 4 5
email: mpatton@industrialisd.org
cell: 321 7812673
office: 361 2843226
Peacock, Alexandra
Invitational
District
Regional
State Meet
Extemp
Prose/Poetry
1 3 4 5
email: alexpeacock2017@gmail.com
cell: 979 2538978
office:
Peek, Thomas
Invitational
District
Regional
CX State
State Meet
CX
LD
Extemp
Prose/Poetry
3 5
email: peektp@jacks.sfasu.edu
cell: 936 7766573
office:
Pena, Alan
District
Regional
Extemp
1 4 5
email: apenax11@yahoo.com
cell:
office:
Peralez, Aaron
Invitational
District
Regional
CX State
State Meet
CX
LD
Extemp
Prose/Poetry
1 2 6 7 8
email: aperalez@abernathyisd.com
cell: 806 7907179
office:
Perez, Bianca
Invitational
District
Regional
State Meet
LD
1 4
email: BiancaPerez@dusty.tamiu.edu
cell:
office:
Perry, Robert
Regional
CX
LD
Extemp
Prose/Poetry
1 2 5 8
email: rperry989@gmail.com
cell: 817 8322651
office: 817 8322651
Perry, Robert
State Meet
LD
Extemp
Prose/Poetry
1 2 5
email: rperry989@gmail.com
cell: 817 8322651
office: 817 8322651
Petmecky, Aleah
Invitational
District
Extemp
Prose/Poetry
1
email: aleah.petmecky@nisd.us
cell: 512 4226010
office: 830 3721931
Pharr, Claudia
Invitational
District
Regional
CX State
State Meet
CX
LD
Extemp
Prose/Poetry
1
email: claudiapharr24@gmail.com
cell: 210 4459266
office:
Phelps, Russell
Invitational
District
Regional
CX
LD
Extemp
1 4
email: russellphelps@gmail.com
cell: 210 5370686
office:
Phipps, Tara
Invitational
District
CX
Extemp
1
email: tara69634@gmail.com
cell: 407 7806691
office:
PIERCE, BRIAN
Invitational
District
Regional
CX State
CX
2 6 9
email: brian.pierce2@gmail.com
cell:
office:
Pietsek, Seth
State Meet
LD
Extemp
Prose/Poetry
1
email: seth.pietsek@gmail.com
cell:
office:
Pillai, Anthony
Invitational
District
Regional
Extemp
Prose/Poetry
Congress
2 6
email: anthonypillai1173@gmail.com
cell:
office:
Pinero, Joyce
Invitational
District
Regional
CX State
State Meet
CX
LD
Extemp
Prose/Poetry
2 6
email: mrs.joyce.pinero@gmail.com
cell: 817 7719357
office:
Pizana, Israel
State Meet
LD
Prose/Poetry
1
email: anazip15@gmail.com
cell: 325 4500989
office:
Pohly, Pam
Invitational
District
Regional
Extemp
Prose/Poetry
5 6
email: ppohly@saisd.us
cell: 936 2759603
office: 936 2759603
Pollock, LeAnne
Invitational
District
Regional
State Meet
Extemp
Prose/Poetry
1 2 3 4 5 6 8
email: leannekate7@gmail.com
cell: 817 9337004
office:
Porter, Eric
Regional
State Meet
Prose/Poetry
1 2 3 4 5
email: Eporter78@hotmail.com
cell: 323 3773925
office:
Potts, John
Invitational
District
Regional
CX State
State Meet
Congress Region
Congress State
CX
Extemp
Prose/Poetry
Congress
2 6
email: pottsj@lisd.net
cell: 940 3999840
office:
Powell, Michael
Invitational
District
Regional
State Meet
LD
Extemp
Prose/Poetry
1 2 3 5 6
email: michael.powell@garyisd.net
cell: 903 5038498
office: 903 6852291
Powers, Carli
Invitational
District
Regional
CX State
CX
Extemp
Prose/Poetry
Congress
1 2 6 7 8
email: cpowers@angelo.edu
cell: 325 3703119
office:
Price, Cheyenne
Invitational
District
CX
1 3 5
email: pricecheyenne@gmail.com
cell: 979 5334201
office:
Pugh, Madeline
Invitational
District
Regional
Prose/Poetry
1 2 3 5
email: madelinepugh00@gmail.com
cell: 281 6676702
office:
Pursley , Liz
Invitational
District
Regional
CX State
State Meet
CX
LD
Extemp
Prose/Poetry
3 5
email: Pursleyliz@gmail.com
cell: 936 6417201
office:
Pyle, Andrew
Invitational
District
Extemp
1
email: adp70@txstate.edu
cell: 512 5656437
office:
Rama, Kush
Invitational
District
Regional
Extemp
1 3 5
email: kushrama@gmail.com
cell: 936 5778513
office:
Rangel, Vanessa
CX State
State Meet
CX
LD
Extemp
1 2 3
email: Vannirangel@gmail.com
cell: 832 5995300
office:
Rasberry, Joie
Invitational
District
Regional
CX State
State Meet
Congress Region
Congress State
CX
LD
Extemp
Prose/Poetry
Congress
3
email: JoieRasberry@KatyISD.org
cell: 832 5772558
office: 281 2345222
Ratcliffe, Angel
District
Regional
State Meet
Prose/Poetry
1 3
email: angelbratcliffe@gmail.com
cell: 832 6915770
office:
Recio, Frank
District
Regional
CX State
State Meet
Congress Region
Congress State
CX
LD
Extemp
Congress
7
email: frecio@muleshoeisd.net
cell: 806 3150080
office: 806 2727319
Reddi, Divya
Invitational
District
Regional
CX State
State Meet
CX
LD
Extemp
Prose/Poetry
1 2 3 4 5 6 7 8 9
email: divyareddi0@gmail.com
cell: 713 9224766
office:
Reddy, Suraj
District
CX
LD
1
email: sr683@cornell.edu
cell: 512 8262789
office:
Reed, Clark
Invitational
District
Regional
State Meet
Prose/Poetry
1 2 3 4 5 6 7 8 9
email: creed@snyderisd.net
cell: 409 9266035
office: 325 5748800
Reedy, Carley
District
Regional
CX State
State Meet
CX
1 2 3 4 6 8
email: Carleyswrangler@gmail.com
cell: 903 2928666
office:
Reedy, Donald
Invitational
District
Regional
LD
1 2 5
email: dreedy1979@gmail.com
cell: 254 4206677
office:
Reichle, Matthew
CX State
CX
1
email: empireofme@gmail.com
cell: 210 7923649
office:
Revilla, Andre
Invitational
District
Regional
State Meet
Extemp
Prose/Poetry
2
email: percussionist322@gmail.com
cell:
office:
Reynolds, Ethan
Invitational
District
Regional
CX State
State Meet
CX
LD
Extemp
1 2 5 6
email: ethanreynolds33@gmail.com
cell:
office:
Rhamy, Lucas
Invitational
District
Regional
State Meet
Prose/Poetry
1 2 5 6
email: lrhamy23@gmail.com
cell: 630 8035718
office:
Rhea, Anna
Regional
CX State
State Meet
CX
LD
Extemp
Prose/Poetry
1 2 3 5
email: anna.m.rhea@gmail.com
cell: 903 4221860
office: 903 8801600
Rice, Brandon
Invitational
District
Regional
CX State
State Meet
CX
Extemp
1 7 8 9
email: b.r.rice03@gmail.com
cell:
office:
Rich, Jamie
Invitational
District
Prose/Poetry
1 3
email: jamierich2000@gmail.com
cell: 254 6811178
office: 254 6811178
Robertson, Joshua
Invitational
District
Regional
CX State
State Meet
CX
LD
Extemp
Prose/Poetry
1 2 5
email: Josh_Robertson@baylor.edu
cell: 515 3717897
office:
Robinson, Brittany
Invitational
District
Regional
CX State
State Meet
Extemp
Prose/Poetry
1 2 3 4 5 6 7 8 9
email: bt.robinson31@yahoo.com
cell: 737 3730484
office:
rodden, samantha
Invitational
District
Regional
State Meet
Extemp
Prose/Poetry
1 2 5 6
email: samlynrod@gmail.com
cell: 903 5204221
office:
Rodriguez, Manuel
Invitational
District
Regional
State Meet
Extemp
Prose/Poetry
1 4
email: manuelalejandro1755@gmail.com
cell: 956 8574005
office: 210 4588084
Rodriguez, Brianna
Invitational
District
Regional
CX State
State Meet
Extemp
Prose/Poetry
1 2 3 5
email: brrodriguez@mail.umhb.edu
cell: 832 9678486
office:
RODRIGUEZ, LUCITA
Invitational
District
Regional
CX State
State Meet
CX
Extemp
Prose/Poetry
1 3 5
email: LUCITARODRIGUEZ@YMAIL.COM
cell: 409 6736980
office:
Rogers, Dean
Invitational
District
Regional
CX State
State Meet
CX
LD
Extemp
Prose/Poetry
1 3 5
email: dean.rogers@cvisd.org
cell: 832 9844957
office: 281 4570086
Rogers, Allen
Invitational
District
Regional
CX State
CX
7 9
email: allenrog222@gmail.com
cell:
office:
Rowe, Russell
Invitational
District
Regional
CX State
State Meet
CX
LD
Extemp
Congress
3 5 6
email: rrowe@carthageisd.org
cell: 903 2631316
office: 903 6932552
Rubalcaba, Maximiliano
Invitational
District
Prose/Poetry
4
email: Maximiliano.ruvalcaba01@utrgv.edu
cell: 956 3699781
office:
Rubio , Juan
Invitational
District
Regional
State Meet
LD
Extemp
1 2 3 4 5 6
email: jrubio7609@gmail.com
cell:
office:
Ruiz, Nicol
Invitational
District
Regional
State Meet
Congress Region
Congress State
CX
LD
Extemp
Prose/Poetry
Congress
1 3
email: ruiz.nicol30@gmail.com
cell: 281 7065974
office:
Ruiz, Kasey
State Meet
LD
Prose/Poetry
1 7 8
email: kruiz@sfisd.net
cell:
office:
Ruiz, Melissa
Invitational
District
Regional
State Meet
LD
Extemp
1 4
email: melissa.ruiz1226@gmail.com
cell:
office:
Rutherford, Jazlyn
Invitational
District
Regional
CX State
State Meet
Congress Region
Congress State
CX
LD
Extemp
Prose/Poetry
Congress
1 3 4 5
email: jazrutherford@yahoo.com
cell: 979 2534537
office:
Rutledge, Michael
District
Regional
LD
Extemp
Prose/Poetry
Congress
3
email: mrutledg@ccisd.net
cell: 713 3028529
office: 281 2842100
Ryan, Pamela
Invitational
District
Regional
Extemp
Prose/Poetry
7
email: pryanchs@gmail.com
cell: 806 2243125
office:
Saleh, Noor
Invitational
District
Regional
State Meet
LD
Extemp
5
email: noorsaleh2661@gmail.com
cell:
office:
Salinas, Jason
Invitational
District
Regional
Extemp
Prose/Poetry
1 4
email: Jasonsalinas44@gmail.com
cell: 361 2282647
office:
Sam, Meera
Invitational
District
Regional
LD
Extemp
1
email: meerasam18@gmail.com
cell:
office:
Sanders, Jessi
Invitational
District
LD
Prose/Poetry
3 5
email: jmsanders@lumberton.k12.tx.us
cell: 409 2004229
office:
Sanford, John
CX State
CX
1
email: jdsafordreal@gmail.com
cell: 512 9241459
office:
Savage, Michael
Invitational
District
Regional
CX State
State Meet
Congress Region
Congress State
CX
LD
Extemp
Prose/Poetry
Congress
2 4 5 8
email: mclarksavage@gmail.com
cell: 903 3882446
office:
Schilling, Karen
Invitational
District
Regional
State Meet
Congress Region
Congress State
Extemp
Prose/Poetry
Congress
7
email: kschilling@farwellschools.org
cell: 806 7901068
office: 806 4813351
Schniers, Julie
State Meet
Extemp
Prose/Poetry
1 2 3 4 5 6 7 8 9
email: info@julieschniers.com
cell: 325 6567283
office: 325 6567283
Schurman, Devin
Regional
CX State
State Meet
CX
Extemp
1 2 5 8 9
email: Devin.schurman@hputx.edy
cell:
office:
Schwarz, Cooper
CX State
CX
1
email: schwarzcooper@gmail.com
cell: 806 3109249
office:
Searcy, Diana
Invitational
District
Regional
State Meet
Prose/Poetry
1 2 3 5
email: diana.searcy@daytonisd.net
cell: 281 4678317
office:
Seiter, Jan
Regional
CX State
State Meet
Congress Region
Congress State
CX
LD
Extemp
Prose/Poetry
Congress
1 2 4 5 8
email: jan.seiter@nisd.net
cell:
office: 210 3976554
Serrano , Gaby
Invitational
District
Regional
LD
1 2 5
email: Gabyserr16@gmail.com
cell: 512 9978345
office:
Shah, Hillary
Invitational
District
Regional
CX State
CX
Extemp
2
email: hillaryshah@gmail.com
cell:
office:
SHAH, Sandeep
Invitational
District
Regional
CX State
State Meet
Congress Region
Congress State
CX
LD
Extemp
Prose/Poetry
Congress
1 2 3 4 5 6 7 8 9
email: sandeepashah@gmail.com
cell: 281 2172088
office:
Shelton, Paul
Invitational
District
Regional
CX State
State Meet
Congress Region
Congress State
CX
Extemp
Prose/Poetry
Congress
1 2 3 4 5 6 8
email: bradicichp@gmail.com
cell: 972 730-211
office:
Shelton, Janet
District
Regional
CX State
State Meet
CX
LD
Extemp
Prose/Poetry
1 7 8
email: jshelton@forsan.esc18.net
cell: 325 2773318
office: 325 4322223
Sheraz, Adeena
Invitational
District
Regional
LD
Extemp
Prose/Poetry
1 2 3
email: adeenasheraz@gmail.com
cell:
office:
Shi, Jeremy
Invitational
District
Regional
State Meet
LD
Extemp
Prose/Poetry
2
email: jrmyshi@yahoo.com
cell: 713 5186690
office:
Shingavi, Snehal
Invitational
District
Regional
CX State
State Meet
Congress Region
Congress State
CX
LD
Extemp
1 3
email: snehal100@hotmail.com
cell: 510 4845242
office:
Shoemake, Travis
Invitational
District
Regional
CX State
CX
1 4
email: travis.shoemake09@gmail.com
cell: 830 3211476
office:
Shopbell, Ashley
Invitational
District
Regional
LD
Extemp
Prose/Poetry
1
email: bellshop@hotmail.com
cell:
office:
Short, Jackson
Invitational
District
Regional
State Meet
LD
Extemp
1
email: jbs172@txstate.edu
cell:
office:
Shreeve, Amy
Regional
State Meet
Congress Region
Congress State
Extemp
Prose/Poetry
Congress
1 5
email: amyeshreeve@gmail.com
cell: 512 7928969
office:
Simmons, Carressa
Invitational
District
Regional
CX State
State Meet
CX
LD
Extemp
Prose/Poetry
3 5 6
email: Simmonscarressa@gmail.com
cell:
office:
Simpkins, Richard
Invitational
District
Regional
CX State
State Meet
Congress Region
Congress State
CX
LD
Extemp
Prose/Poetry
Congress
2 5 6
email: icowrich@yahoo.com
cell:
office:
Sims, Jacob
Regional
State Meet
CX
LD
1 2
email: jsims5805@gmail.com
cell: 409 2770260
office:
Sims, Jan
Invitational
District
Regional
CX State
State Meet
CX
LD
Extemp
Prose/Poetry
Congress
8
email: jannetsims@yahoo.com
cell: 432 8167048
office:
Skupin, Jon
Invitational
District
Regional
Extemp
Prose/Poetry
2 5 6
email: skupinjon@gmail.com
cell: 903 8187475
office:
Slusher, Lauren
CX State
CX
1
email: lauren.e.slusher@gmail.com
cell: 936 6760216
office:
Smith, Rhonda
District
Regional
State Meet
Congress Region
Congress State
CX
LD
Extemp
Prose/Poetry
Congress
1 2 5 6
email: rhondaesmith22@gmail.com
cell: 214 6214879
office:
Smith, Jimmy
Invitational
District
Regional
CX State
State Meet
Congress Region
Congress State
CX
LD
Extemp
Prose/Poetry
Congress
1 2 8
email: jsmith@aspermont.esc14.net
cell:
office:
Snow, Tyler
Invitational
District
Regional
State Meet
Prose/Poetry
1
email: tylerlanesnow@yahoo.com
cell:
office:
Soares, Tieme
Invitational
District
Regional
CX State
State Meet
CX
LD
Extemp
Prose/Poetry
3 8
email: tiemesoares1993@gmail.com
cell: 954 3305795
office:
Speier, Jamie
Invitational
District
Regional
State Meet
Extemp
Prose/Poetry
1 2 3 5
email: jamiespeier@gmail.com
cell: 979 2555533
office: 979 2555533
Spencer, Maranda
Invitational
District
Regional
CX State
State Meet
Congress Region
Congress State
CX
Congress
1 2 3 4 5 6 7 8 9
email: maranda.spencer@mavs.uta.edu
cell:
office:
Spotswood, Kara
Invitational
District
Regional
CX State
State Meet
Congress Region
Congress State
CX
LD
Extemp
Prose/Poetry
Congress
2 5 6 8
email: karaspotswood@gmail.com
cell: 972 8962645
office:
Stamets, Nick
Invitational
District
LD
Extemp
Prose/Poetry
Congress
1
email: nick.stamets@leanderisd.org
cell:
office:
Stanley, Shara
Invitational
District
Regional
State Meet
Extemp
Prose/Poetry
1 2 3 5 6
email: stanleys@uhisd.com
cell: 903 4520203
office: 903 7622138
Starr, Danielle
Invitational
CX
Extemp
Prose/Poetry
2 5 6
email: Daniellestarrrrrrr@gmail.com
cell: 903 2616551
office:
Stephens, Christopher
Invitational
District
Regional
CX State
CX
7 8
email: Christopher.stephens@ttuhsc.edu
cell: 432 9675335
office:
Stepherson, Miranda
Invitational
District
Regional
LD
Extemp
Prose/Poetry
1 3 5
email: mirandastepherson@gmail.com
cell: 936 6358198
office:
Stottlemyre, Danny
District
Regional
State Meet
Extemp
Prose/Poetry
7 8
email: stottzie2020@gmail.com
cell: 432 2668023
office: n/a
Sturrock, Alexis
Invitational
District
Regional
CX State
State Meet
Congress Region
Congress State
CX
Extemp
Prose/Poetry
Congress
3
email: alexis.l.sturrock@gmail.com
cell: 409 6798104
office:
Sughrue, Alissa
Invitational
District
Regional
Congress Region
Congress State
LD
Extemp
Prose/Poetry
Congress
1
email: alissa.sughrue@utexas.edu
cell: 918 2146167
office:
Swatzell, Sarah
Invitational
District
Regional
CX State
State Meet
Congress Region
Congress State
CX
LD
Extemp
Prose/Poetry
Congress
1 2 6 7 8
email: sarah.swatzell@visdtx.org
cell: 940 3571611
office:
Tanner, Amberley
District
Regional
LD
Extemp
Prose/Poetry
Congress
2
email: amberley.tanner@nisdtx.org
cell: 817 8745407
office:
Taylor, Catherine
Invitational
CX
Extemp
Prose/Poetry
Congress
2 5
email: scarlettct27@icloud.com
cell: 903 9313318
office:
Teniente, Josue
Invitational
Extemp
1
email: josueteniente07@gmail.com
cell: 956 2319658
office:
Thayer, Jacquetta
Invitational
District
Regional
CX State
State Meet
Congress Region
Congress State
CX
LD
Extemp
Prose/Poetry
Congress
1
email: jacquetta.thayer@leanderisd.org
cell: 512 9051573
office: 512 5701400
Thomas, Delcie
Invitational
District
Regional
State Meet
Extemp
Prose/Poetry
3
email: dthomas@bmtisd.com
cell: 409 6564319
office: 409 6176600
Thompson, Regan
Invitational
District
Regional
CX State
CX
LD
1 2 3 5
email: Regan@mockingbirdeducation.net
cell: 469 2616582
office:
Thompson, Max
Invitational
District
Regional
CX State
State Meet
Congress State
CX
LD
Extemp
Congress
4
email: mthompson@banqueteisd.net
cell: 903 7013401
office: 361 3872551
Tiller, Jana
Invitational
District
Regional
CX State
State Meet
CX
Extemp
Prose/Poetry
2 5 6
email: jtiller@gvisd.org
cell: 817 5179064
office: 817 8664520
Tillman, Luke
Invitational
District
Regional
CX State
State Meet
Congress Region
Congress State
CX
Extemp
Prose/Poetry
Congress
1 2 3 5
email: luketillman18@gmail.com
cell: 972 2683817
office:
Tobes, Rachel
Invitational
District
Regional
CX State
State Meet
Congress Region
Congress State
CX
LD
Extemp
Prose/Poetry
Congress
1 2 4 5 6
email: racheltobes@gmail.com
cell:
office:
Torres, Edgar
Invitational
District
Regional
CX State
State Meet
CX
LD
Extemp
Prose/Poetry
1 3 4 5
email: edgar.torres87@gmail.com
cell:
office:
Tresca, Anthony
Invitational
District
CX State
Congress Region
CX
Extemp
Prose/Poetry
1 4 5
email: trescaanthony@gmail.com
cell: 903 5269603
office: 903 5269603
Trevino, Dan
Invitational
District
Regional
CX State
State Meet
CX
Extemp
1
email: dtrevino2@gmail.com
cell: 512 5740430
office:
Trevino Jr. , Pedro Alfonso
Invitational
District
Regional
CX State
CX
1 4
email: patjr126@yahoo.com
cell: 956 5002280
office:
Tucker, Kristan
Invitational
District
Regional
CX State
State Meet
CX
LD
Extemp
Prose/Poetry
1 2 5 6
email: Kristantucker@gmail.com
cell:
office:
Tucker, Phyllis
Invitational
District
Regional
State Meet
Congress State
LD
Extemp
Prose/Poetry
Congress
1 2 5 6
email: ptucker52@gmail.com
cell: 940 7363476
office:
Turner, Tracy
Invitational
District
Regional
CX
LD
Extemp
1 2 6
email: tracy.turner.daltx@gmail.com
cell:
office: 214 7573456
Ungar, Victor
Invitational
District
Regional
CX
LD
Congress
3
email: v.ungar00@gmail.com
cell: 832 2051435
office:
Uranga, Camille
Invitational
District
Regional
CX State
State Meet
CX
Extemp
Prose/Poetry
1 4
email: camilleuranga@gmail.com
cell: 432 2070408
office:
Vallejo, Anna
Invitational
District
Extemp
1 4
email: anvallejo05@gmail.com
cell: 956 8549351
office: NA
van hoose, james
Invitational
District
Regional
CX State
State Meet
CX
LD
Extemp
Prose/Poetry
1 2 3 4 5
email: james_vanhoose@hotmail.com
cell: 512 7997107
office:
Vandenberg, Matthew
CX State
State Meet
CX
LD
Extemp
Prose/Poetry
Congress
1
email: mvandenberg@kslaw.com
cell: 210 6027804
office:
Varga, Kimberly
Invitational
District
Regional
State Meet
LD
Extemp
Prose/Poetry
3
email: kvarga1@kleinisd.net
cell: 713 2541972
office: 832 3758402
Vaswani, Tulsi
Invitational
District
Regional
LD
Extemp
Prose/Poetry
5
email: Tulsivaswani1@gmail.com
cell: 512 3638474
office:
Velazquez, Sofia
Invitational
District
Regional
State Meet
Extemp
1 3 4
email: sofia.s.velazquez@gmail.com
cell: 956 7202269
office:
Vercher, Don
Invitational
District
Regional
CX State
State Meet
CX
LD
Extemp
Prose/Poetry
1 4 5 9
email: dwvercher@hotmail.com
cell: 409 7791199
office:
Villarreal, Alma
Invitational
District
CX
LD
Extemp
Prose/Poetry
3
email: smithie2001@gmail.com
cell: 713 6140202
office:
Villarreal, Christian
Invitational
District
Regional
CX State
State Meet
CX
LD
Extemp
1 4
email: cav152@txstate.edu
cell: 956 5642162
office: 956 5642162
Wages, Alvin
CX State
CX
1
email: goldenbearnv@gmai.com
cell: 702 630-953
office: n/a
Walker, Philip-michael
Regional
CX State
State Meet
Congress State
CX
LD
Extemp
Prose/Poetry
Congress
1 2
email: phillipmichaelw91@gmail.com
cell: 903 2922363
office:
Walker, Skyler
District
Regional
CX
LD
Extemp
Prose/Poetry
Congress
1 5 6
email: swalker@caddomillsisd.org
cell: 903 2922363
office: 903 5273164
Walters, Janet
Invitational
District
CX State
State Meet
CX
LD
Extemp
2 5
email: janetwscott@gmail.com
cell: 5808096
office:
Ward, Logan
Invitational
District
Prose/Poetry
5
email: wardlb2@jacks.sfasu.edu
cell: 903 2797797
office:
Warrington, Zachary
Invitational
District
Regional
State Meet
Prose/Poetry
2 5 6
email: visd2392@gmail.com
cell: 214 3352175
office:
Watson, Lindee
Invitational
District
Regional
Extemp
1 4 5 8
email: watsonlindee@gmail.com
cell: 402 6164601
office: 402 6164601
Weaver, Hannah
Invitational
District
Regional
State Meet
LD
Prose/Poetry
1 2 3 5
email: Hannahchinagirl@gmail.com
cell:
office:
wehmeyere, jacob
Invitational
District
Regional
State Meet
LD
1 2 3 5
email: jacobwehmeyer@gmail.com
cell:
office:
Wells, JoAnne
Invitational
District
Regional
State Meet
Extemp
Prose/Poetry
1 2 5
email: Laughterij@gmail.com
cell: 254 4132413
office:
Westall, Chris
Invitational
LD
1
email: chris.westall@lgisd.net
cell:
office:
Whitlock, Tammy
Invitational
District
Regional
Extemp
Prose/Poetry
2 6
email: whitlock.tammy60@gmail.com
cell: 903 2271034
office:
Whittington, Dadrien
Invitational
District
Regional
State Meet
Congress Region
Congress State
LD
Extemp
Prose/Poetry
Congress
1 3 4 5 8
email: whittingtondadrien@gmail.com
cell: 409 2779871
office:
Wick, Alexander
Invitational
District
Regional
CX State
State Meet
Congress Region
Congress State
CX
Extemp
Congress
1 2 5 6
email: xander@xanderwick.com
cell: 903 2164536
office:
Wilborn, Elizabeth
Invitational
District
Regional
CX State
State Meet
Congress State
CX
LD
Extemp
Congress
2 6 7
email: ewilborn@cisd-tx.net
cell: 940 6745521
office: 940 8525391
WILLIAMS, JIMMY
Invitational
District
CX
LD
7 8
email: jimmy.williams@ttuhsc.edu
cell:
office: 806 7438347
Williams, Senae
Invitational
District
Regional
CX State
State Meet
Congress Region
Congress State
CX
LD
Extemp
1 3
email: senaew@vctx.org
cell: 361 212-870
office: 361 575-039
Williamson, Laurel
Invitational
District
Regional
CX State
State Meet
CX
Extemp
Prose/Poetry
1 3 4
email: Laurelwilliamson2@gmail.com
cell: 210 3168720
office:
Wilson, Robert
Invitational
CX
LD
Congress
3
email: robertw.wilson@silsbeeisd.org
cell: 512 3931596
office:
Wilson, Veleria
State Meet
CX
LD
Extemp
Prose/Poetry
Congress
2 6
email: Veleria07@yahoo.com
cell: 9032387
office:
Wimberley, Joshua
Invitational
District
Regional
CX State
State Meet
Congress Region
Congress State
CX
LD
Extemp
Prose/Poetry
Congress
1 2 3 8
email: joshuawimberley@gmail.com
cell: 432 2309995
office: 432 2402170
Wineinger, Lasha
Invitational
District
Regional
CX State
State Meet
CX
LD
Extemp
Prose/Poetry
1 7 8
email: lasha.wineinger@ttu.edu
cell: 254 6409420
office:
Winn, Bryan
Invitational
District
Regional
CX State
State Meet
Congress Region
Congress State
CX
LD
Extemp
Congress
1 3 4 5
email: winnbd@gmail.com
cell: 361 2203581
office: 361 7882820
Winn, Andrea
Invitational
District
Regional
CX State
State Meet
Congress Region
Congress State
CX
LD
Extemp
Prose/Poetry
Congress
1 2 3 4 5
email: winnandrea94@gmail.com
cell: 361 5713675
office:
Winn, Angela
Invitational
District
Regional
CX State
State Meet
Congress Region
Congress State
CX
LD
Extemp
1 2 3 4 5
email: aw371694@gmail.com
cell: 361 2203657
office:
Winter, Glenda
Invitational
District
Regional
CX State
State Meet
Congress Region
Congress State
CX
LD
Extemp
Prose/Poetry
Congress
1 2 5
email: glendaannwinter@gmail.com
cell: 254 2160184
office:
Wohlfarth, Julia
Invitational
District
Regional
State Meet
LD
Extemp
Prose/Poetry
1 2 3 4 5 6 7 8 9
email: wohlfarth.julia@gmail.com
cell: 512 7399971
office:
Wolf, Benjamin
Invitational
District
Regional
CX State
State Meet
CX
LD
Extemp
1
email: benwolf8@gmail.com
cell: 210 8729670
office:
Womack, Sami
District
Regional
CX State
State Meet
Congress Region
Congress State
CX
LD
Extemp
Prose/Poetry
Congress
2 6 7 8
email: samiwomack@herefordisd.net
cell: 940 2060461
office: 806 3637620
Woodard, Lesha
Invitational
District
Regional
Extemp
Prose/Poetry
2 5 6
email: lwoodard@ssisd.net
cell: 806 4456120
office: 903 8852158
Woods, La Resa
Invitational
District
Regional
LD
Extemp
Prose/Poetry
2 6
email: lwoods@theparadigmteam.com
cell: 469 5124476
office: 469 5124476
Woods, Victoria
Invitational
District
Regional
CX State
State Meet
Congress Region
Congress State
CX
LD
Extemp
Prose/Poetry
Congress
2 5 6
email: victoria.knaupp@gmail.com
cell: 210 8448947
office:
Woods, Cassie
Invitational
District
Regional
CX State
State Meet
Congress Region
Congress State
CX
LD
Extemp
Prose/Poetry
Congress
2 6
email: cwoods@lindsayisd.org
cell: 940 736-772
office:
Woods, Cassie
District
Regional
CX State
State Meet
Congress Region
Congress State
CX
LD
Extemp
Prose/Poetry
Congress
2 5 6
email: cassieEwoods@yahoo.com
cell: 940 7367721
office:
Woodworth, Carl
State Meet
Extemp
Prose/Poetry
1 3
email: cwoodworth@whartonisd.net
cell: 512 6578889
office: 979 5320866
Wright, Dr. Courtney
Invitational
District
Regional
CX State
State Meet
CX
LD
Extemp
Prose/Poetry
Congress
1 2 3 5 6
email: cwright@wileyc.edu
cell:
office:
Yim, Katelyn
Invitational
District
Regional
CX
LD
1 2 4 5
email: katelyn.yim@tamu.edu
cell: 817 3661060
office: n/a
Yoder, Ethan
Invitational
District
Regional
CX
LD
1 5
email: yzane@yahoo.com
cell: 737 2152457
office:
Yungwirth, Haley
Invitational
District
Regional
Prose/Poetry
1 2 3 4 5
email: haley.yungwirth66@gmail.com
cell: 512 6733554
office:
Zimmel, Andrew
Invitational
District
Regional
State Meet
LD
Extemp
1
email: a_z80@txst.edu
cell:
office: