Softball State Tournament Spectator Information
Ticket Sales
Each game will be its own session, all 18 games for the 2023 UIL Softball Tournament will be played in Austin at Red and Charline McCombs Field. Tickets will be available for purchase on Monday, May 29th at 8:00 am. To attend more than one session a day, you will need to purchase a session ticket for each one. After each session, the stadium is cleared and all spectators must leave, including All-Tournament ticket holders.
| Ticket | Price |
| --- | --- |
| Individual Sessions | $15.00 |
| All-Tournament Pass | $100.00 |
| Coaches Pass (must show membership IS) | $85.00 |
NOTE: All games may not start at their scheduled times due to issues like weather, extra innings from previous games, etc.
Spectator Parking - UT
Fans can purchase parking in advance by going online here.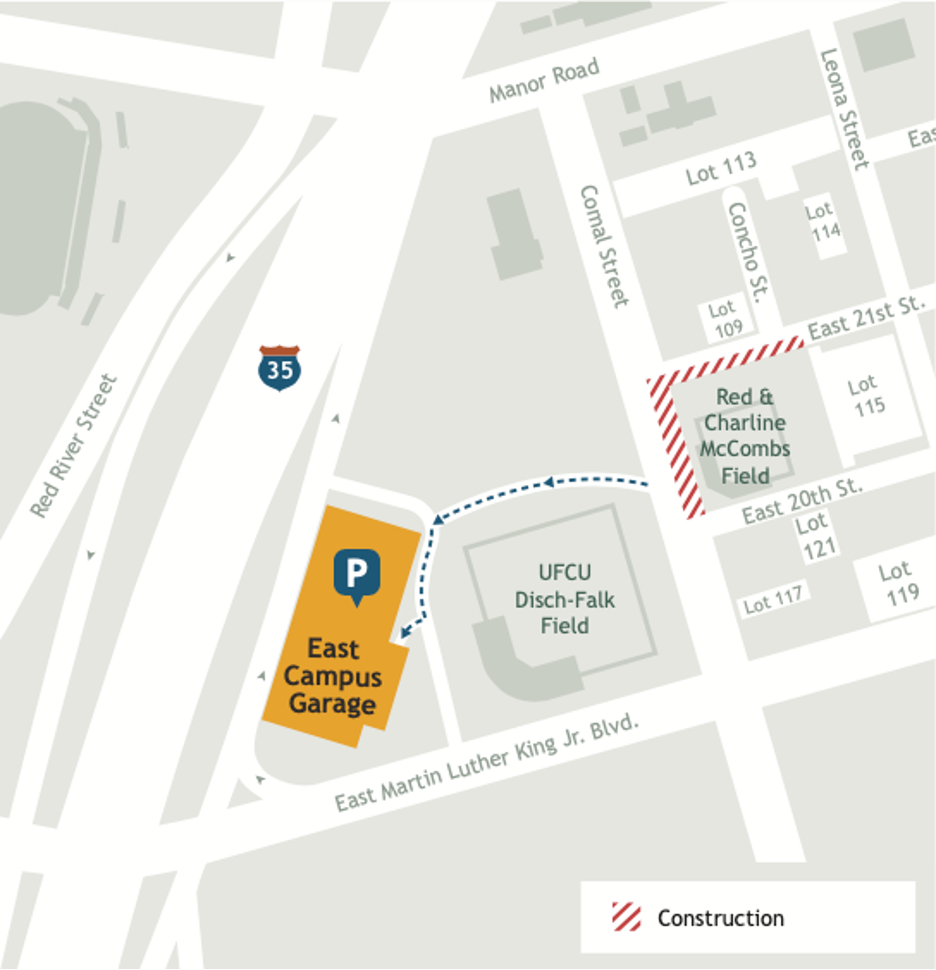 Parking for Persons with Disabilities
ADA parking is available at $10 per vehicle on a first-come, first-served basis in designated spaces in East Campus Garage.
A person with ADA placard or license plate MUST be in the vehicle.
Weather
Please be advised that during the tournament the weather may be extremely warm and the spectator stands are exposed to direct sunlight. Please plan accordingly by bringing sunscreen, a hat, and/or one empty water bottle per person to be refilled in the stadium.
Conduct
Fans, coaches, and players shall observe good sportsmanship at all times.
Stadium Rules
Red & Charline McCombs Field-UT
CLEAR BAG POLICY
Please note a clear bag policy is in effect at McCombs Field. All bags larger than 4.5" x 6.5", including purses and diaper bags, must be clear plastic and no larger than 12" x 6" x 12". For more details, please visit TexasSports.com/clearbag.
Prohibited Items
The following items are not allowed at McCombs Field:
Alcoholic beverages
Banners
Beverage containers
Cameras (with professional, detachable long-lenses)
Coolers
Food
Flagpoles
Tripods
Pets
Only service dogs are permitted inside Red & Charline McCombs Field. Any other type of animal is not permitted. The service dog should be wearing identifiable attire and be harnessed or tethered in some fashion. For the UT Animals on Campus policy, visit https://policies.utexas.edu/policies/animals-campus.
Programs
Programs for the 2022-23 school year will be digital only, no printed copies will be available. The link to the program will be on the UIL State Softball Tournament webpage.
Signs
Signs, flags, or banners are not permitted in the stadium. No signs, flags or banners of any size may be affixed to the facility. Items that can be held by one individual, reflect good sportsmanship, and do not block the view of other ticket patrons may be permitted.
Noisemakers
Only homemade handheld noisemakers will be allowed. No artificial noisemakers will be allowed.
Photos
MaxPreps is the official photographer for UIL. Game photos can be ordered through their website.
Awards Presentation
There will be a short presentation after each semi-final game, teams not advancing to the finals will receive a trophy for the school and bronze medals. The state champion and runner-up teams will receive awards and should be ready for the ceremony as soon as the championship game is over. Both teams should line up on their respective sidelines to be draped.