UIL Lone Star Cup Presentation Scheduled for Argyle High School
Media Contact: Kate Hector
Phone: 512-471-5883
Email:
Date: Sep 21, 2015
Category: General Information
---
FOR IMMEDIATE RELEASE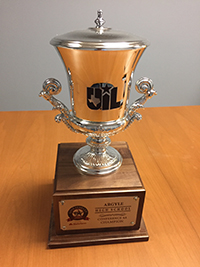 AUSTIN, TX— The University Interscholastic League will honor Argyle High School on Friday, Sept. 25 for winning the 2015 UIL Lone Star Cup presented by State Farm. The UIL Lone Star Cup trophy presentation will take place at halftime of Argyle's varsity football game against Paris High School at Argyle Eagles Stadium, which begins at 7:30 p.m.
"The UIL Lone Star Cup honors the best overall academic, athletic and music programs in the state of Texas," said UIL Executive Director Dr. Charles Breithaupt. "It takes contributions from every student, teacher and coach in all facets of UIL competition to win this outstanding award. The winning schools and communities should be proud of this incredible achievement."
Argyle High School set a school record with 127 UIL Lone Star Cup points after earning state championships in academics, baseball, girls basketball, boys golf and marching band. The Eagles were also state finalists in volleyball and football and earned additional points in team tennis, boys basketball and boys and girls soccer. The Conference 4A victory is Argyle's fourth consecutive and sixth overall. UIL Director of Music Dr. Brad Kent will be on hand to make the presentation.
The UIL Lone Star Cup is awarded annually to six high schools, one in each of the six UIL classifications (1A, 2A, 3A, 4A, 5A and 6A), based on their team performance in district and state championships. The winning schools in each classification receive the UIL Lone Star Cup trophy and a $1,000 scholarship, also presented by the UIL. The UIL Lone Star Cup program began during the 1997-98 season.
Presentations for 2015 UIL Lone Star Cup winners Brock and Austin Vandegrift will occur later this fall. Cross Plains, Shiner and Southlake Carroll were presented with their awards earlier this fall.
-- END --