Cross Country Season Wraps Up
By Traci Neely, Assistant Athletic Director | Monday, November 17, 2014 2:58 PM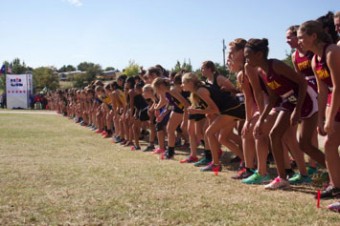 The starting line.

The cross country season has ended, and it feels like we just got started. This year was a tremendous success for the championship season, and I wanted to follow-up with a re-cap of one of the most well-attended state cross country meets in UIL history since 1996 at Old Settler Park in Round Rock.
State Meet
The state meet was more popular among spectators than ever before with the large growth of popularity for spectating the sport, fantastic weather and the addition of a conference and new qualifying format. For the first time, the cross country advancement from the regional meet included four qualifying teams and the top 10 individuals (not on a qualifying team) accounted for the increased numbers per race. It was also the first year for the new cross country alignment that created two more races than previous years with boys' and girls' conference races in 1A-6A.
The course layout and starting areas were adequate for the increased feet on the ground. Coaches will have the opportunity to fully evaluate the state meet and regional meets with this survey: https://www.uiltexas.org/machform/view.php?id=1477.
Off-Season/Pre-Track Season Training
The track season has already begun for distance runners with the completion of the cross country year. Coaches should review the following rules as participants seek independent and various ways to train and compete during the school breaks.
A total of seven invitational meets are allowed to occur during the cross country season. Therefore when a school has a meet remaining within the allowable limit, a school coach may provide supervision and instruction, and the school would be allowed to represent and enter a championship meet beyond the completion of the UIL state meet (i.e. Nike, USATF or Footlocker championship regional and national level meets).
Participants are allowed to participate in a non-school event (such as a championship cross country meet or indoor track meet) and accept travel expenses from the host or non-school group/club provided those expenses are offered to participants for travel and accommodations. The school coach could not accept such expenses to attend a non-school event and instruction/coaching/supervision cannot take place beyond the seven allowable meet limits for either one of the seasons.
Due to the UIL amateur rule, it is not permitted for a UIL school participant with eligibility remaining in cross country or track to accept cash or prizes for winning or placing in a non-school competition.
School funds for meet entries, travel expenses, or school equipment cannot be utilized for non-school meets.