2020-21 Softball COVID Calendar and Update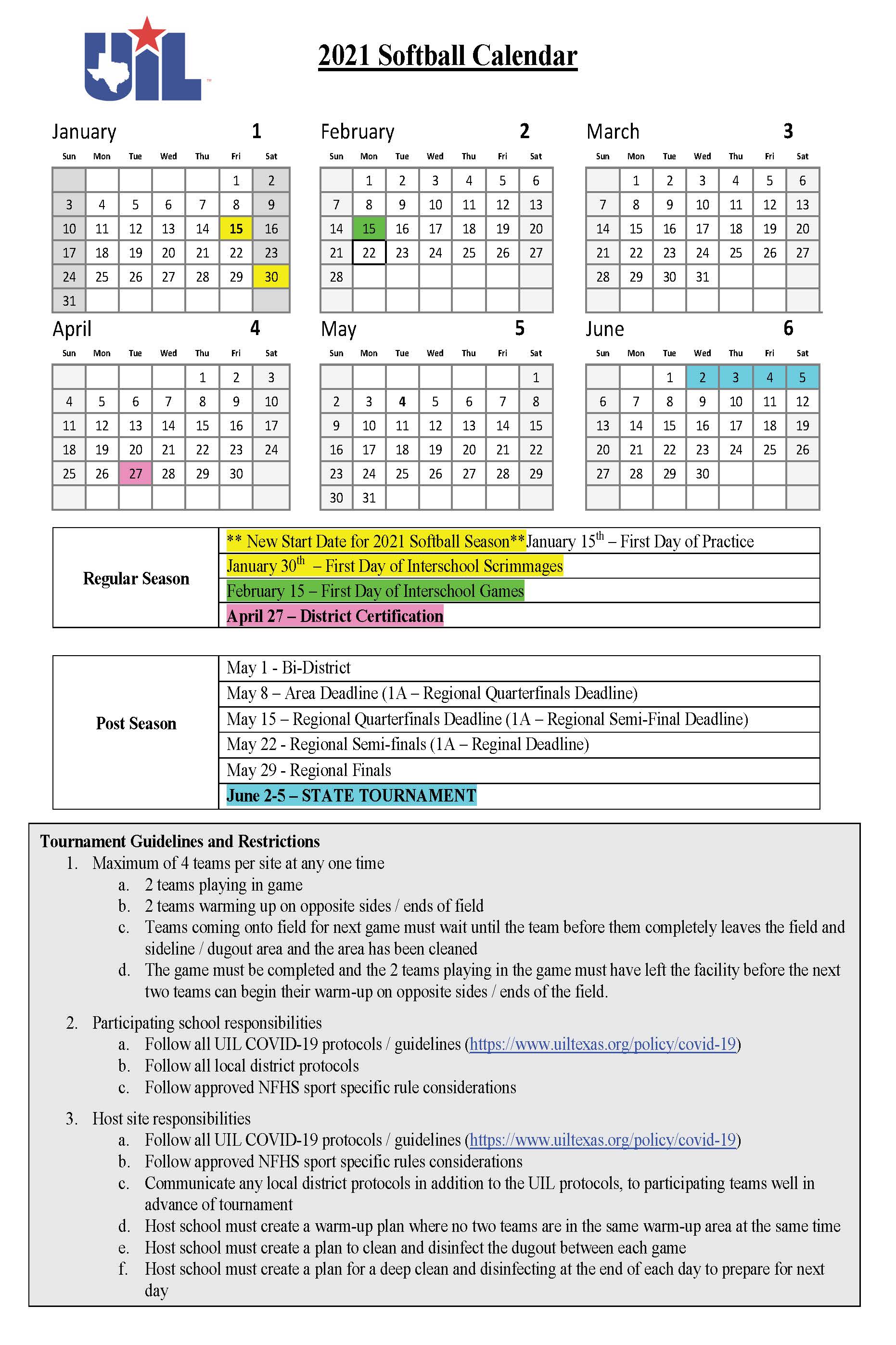 General Operational Guidelines
TEA requires all school systems to develop a plan for mitigating COVID-19 spread in schools. UIL guidelines require schools to include UIL activities for the 2020-2021 school year as part of this plan and carefully plan for mitigating risk of spread as students and staff participate in them. Schools must post these plans on the homepage of the school website or other easily accessible area of the school website. These plans do not require UIL or TEA approval. All 2020-2021 UIL COVID-19 Risk Mitigation Guidelines can be found at https://www.uiltexas.org/policy/covid-19/2020-2021-uil-covid-19-risk-mitigation-guidelines
Remote Learning
Students participating in remote learning offered by their school district, whether synchronous or asynchronous (as defined by TEA), may participate in UIL activities if they meet all other UIL eligibility requirements. Students must be enrolled in remote learning options through the school the student will represent. Schools may develop local policies with additional requirements for participation. You can find more information related to the full-time student rule in Section 406 UIL Constitution and Contest Rules https://www.uiltexas.org/policy/constitution/general/eligibility

District Executive Committee (DEC) Concerns and Game Schedules
Schools who cannot play non-district games for COVID-19 related reasons will not be required to forfeit those non-district games. These games will not be reflected in season records.
The DEC should meet to confirm Spring Sport (Baseball, Softball, Track, Golf, Tennis, Wrestling) schedules, playoff qualifiers, and safety protocols concerning the 2020-2021 school year.
The DEC shall arrange a schedule to determine district representatives prior to the posted district certification date.
The DEC shall determine the place and/or time of district games in case of disagreement between two schools for both the regular season, games postponed due to weather, or disruptions in scheduled games due to COVID-19. The DEC should strongly consider schedules that allow for disruptions and for certifying district representatives in the event games cannot be made up. The DEC should develop policies to address games that cannot be played for reasons related to COVID-19 before district play begins.
The DEC may consider a district schedule that would allow district play to be completed prior to the District Certification Deadline. This consideration may include playing district contests in place of non-district games and/or building in open dates to account for season disruptions.
The DEC should prepare policies to address tie-breakers as well as certifying the district representatives in the event of incomplete district seasons.
Practice Regulations
Offseason Activities During the School Year

Athletics periods may not exceed 60 minutes per day, or 300 minutes per week. Local school policy will determine the students who may attend.
For the 2020-2021 school year only, students may participate in a maximum of 60 minutes per day of strength and conditioning activities outside the school day. Local school policy will determine the students who may attend.
In-Season Activities During the School Year

Schools may have athletics periods as described above plus a maximum of eight hours of practice outside the school day during the school week.
Schools utilizing an instructional model other than a traditional in-person model may hold the athletics period any time during the day. The athletics period is not required to be held during normal school hours.
Tournament Guidelines and Restrictions
1.Maximum of 4 teams per site at any one time
a.2 teams playing in game
b.2 teams warming up on opposite sides / ends of field
c.Teams coming onto field for next game must wait until the team before them completely leaves the field and sideline / dugout area and the area has been cleaned
d.The game must be completed and the 2 teams playing in the game (a.) must have left the facility before the next two teams can come in and begin their warm-up on opposite sides / ends of the field.
2.Participating school responsibilities
a.Follow all UIL protocols / guidelines in place on the COVID-19 Information page (https://www.uiltexas.org/policy/covid-19)
b.Follow all local protocols that are communicated out ahead of time
c.Follow approved NFHS rules considerations
3.Host site responsibilities
a.Follow all UIL protocols / guidelines in place on the COVID-19 Information page (https://www.uiltexas.org/policy/covid-19)
b.Follow approved NFHS rules considerations for respective sport
c.Communicate any local protocols, that are in place in addition to the UIL protocols, to participating teams well in advance of tournament
d.Host school must create a warm-up plan where no two teams are in the same warm-up area at the same time
e.Host school must create a plan to clean and disinfect the dugout / sideline areas between each game
New: School Week Limitation Exception - UIL varsity district contests postponed because of COVID-19 reasons may be rescheduled and played as exceptions to the school week limit as noted in state regulations, as long as they are rescheduled and played on a date agreed upon by the two schools involved in the contest, or on a date as determined by the District Executive Committee, if the two schools cannot agree.
NFHS Softball Considerations
In support of the Guidance for Opening Up High School Athletics and Activities, the NFHS Softball Rules Committee offers this document for state associations to consider whether any possible rules could be altered for the 2020-21 season. The considerations outlined in this document are meant to decrease potential exposure to respiratory droplets by encouraging social distancing, limiting participation in administrative tasks to essential personnel and allowing for appropriate protective equipment.
1. Softball Rule Considerations
Face Shields (1-7-1, 1-8-4) - Per guidance from the NFHS Sports Medicine Advisory Committee,
Plastic shields covering the entire face (unless integrated into the face mask and attached to a
helmet) shall not be allowed during contests. Their use during practices increases the risk of
unintended injury to the person wearing the shield or teammates.
Additional Equipment (1-8): Cloth facial coverings are recommended but not required. Facial
coverings cannot be optic yellow. Pitchers facial coverings must be of one color, not distracting, and no designs.

Pregame Conference (2-14-2): Limit attendees to one coach from each team plus the umpires. Coaches should stay outside the width of the batter's box at home plate, maintaining 6 feet of distance between each person.
Substitutions: (3-3-3): The verbal exchange should occur 6 feet from the coach to scorer and
opposing team when making lineup changes.
Coaching (3-5-1 NOTE): Umpires do not handle equipment on the field during play. Contact
with the game balls should be as limited as possible. There are several strategies to protect
the student athlete from cross contamination due to exposure to game balls. It is
recommended each state choose a strategy that best fits their specific circumstances.
Coaching (3-5-3, 3-6-14): Coaches who wish to discuss a rule or a ruling on the field must
maintain at least 6 feet of physical distance from the umpire.
Coaching (3-5-2): Base coaches must stay 6 feet from a runner at all times after suspension of
play.
Bench and Field Conduct (3-6-6): Players are not permitted to leave the dugout area to
congratulate players coming off field from defense, when scoring or after home runs. The number of individuals in the dugout is dependent on the size of dugout. Players and coaches must maintain 6 feet of social distance. NFHS rules allow for dugouts/designated warm up areas to be extended to provide for social distancing.
Charged Conferences (3-7-1, 3-7-2, 3-7-3): Coaches holding defensive conferences must stay on the home plate side of the pitcher's circle and the player or players must be on the opposite of the pitcher's circle maintaining the 6 feet distance. Only one coach is permitted during the conference. If a coach visits the pitcher, all other players should stay outside the pitching circle.
Exchange of Lineup Cards (4-2-1b): Lineups should be handed to the umpire, and the umpire
will verbally approve or ask any questions about the lineup. Recommended for lineup cards
exchanged team to team and teams to scorekeeper to be shared via photo or text.
Plate Umpire (10-2-1): Plate umpire should stand deeper than normal to call balls and strikes.
Equipment and Apparel (10-4-2): Cloth facial coverings are recommended but not required. Must be of one color and not distracting and no designs. Umpire may wear disposable glove and masks.
2. Softball Umpires Manual Modifications
Mechanics Sections 3, 4b and c
Base umpires should maintain 6 feet from any player as a starting position when rotated and/or
counter rotated.
Section 2E
Keep the catcher and batter at a 6-foot distance when dusting off the plate.