2020-21 Soccer COVID Calendar and Update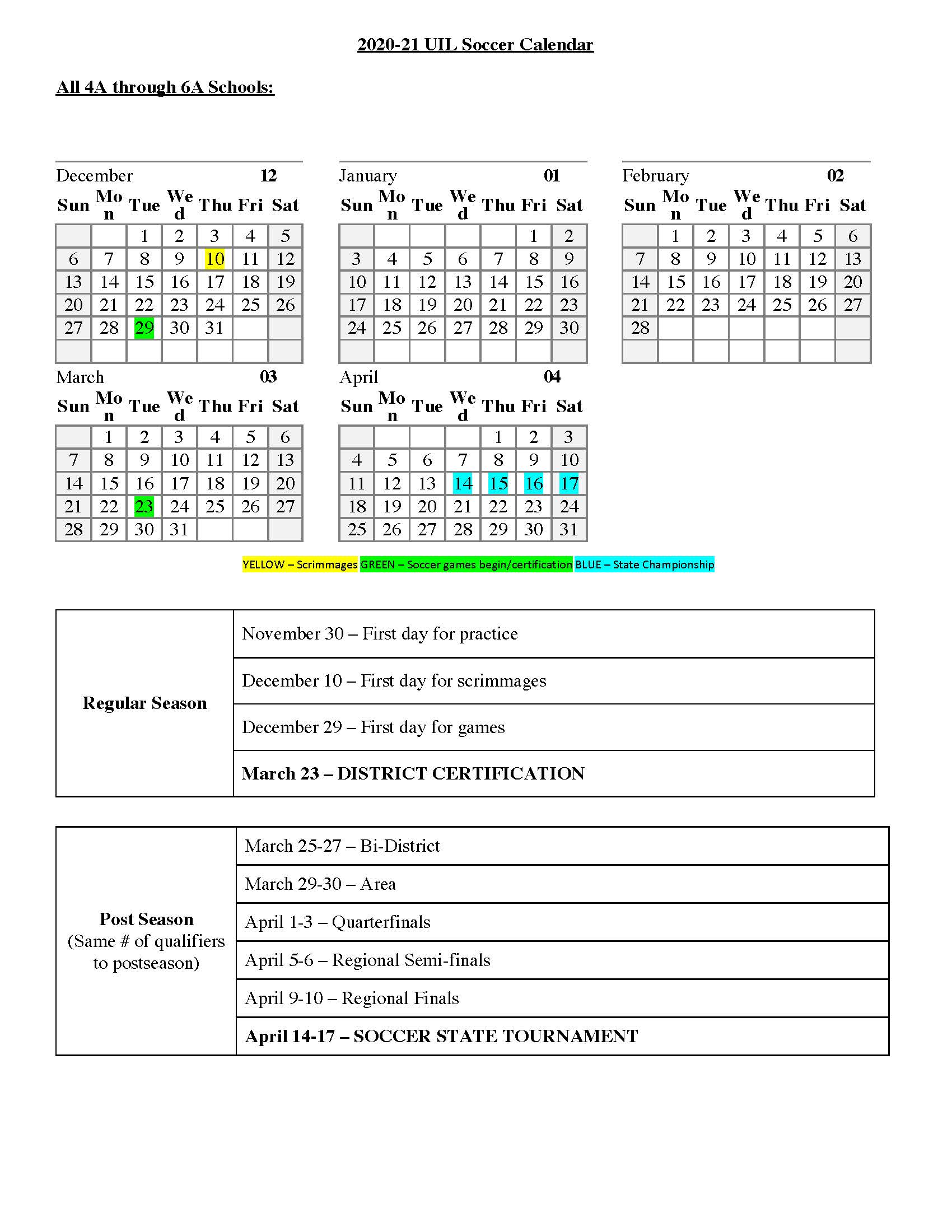 2020-2021 UIL Soccer Season Update
General Operational Guidelines
TEA requires all school systems to develop a plan for mitigating COVID-19 spread in schools. These UIL guidelines require schools to include UIL activities for the 2020-2021 school year as part of this plan and carefully plan for mitigating risk of spread as students and staff participate in them. Schools must post these plans on the homepage of the school website or other easily accessible area of the school website. These plans do not require UIL or TEA approval. All 2020-2021 UIL COVID-19 Risk Mitigation Guidelines can be found at LINK HERE. (This is not a live link.)
Executive Order GA-29, regarding face coverings, applies to all UIL activities effective July 3, 2020. This includes the 2020-2021 school year. As the public health situation changes, and/or if subsequent Executive Orders are issued by Governor Greg Abbott, these guidelines may be further modified.
For the purposes of this document, face coverings include non-medical grade disposable face masks, cloth face coverings (over the nose and mouth), or full-face shields to protect eyes, nose, and mouth.
All employees, parents, visitors and students ten years of age or older must wear face coverings or face shields upon entry to an area where UIL activities are being conducted and when not actively practicing or playing in the contest, unless an exception listed below applies.
The face coverings requirements do not apply to a school in a county that meets the requirements of paragraph 11 of Executive Order GA-29, unless the local school system chooses to implement these requirements locally. Even in these circumstances, the wearing of face coverings or face shields is strongly encouraged.
Exceptions to the wearing of face coverings or face shields include:
Any person with a medical condition or disability that prevents wearing a face covering;
While a person is consuming food or drink;
While the person is in a swimming pool, lake, or similar body of water.
When a congregating group of persons maintains at least 6 feet of social distancing; or
Any other reason or circumstance indicated under Executive Order GA-29.
*Competitive drills involving one or more students on offense against one or more students on defense may be conducted. While conducting these drills, schools must require all students not actively exercising and staff to wear face coverings as described above.
Staff – Required Screening before attending or participating in activities:
Schools must follow TEA screening requirements and screen staff members before allowing staff to participate in UIL activities. Schools may consider screening students for COVID-19 as well. These protocols mirror the guidelines issued by TEA for school operations.
If a student or staff member has been screened by the school for purposes of participating in instruction, there is no reason to screen separately before allowing the staff or student to participate in UIL activities. Please see the TEA website for the most current screening guidance. TEA website
Remote Learning
Students participating in remote learning offered by their school district, whether synchronous or asynchronous (as defined by TEA), may participate in UIL activities if they meet all other UIL eligibility requirements. Students must be enrolled in remote learning options through the school the student will represent. Schools may develop local policies with additional requirements for participation. You can find more information related to the full-time student rule in the UIL Constitution and Contest Rules.
District Executive Committee/Scheduling District Games
DEC's will need to meet to confirm soccer schedules, playoff qualifiers, and safety protocols concerning the 2020-2021 school year.
The District Executive Committee shall arrange a schedule to determine district representatives prior to the posted district certification date.
The DEC shall determine the place and/or time of district games in case of disagreement between two schools for both the regular season, games postponed due to weather, or disruptions in scheduled games due to COVID-19. The DEC should give strong consideration for schedules that allow for disruptions and a method for certifying district representatives in the event games cannot be made up.
DEC's need to prepare tie-breaker protocols as well as protocols to address certifying the district with the potential for incomplete seasons. A district executive committee may authorize a single elimination game or tournament to resolve district ties. A one-game play-off could break a two-way tie. A single elimination tournament could resolve a tie between three or more schools.
NOTE: These games must be completed by the district certification deadline and will not count against the
allowable games if not previously scheduled. Tie-breakers must be held in compliance with calendar week and school week restrictions. If the district executive committee schedules any other games or tournaments as part of their method for determining play-off representatives, the games played must count in the season limitation.
NOTE: Districts may want to be creative with their schedules to ensure district contests get played prior to District Certification.
Spectators and Fans
The 50% capacity limitation for spectators and fans continues to be in effect. Local schools determine what 50% capacity is for each facility, providing for appropriate spacing between groups. In keeping with Executive Order GA-29, UIL COVID-19 Risk Mitigation Guidelines require spectators to wear face coverings when entering and exiting a facility and when six feet of social distancing from another person not in the same household cannot be maintained.
Additionally, UIL is issuing further clarification related to fans for visiting teams at district contests. Schools must allow visiting school fans to attend district contests if home school fans are allowed to attend, unless the schools involved in the district contest mutually agree to only allow home school fans
The number of tickets or percentage of allowed spectator space provided to the visiting team should be determined by the DEC. If the DEC has not made such determination, the hosting school shall make a reasonable effort to accommodate visiting fans.
For non-district contests, the two schools involved must mutually agree on home and visiting school fans attendance.
Scrimmage, Tournament & Game Scheduling
0 Tournaments and 21 games or
1 Tournament and 19 games or
2 Tournaments and 17 games or
3 Tournaments and 15 games
Scrimmages - no more than 4 schools may meet for scrimmage purposes at one site. For sites that are used to having multiple groups of 4 at a scrimmage, that is not allowed for the 2021 soccer season. Not team or student shall participate in more than 2 scrimmages per calendar week.
For teams choosing to substitute games in place of tournaments, 3 games may be played in a calendar week. If school is in session, the 2nd and 3rd game must be played after the end of the school week.
New: School Week Limitation Exception - UIL varsity district contests postponed because of COVID-19 reasons may be rescheduled and played as exceptions to the school week limit as noted in state regulations, as long as they are rescheduled and played on a date agreed upon by the two schools involved in the contest, or on a date as determined by the District Executive Committee, if the two schools cannot agree.
Tournament Guidelines and Restrictions:
Maximum of 4 teams per site at any one time

2 teams playing in game
2 teams warming up on opposite sides / ends of field
Teams coming onto field for next game must wait until the team before them completely leaves the field and sideline / dugout area and the area has been cleaned
The game must be completed and the 2 teams playing in the game (a.) must have left the facility before the next two teams can come in and begin their warm-up on opposite sides / ends of the field.
Participating school responsibilities

Follow all UIL protocols / guidelines in place on the COVID-19 Information page (https://www.uiltexas.org/policy/covid-19)
Follow all local district protocols
Follow approved NFHS sport specific rule considerations
Host site responsibilities

Follow all UIL COVID-19 protocols / guidelines (https://www.uiltexas.org/policy/covid-19)
Follow approved NFHS sport specific rules considerations
Communicate any local protocols in addition to the UIL protocols, to participating teams well in advance of tournament
Host school must create a warm-up plan where no two teams are in the same warm-up area at the same time
Host school must create a plan to clean and disinfect the dugout / sideline areas between each game
Host school must create a plan for a deep clean and disinfecting at the end of each day to prepare for next day
Sport Specific Protocols
Face Coverings
Face coverings do not have to be worn while actively competing in a contest. Face coverings must be worn by all team personnel (coaches, managers, players not in the game) while on the bench or not actively participating in game or warm-ups.
Performance Areas, Locker Rooms and Other Congregate Settings
Schools should make hand sanitizer, disinfecting wipes, soap and water, or similar disinfectant readily available in these areas.
All congregated areas should be regularly and frequently cleaned and disinfected including all frequently touched surfaces such as doorknobs, tables, chairs, lockers, and restrooms.
Any equipment that will be kept in student lockers and/or in these areas should be thoroughly cleaned and disinfected each day prior to students accessing these areas. Schools should develop a plan for managing the storage, cleaning and disinfecting, and redistribution of student equipment.
Schools should consider identifying staff to monitor locker rooms and other areas where students may congregate to ensure effective use of school protocols. When possible, schools should open windows and/or doors or otherwise work to improve air flow by allowing outside air to circulate in these areas.
Schools must require staff and students to wear face coverings while inside locker rooms, meeting rooms, training rooms, band halls and other areas where students may congregate other than shower facilities.
As part of their overall plan, schools should develop a plan for mitigating risk of spreading COVID-19 when disinfecting, cleaning, and laundering items such as towels, practice clothes, and uniforms. This plan should include protocols for redistributing these items to students. Involved staff should be trained specifically on these protocols.
Practice Activities
In addition to the above general guidelines and rules in the UIL Constitution and Contest Rules and UIL manuals and handbooks, the following applies to practice activities during the 2020-2021 school year.
All surfaces in practice areas should be thoroughly disinfected throughout and at the end of each day.
Any equipment should be regularly disinfected before, during, and after practice sessions.
Schools may provide food, water or other drinks. If they provide these items, schools should do so in a manner that ensures students are not sharing these items.
Game, Contest, and Event Management
In addition to the above guidelines and rules in the UIL Constitution and Contest Rules and UIL manuals and handbooks, the following applies to games, scrimmages, and events:
Teams and Participants
If the school is planning to offer transportation for students, schools should follow TEA guidance related to such transportation.
Teams and participants are required to wear face coverings as described in Executive Order GA-29.
The host site should designate a cleaned and disinfected area for teams to unload and load buses separate from fans, spectators, and other individuals not essential to the team or group.
Visiting team /group locker rooms should be cleaned and sanitized by the host site before the visiting team arrives. Visiting teams/groups are responsible for cleaning and disinfecting equipment once it is unloaded. Schools should limit access to these facilities to only students and staff essential for the game, contest, or event.
Before each game, contest, or event, schools should follow the screening protocols described above to screen all staff members, contractors, volunteers, sports officials, contest judges, and any individuals otherwise involved in working the event. These individuals should also self-screen as described in these screening protocols.
Fan and spectator areas including bleachers, stands, walkways, and other spectator areas should be at least six feet from team /group areas such as team benches or performance areas. Where distancing is not feasible, other methods should be utilized to slow the spread of COVID-19, such as face coverings, implementing engineered controls such as physical barriers, or other risk mitigation efforts the school deems appropriate.
As previously indicated, water or other drinks and/or food may be provided. Schools or host sites should consider doing so in a manner that ensures students are not sharing these items.
Other areas used by participants, such as press box areas, should be cleaned and disinfected prior to and after use. Sites should develop plans for providing access to these areas that limit or remove potential contact between participants and non-participants.
The host site should provide sports and contest officials an area to enter and exit separate from fans when possible. Officials should be provided a dressing and meeting area, if applicable, that has been cleaned and disinfected prior to their arrival.
Pregame or pre-event meetings between teams and/or sports and contest officials should be planned to allow appropriate distancing between individuals.
Pregame and post-game gestures of sportsmanship should be conducted between teams and sports and contest officials in ways planned to help reduce the risk of spread of COVID-19.
All participants should be provided with entry and exit plans for contest areas that maintain separation from non-participants and fans. Individuals not essential to the team or group should not be given access to contest areas, performance areas, courts, or fields at all before, during, or after contests and events.
The pregame officials/head coach conference will take place on the field where social distancing of 6 feet can be maintained. This conference should be 1 hour to 1.5 hours before the scheduled game time
For the coin toss, limit attendees to the referee, umpire and one designated representative from each team (head coach or 1 captain). All remaining team members must remain in the team area. Coin toss should take place in the center of the field with designated individuals maintaining social distancing of 6 feet.
The ball should be cleaned and sanitized throughout the contest as recommended by the ball manufacturer.
There shall be NO postgame handshake between teams following the game
Student Groups not directly involved in the game or contest
Student groups such as marching bands, cheerleaders, drill teams, and other groups approved by the school district may attend and perform at games or contests in which they are not competing. Schools should consider limiting the number of participants to those essential to the performance.
These student groups should remain separate from the game or contest participants at all times. These student groups should avoid mixing with fans or non-group members throughout the game or contest.
Student groups are required to wear face coverings as described in Executive Order GA-29.
Schools should consider limiting the number of students and staff given access to the playing areas and ensure protocols for entering and exiting the playing areas are in place.
Fans and spectators should be located to provide at least 10 feet of distance from bands playing wind instruments from the stands.
These students should maintain appropriate distancing from game or contest participants at all times, including when on the sideline.
NFHS Soccer Considerations
In support of the guidance to opening up high school athletics the NFHS soccer rules committee created considerations for state associations to consider whether any possible rules could be altered for the 2020-21 soccer season. The following outline the considerations the UIL soccer will make for this next season only.
Pregame Conference (5-2-2d)
§ Limit attendees to head referee or center referee, the head coach from each team, and a single captain from each team.
§ Move the location of the pregame conference to center of the field. All individuals maintain a social distance of 6 feet.
§ Suspend handshakes prior to and following the Pregame Conference.
Ball Holders (6-1)
§ Encourage social distancing of 6 feet
Team Benches (1-5-1)
§ Encourage bench personnel to observe social distancing of 6 feet.
Substitution Procedures (3-4)
§ Maintain social distancing of 6 feet between the substitute, officials and/or teammate(s) by encouraging substitutions to occur closer to the center line.
Pre and Post Match Ceremony
§ Suspend the pregame world cup introduction line and send players to their field positions with bench personnel lined up on the touch line (3-6 feet apart) for introductions.
Suspend post game protocol of shaking hands.