Winners Announced for 2014-15 UIL Lone Star Cup
By Chris Schmidt, Public Affairs Representative | Wednesday, September 09, 2015 9:58 AM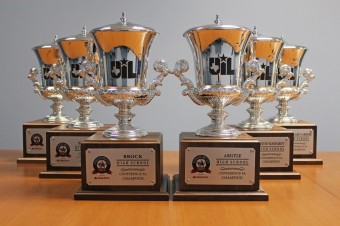 The University Interscholastic League announced the six winners of the 2014-15 UIL Lone Star Cup presented by State Farm.
In Conference 6A, Southlake Carroll High School won its sixth overall and fourth consecutive UIL Lone Star Cup earning 100 total points. The Dragon boys cross country, golf and swimming and diving teams each took home state championships while the girls cross country team placed fourth at state. Southlake Carroll won district and regional championships in academics and had regional finalist teams in football and girls soccer.
Reigning marching band state champion, Austin Vandegrift, added state titles in boys golf and girls swimming and diving on its way to the first Conference 5A UIL Lone Star Cup victory in school history. In addition to top five finishes at state in girls golf and boys swimming and diving, the Vipers were also state finalists in girls soccer and state semifinalists in football.
Argyle High School set a school record with 127 UIL Lone Star Cup points after earning state championships in academics, baseball, girls basketball, boys golf, and marching band. The Eagles were also state finalists in volleyball and football. The Conference 4A cup victory is Argyle's fourth consecutive and sixth overall.
The Brock Eagles took home their third overall UIL Lone Star Cup trophy, first in Conference 3A, by setting a school record for points in the competition with 75. Brock won state championships in boys basketball and boys golf, were state finalists in volleyball and regional finalists in football.
Also earning their third UIL Lone Star Cup award was Conference 2A winner Shiner High School, which last won in 2002. The Comanches are reigning state champions in marching band, won the softball state title and placed in the top five at state in girls track and field.
Cross Plains High School secured its first Conference 1A UIL Lone Star Cup victory with a co-state championship in girls track and field, a state runner-up finish in academics and one-act play and a regional semifinalist in girls basketball.
The UIL Lone Star Cup recognizes six high schools (one in each of the six UIL conferences) based on their overall team achievement in a variety of sanctioned academic, athletic and music championships. All UIL member high schools in good standing are included for contention for the UIL Lone Star Cup. Trophy presentations will take place in the fall at events chosen by the winning schools.
The UIL Lone Star Cup program began during the 1997-98 school year.