UIL Unveils Swimming and Diving Historical Display
By Michelle Carrigan, UIL Intern | Friday, March 01, 2013 10:41 AM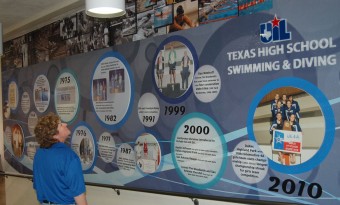 The timeline highlights the growth of UIL Swimming and Diving.

Photo by Jeanne Acton
The University Interscholastic League in collaboration with the Lee and Joe Jamail Texas Swimming Center unveiled their new swimming and diving timeline at a ceremony during the state swimming and diving meet Feb. 22. The timeline displays the history, growth and development of swimming and diving with the UIL.UIL staff worked closely with Charles Logan, director of the Lee and Joe Jamail Swimming Center to chronicle the progression and highlights of UIL swimming and diving and the state meet.
Dr. Charles Breithaupt, UIL executive director, said he was grateful for University of Texas and its support of the timeline and the multiple state championships it hosts.
"If you know the University of Texas like we have known them, they don't do anything halfway," Dr. Breithaupt said. "If the University of Texas does it, it is first class and Charles [Logan] epitomizes that."
The high school historical display is the most recent addition to the Texas Swimming and Diving Hall of Fame located in the University of Texas at Austin Swim Center. Logan emphasized the rich history of swimming in the state of Texas. "We're really proud to have this display, and are excited about all of the champions," Logan said.
Logan said he was impressed with the number of people who complimented the addition.
Dr. Breithaupt recognized Traci Neely, UIL swimming and diving meet director, for her visionary impact on the creation of a historical display for the sport.
"She expanded on what Peter (Contreras, former UIL swimming and diving state meet director) did and added the finishing touches and is continuing to look at new ways to embrace the history of swimming and looking forward to a future generation of Olympians who will swim at this state meet," he said.
The creation of the timeline has been a team effort. The joint efforts of Heather Bollinger, UIL archivist, Kate Hector, UIL media coordinator, and Logan's staff have produced a lasting tribute to swimming in the state of Texas that will only continue to grow.
The UIL also acknowledged the Texas Interscholastic Swimming Coaches Association for its promotion of swimming and diving and its role in making Texas one of the premier swimming states in the country.
The timeline is now on display in the Lee and Joe Jamail Texas Swimming Center.

Staff who worked on the historical display:
Traci Neely, UIL Assistant Athletic Director
Peter Contreras, UIL Assistant Athletic Director
Charles Logan, Lee and Joe Jamail Texas Swimming Center Director
Jessica Lane, UIL Athletic Assistant
Chris Schmidt, UIL Public Affairs Representative
Heather Bollinger, UIL Archivist
Emily Chen, Swimming Center Graphic Design Student Assitant