Printing Press Operator Says Farewell to UIL
By Stephanie Ramirez | Friday, August 28, 2009 1:00 PM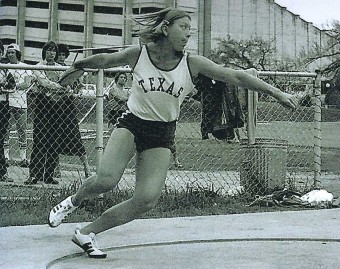 After almost 30 years of service to the University Interscholastic League, Carol Finsrud will start the printing press for the last time on Aug. 31. After starting as a student employee in the mailroom in 1979, Finsrud became a full-time employee in 1981 running the printing press and has been a part of the UIL family ever since.

In July, Finsrud announced her retirement.

"I'm very blessed to be able to retire now," Finsrud said. "I just want more time to expand on other things."

Those "other things" range from focusing on her discus and shot put throwing to helping her husband with their gym in Lockhart.

Originally from Minneapolis, Finsrud moved to Texas in the fall of 1977 to attend the University of Texas at Austin on an athletic scholarship as one of the University's first two female throwers for its Track and Field team.

"Texas was a sight unseen," she said. "I came for better weather to pursue my passion so that I could practice all year round. I still haven't left."
Finsrud made Austin her permanent home, and after completing her two years of eligibility at UT, Finsrud took nine years off from throwing the discus and shot put.

In that time, she earned her degree in geology and also took on a full-time job with the UIL. Although she wasn't throwing anymore, Finsrud stayed in shape by regularly working out at Hyde Park Gym in Austin, which was owned by her husband, Mike Graham.

For almost a decade, Finsrud didn't throw and didn't compete. But she didn't leave the sport completely. She continued to follow her former competitors and teammates.
"I saw these other women throwing farther than they had in college," she said. "I always knew I could do better. So finally I said, 'I want to do that. I know I can do that.'"

"As cliché as it sounds, I didn't want to wake up one day, sitting in a rocking chair, wondering what I could have done," Finsrud said.

When Finsrud returned to her sport, she found that her throwing had improved — up to 20 feet farther than her best throw in college.

As she continued to train and progress, Finsrud attended three different Olympic trials in 1992, 1996 and 2000, one of which members of the UIL staff were present to cheer her on for.
"To be a part of three Olympic trials was thrilling," she said. "I was competing with the best athletes in the country — athletes I had read about in Track and Field News."

In 1992, UIL staff members, some past and present, went out to New Orleans to see Finsrud compete in the trials.

"It was just so nice to know how much everyone really supported me," Finsrud said. "I really appreciated that."

At age 36, Finsrud found Masters Track and Field, a Track and Field organization for men and women ages 35 and over. In college Finsrud competed only in the discus and shot put. Now, she competes in five different events including the discus, shot put, hammer throw, javelin and weight throw.

Finsrud has competed in the USA Track and Field Master's National Championship every year since 1993, where she has won gold in the discus every year. Finsrud refers to the discus as her baby. She holds the national records in the discus in four different age groups ranging from 35-54 and also holds the world record in the 50-54 age group.

The World Master's Championship occurs every two years at different locations and has taken Finsrud to places like New York, South Africa, England, Australia, Puerto Rico, Spain, Italy and Finland.

"I have had many interesting adventures at the Worlds, and I have become good friends with fellow master athletes from around the world due to my participation in that competition," she said.

In August Carol returned from her latest world championship in Lahti, Finland, with her eighth gold medal in the discus. More than 5,300 competitors from all over the world attended the championship this year.

The awards ceremony was one of Finsrud's fondest moments.

"I was in a U.S.A. Olympic uniform, getting draped to our national anthem," Finsrud said. "I got goosebumps while I was there. I get goosebumps again just thinking about it. After it was all over, I was sitting in the stands and I thought to myself, 'It's just amazing that there are all these people here, all age groups, all skill levels, from all over the world, and we're all here sharing in this same passion.'"

Over the years, Finsrud has earned more than 250 medals for her accomplishments, and in 2007 she was inducted into the Master's Track and Field Hall of Fame.

"It was quite an honor to be inducted at such a young age – 50," she said.

Working at the UIL has given Finsrud the opportunity to stay close to her love of track and field. Not only has she been able to take time off and travel to her competitions, but she has also been able to follow the student athletes pursue their dreams and passions.

"It really is a great and wonderful organization," she said. "It just really gives me satisfaction to work for an organization that creates so many opportunities for the kids."

In her retirement, Finsrud plans to coach more student and master athletes and continue to improve her own skills. She will do this work at "Atlas Field," — the field her husband built for her.

"I want to do more training than just once a week because that just really isn't enough," she said.

Retirement also will give Finsrud time to spend with her mother and husband and time to explore new hobbies..

"I really want to explore some creative endeavors like photography, and maybe even some blacksmithing," she said.

As an employee since 1979, Finsrud has worked under three executive directors — Dr. Bailey Marshall, Dr. Bill Farney and Dr. Charles Breithaupt. In that time, she has seen the UIL go from using the mimeograph that she originally helped run as a student, to the printing press she has run by herself since the UIL made the switch, to a more digital era more recently.

Finsrud said her best memories of the UIL are of its staff. She has always felt extreme support from them, especially when she qualified for the 1991 Open USATF National Championship in New York City. The staff took up a collection to help her go to her first national championship.

"I really felt their support while I was competing there, and I ended up throwing my personal best," Finsrud said. "Leaving is bittersweet."

Her departure is not just bittersweet for her, though.

"Carol is the rock of UIL," said Diana Cardona, supervisor of the mailing and print room. "At UIL, everything starts with the printed word. It starts with her. She has always been a bed rock for us. She will be truly missed, but we are happy for her as she takes her next step in life."