Music Associate Retires After Almost Two Decades at League
By Lauren Kelley, UIL intern | Tuesday, February 10, 2015 2:30 PM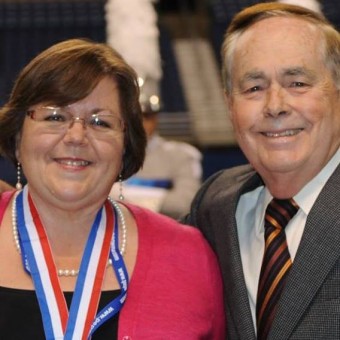 Former Music Director Richard Floyd (pictured left) and current Music Director Dr. Brad Kent honored Patty Esfandiari at the 2014 State Marching Band Contest at the Alamodome.

For 19 years, Patty Esfandiari embodied the UIL motto, "Making A World of Difference" as she served the state's high school band directors, music directors, students and more.

Former UIL Music Director Richard Floyd said she was the "perfect example of the motto" as the administration associate in UIL.

"Her cheerful voice and caring demeanor will cheer you up immediately," Floyd said. "She was and is a wonderful musician and it was immediately evident that she could relate with the music educators we serve."

In December after almost two decades of working for UIL, Esfandiari retired.

"My favorite part of the job was all of the interaction with people—both in the office and on the phone with all of the various publics we serve," she said. "Working for an organization whose educational mission is so very important was exhilarating."

Esfandiari was particularly connected to her job because she was a musician herself.

"Finding a position that allowed me to utilize my musical training and experience as well as my administrative skills was a dream come true," she said. "I had a great work environment and wonderful coworkers."

Before UIL, Esfandiari played oboe in the Austin Symphonic Band and in the Mid- Texas Symphony. From there, she moved to the Pickle Research Campus as a senior procurement officer.

"A woman with whom I worked was scrolling through the university jobs listings and told me about a music-related position in the UIL," she said. "When she told me [Richard] Dick Floyd was the director, my little antennae stood up at attention. I made a phone call and the rest is history."

She gives Floyed credit for her success.

"Dick Floyd's selfless stewardship has always been the beacon to guide my path," Esfandiari said. "Whatever success I have experienced is because of his example."

Floyd's fondest memories working with Esfandiari are hearing her positive, optimistic voice throughout the office.

"Countless times I have said to people, 'If you are having a bad day just pick up the phone and call Patty,'" he said. "The role that Patty has played in this 'journey' is priceless. It was my point of view over time that we were a team as opposed to her being my subordinate."

Esfandiari believes new director Dr. Brad Kent fills Floyd's place perfectly, saying Dr. Kent is "cut from the same cloth."

"I hope to help out with TSSEC and whatever other things Brad might want me to do occasionally," she said. "I am leaving you all in good hands with Becca Kinz."

Esfandiari celebrated her 36th wedding anniversary with her husband Iraj in December. The two have made extensive travelling plans for the upcoming year — including attending the wedding of their oldest daughter in South Africa.

"We have three progeny — Ardelon our son who is 35, and our daughters Bethany (26) and Afsoneh (24)," she said. "My parents, Harry and Jean Guidry, are 88 and 85, and I visit them regularly in San Antonio."

Even though Esfandiari left the world of high school music, she is staying connected to music with her participation in the Mid-Texas Symphony.

"I love making music," she said.

In her free time,Esfandiari enjoys crocheting and reading, especially the "Song of Ice and Fire" series by George R.R. Martin.

"If anybody has any influence with George R.R. Martin, I REALLY need him to finish the series," she said.