Leander ISD Makes History at State Marching Band Contest
By Mervin Malone, UIL assistant | Tuesday, December 10, 2013 10:02 AM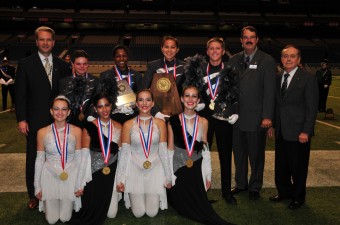 4A Conference Champion Vandergrift High School

Photo by Photo courtesy of Jolesch Enterprises
UIL music history was made this year at the State Marching Band Contest when the Leander Independent School District became the first Texas school district to take the top three spots in the 4A division.
Vandergrift High School won the title of Conference 4A State Champion title. Cedar Park High School, the reigning 4A State Champion, won second place, and Vista Ridge High School brought home third place.
"This accomplishment would not have been possible until about 12 years ago because UIL marching band advancement procedures did not allow for more than two bands from any Area Marching Contest to advance to State " Dr. Bradley Kent, UIL music director, said.
The procedural change allowed one band for every five bands competing at the area meet to advance, which ultimately meant more bands advanced to the State Meet, Kent said.
Director of Fine Arts for the Leander ISD Peter J. Warshaw, who was at the marching contest, said it was difficult to understand the significance of what had happened.
"I suspected that no school district had ever swept the top three positions, since – for many years – no more than two bands (from an area) were able to advance from Area to State," he said. "There is so much that has to occur in order for three bands from the same school district to be in a position to make this happen."
Vandegrift High School Band Director Jeremy Spicer said he had a hard time putting words to the emotions he felt as the top three placements were counted down at the state competition.
"Words cannot express the amount of hard work and dedication each of these students has displayed over the last four months," he said. "These students (and staff) have joined a unique fraternity of champions. Many students and teachers will work their entire career for such an honor and never make it. This group made it."