A Musical Journey: Floyd Retires After Nearly 3 Decades at UIL
By Jamie Oberg, UIL Intern | Friday, May 31, 2013 10:29 AM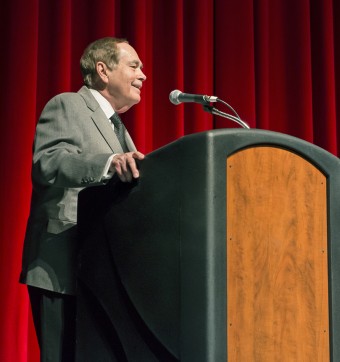 Richard Floyd, who started at UIL 29 years ago, will retire this summer. On June 27, Floyd will be one of 13 individuals inducted in the National High School Hall of Fame in Denver, Colorado

UIL Music Director Richard Floyd wears his philosophy close to his heart. In fact, it's merely inches from it.
It's a necklace that encourages him daily to always take chances and embrace life's unpredictability.
"If you turn it certain ways it reads 'Go for it,'" he explained.
Only Floyd, his wife Cheryl, and his son Weston have the necklaces, which Floyd designed himself and commissioned a local jeweler to create.
"Go for it if you have a vision, just move forward with passion," Floyd said. "That's what I've tried to do, and I hope people remember me as being passionate and caring and committed."
And Texas music educators will have no problem remembering that.
For more than 20 years, Floyd has led the UIL music department with his "go for it" passion. He has modernized and grown it into what it is today — one of the most successful music programs in the country.
And as he developed and grew the UIL music department, organizations, both state and nationally, have honored Floyd with numerous awards and titles. Just to name a few — in 2002, Floyd received the A.A. Harding Award presented by the American School Band Directors Association for his lasting contributions to the school band movement. Floyd has also received three prestigious awards from the Texas Bandmasters Association including Bandmaster of the Year in 2006, Lifetime Administrative Achievement Award in 2008.
Most recently he was inducted into the Bands of America Hall of Fame in 2011 and later the same year was awarded the prestigious Midwest International Band and Orchestra Clinic Medal of Honor for distinguished service and contributions to bands, orchestras and music education.
This summer the award-winning Floyd will retire from the League, but not before accepting one more prestigious award.
On June 27, Floyd will be one of 13 individuals inducted in the National High School Hall of Fame in Denver, Colorado.
Floyd said he found out about this distinguished award right before being honored at a Texas Music Educators Association gathering, and therefore remained unaware of the prestige of the honor until later.
"When I was looking through and noticed all the national and international personalities that had been inducted in that it took on a different perspective," Floyd said.
Of 398 High School Hall of Fame members Floyd becomes one of only three who has been honored for contributions to fine arts. The majority of the inductees are involved in athletics and administration.
But anyone familiar with Floyd and his long list of accomplishments knows he is more than worthy of the honor.
"He's the premiere band-master in the world," said Dr. Charles Breithaupt, UIL executive director. "He knows more about educational competition in regards to music than anyone else alive. He has more understanding of what's best for educational competition in music than any person dead or alive, and I mean that."
Among numerous other accomplishments, Floyd is responsible for creating the Music Advisory Committee and implementing technology resulting in a nearly paper-free UIL music competition program.
Additionally, Floyd helped to change the Prescribed Music List, which is the list of musical compositions the directors choose from for UIL music competition. He charged committees to revise the list to include only the most artistic music and eliminate less desirable pieces. These revisions to the list led to music publishing companies nationwide elevating the standards for the music they publish..
"My goal was to have the repertoire that was on that list to be the finest, most artistic music that we could find," Floyd said.

Floyd said that when he came to the UIL 29 years ago he wanted member schools to view him and his position as a resource, and not a rule enforcing entity.
"I wanted people to feel like it was their UIL, like it was their rules. Not my UIL or the University of Texas' UIL," he said.
He said that he enjoys seeing this attitude in every department of UIL competition.
"I take a great deal of pride in the programs we have developed and the programs we have refined over the years, and all of the things we have tried to do to make more positive musical connections with students," Floyd said.

Undoubtedly, Floyd has made many invaluable connections with students, directors, and administrators from over 3500 organizations as well as the University of Texas community.
On May 3, the UT Wind Symphony presented Floyd with a composition in his honor.
The piece, called The Soul Has Many Motions and written by the international award-winning composer John Mackey, was secretly commissioned and funded entirely by students from six organizations at UT, whom helped produce the annual UIL Solo and Ensemble competitions with Floyd. The students, including his son Weston, undertook the project three years earlier and managed to keep Floyd in the dark the entire time.
"There's nothing in the artistic world that is any greater gesture of appreciation than having a work of art commissioned in your honor," Floyd said. "I still haven't gotten over that."
The program details how each movement of the piece is a reflection of four distinct characteristics of Floyd's personality and life. It highlights "his ability to make people feel comfortable, forging open connections with everyone he meets," his passion for music and ability to create beauty from unforeseen adventures.
Floyd said he didn't think his life would change drastically after retiring.
"The way some people look at retirement is a foreign concept to me. I won't quit doing what I'm doing," he said. "I look forward to investing all of my energy in the things I enjoy doing the most, which are teaching, mentoring, and helping other people make music."
After a trip to Jamaica with his wife Cheryl this summer, the avid scuba diver said he looks forward to being able to spend more time with his closest friends, current and former band directors from around the country.
Dr. Breithaupt, who has known Floyd for more than 20 years, said he will miss the friendship and approachability Floyd offered to every member of the staff.
"When things were tough he was going to be with you," he said. "When he didn't agree with you he was going to be with you. No matter what he was going to carry the company line, was going to do what was right for kids, and he was going to remain friends with you even if he didn't always agree."
Additionally, Breithaupt said he will miss Floyd's willingness to innovate and try new things, even though he has been working in music for so long.
"He's got it wired," he said. "He's got the best in the country, but every year he's always tweaking it to make it better, and using technology that people his age are not using. I just celebrate that in him. He is a man of great talents, a marvelous guy, and we've been blessed to have him."
Floyd, known around the office as an incredibly humble and classy man, said his career has been nothing short of an incredible journey.
While conducting an all-state band performance in Hawaii years ago, Floyd received a small token attached to a lei a participating student gave him. The token contained a Chinese proverb:
It is good to have an end to journey towards, but in the end it's the journey that matters.
The token has remained on his desk since that day as a daily reaffirmation.
"It's what you do everyday—it's how you treat people, it's how you're going to contribute to the world," he explained. "It's the journey that matters, and it continues to be a great journey for me."