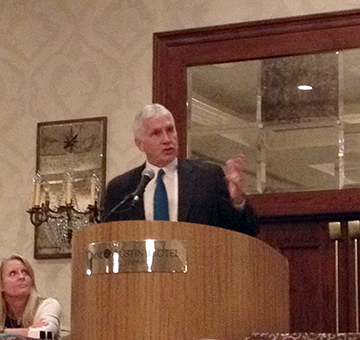 Dr. Breithaupt speaks after receiving the TGCA award.
Photo by Kim Carmichael, Chief of Staff
By Chris Schmidt, Public Affairs Representative | Friday, September 06, 2013 2:03 PM
University Interscholastic League Executive Director Dr. Charles Breithaupt was selected as a recipient of the Texas Girls Coaches Association Citation of Merit Award given to him at the association's annual summer convention.
Breithaupt, a coach and educator for 17 years before joining the UIL, is only the second recipient of the TGCA's highest honor. The award is given to individuals who have gone above and beyond in contributing to the success of the TGCA and is only awarded on odd years when the association's convention is held in Austin.

"There is no more deserving person than Dr. Charles Breithaupt," TGCA Executive Director Sam Tipton said. "It's been a great, great partnership, and we just wanted to give back a little to him for what he has done for girls athletics and the Texas Girls Coaches Association."
By Jeanne Acton, Journalism Director | Tuesday, October 22, 2013 2:18 PM
Shopping at UIL just got a whole lot easier. No more faxes or filling out paper forms to get what you need.
This month UIL re-launched its online store with additional materials and more purchasing options.
"Our goal was to create a store that was in line with what a customer would expect of online shopping," Technology Director Kelly McCollum said.
By Kate Y. Hector, Media Coordinator | Friday, September 06, 2013 1:55 PM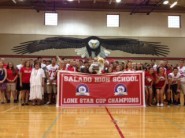 Each of the first five editions of UIL NOW for the 2013-14 school year will feature one of last year's UIL Lone Star Cup winners, like Salado High School.
Photo by Jana Riggins, Speech and Debate Director
The University Interscholastic League's video series, UIL NOW, has undergone some changes over the summer. In its previous format, the video focused on upcoming events and deadlines. The new format will feature several new sections and, a video will be published every two weeks, as opposed to every week.
In an effort to provide more detailed and timely content the videos will include sponsor spotlight, UIL flashback, activity spotlight, coaches corner and special Lone Star cup sections in various editions of UIL NOW.

By Jamie Oberg, UIL Intern | Friday, September 06, 2013 1:52 PM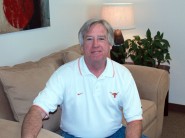 Leo Barnes is the new Director of Policy and Compliance.
Photo by Kate Y. Hector
Formerly an Associate Vice President for Legal Affairs at the University of Texas at Austin, Leo L. Barnes began working at the UIL as the Director of Policy and Compliance in June 2013.
A native Texan who grew up in Houston and attended Spring Branch High School, Barnes received his undergraduate degree from the University of Texas and graduated cum laude from the St. Mary's School of Law in San Antonio.