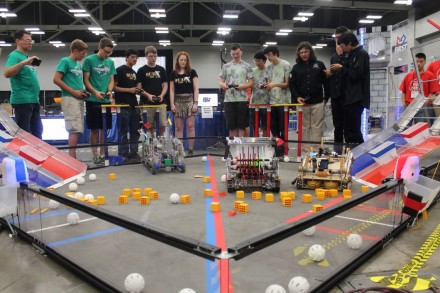 The first Robotics State Championship was held at Austin Convention Center in July.
Photo by Photo by Chris Schmidt, Public Affairs Representative
By Lauren Kelley, UIL Intern | Tuesday, August 23, 2016 9:57 AM
Robots have not taken over the world yet — but they have entered UIL competition.
UIL hosted its first pilot Robotics State Championship in July at the Austin Convention Center.
"I expected we would have a good event, but it really exceeded my expectations in terms of how smoothly everything ran and just being a great experience for the participants," STEM Activities Director David Trussell said. "I had a number of students and coaches tell me that they really appreciated what UIL is doing with the robotics program to help put a spotlight on the activity and encourage more schools to participate."
UIL teamed up with FIRST robotics to provide two competitions for the meet: the FIRST Tech Challenge (FTC) and the FIRST Robotics Competition (FRC).
By Lauren Kelley, UIL Intern | Tuesday, August 23, 2016 10:38 AM
Each year, UIL hosts four Student Activity Conferences (SAC) to provide information to students, academic coordinators and coaches about contest preparation, demonstrations, performances and contest administration. The conferences feature lectures and presentations from UIL contest directors, college professors and high school teachers.
The SACs for 2016 are:
Sept. 17 at West Texas A&M, Canyon
Sept 24 at Texas A&M at Corpus Christi
Oct 22 at the University of Texas at Austin
Nov 5 at the University of Texas at Arlington
By Lauren Kelley, UIL Intern | Tuesday, August 23, 2016 10:27 AM
The State Mariachi Festival pilot was held at Southwest High School in San Antonio.
This past spring the UIL Music Department brought together students from across the state to celebrate the rich history and culture of Mexico through the UIL State Mariachi competition.
"In 2007, UIL began offering mariachi as a medium ensemble on the region level, but there was no advancement to a state event," Director of Music Dr. Brad Kent said. "We felt like the next step was to create a state event to help continue the growth and development of mariachi programs in our schools."