Salado High School accept its Lone Star Cup Award.
Photo by Chris Schmidt, public affairs representative
By Chris Schmidt, Public Affairs Representative | Tuesday, September 09, 2014 11:11 AM
Once events are over and state championship trophies are handed out only one award is left to present, the UIL Lone Star Cup.
The UIL Lone Star Cup recognizes high schools – one in each of the UIL classifications – based on their overall team achievement in a variety of sanctioned activities. All UIL member high schools in good standing are included for contention for the UIL Lone Star Cup.

"The UIL Lone Star Cup honors the best overall academic, athletic and music programs in the state of Texas," said UIL Executive Director Dr. Charles Breithaupt. "It takes contributions from every student, teacher and coach in all facets of UIL competition to win this outstanding award. The winning schools and communities should be proud of this incredible achievement."
By Jeanne Acton, Journalism Director | Tuesday, September 09, 2014 12:00 PM
Change is hard.
Athletic Director Dr. Mark Cousins is experiencing this firsthand. He and his staff launched a new and improved online Rules Compliance Program system this summer, and while the move will be much better for coaches and administrators in the long run, it doesn't change the fact that a new system needs an adjustment period.
To his staff who is fielding hundreds of calls and emails from coaches and administrators needing assistance, Cousins describes the new RCP system like this: "It's short-term pain for long-term gain."
The long-term gain will mean better communication, efficient training programs and a more interactive system.
By Jeanne Acton, Journalism Director | Tuesday, September 09, 2014 11:21 AM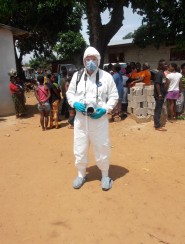 While on assignment in Liberia, John Moore wore protective gear to protect himself from getting the Ebola virus.
John Moore, a Pulitzer Prize winning photographer who now works for Getty Images, recently returned from Liberia where he documented the Ebola epidemic. In high school, Moore was an award-wining photographer, taking home just about every ILPC photo medal. In college, he shot for the Daily Texan, the University of Texas at Austin newspaper, and the Leaguer.
After returning from Liberia, Moore spoke with Jeanne Acton about his experiences in that country.
Moore will be a featured speaker at the ILPC Spring Convention held April 18-19 at UT-Austin. At the convention, he will present a session with his photos from Liberia.
By Kate Y. Hector, Media Coordinator | Tuesday, September 09, 2014 11:17 AM
The 2015 University Interscholastic League Girls and Boys Basketball State Tournaments will be played at the San Antonio Alamodome, the League announced in July.
In June, UIL staff asked for guidance from the UIL Legislative Council as it related to the basketball state tournament venue. The council authorized staff to move the basketball state tournaments to San Antonio in 2015. The Alamodome has worked with UIL staff to finalize arrangements for the upcoming girls and boys basketball state tournaments.

"The decision to move the basketball state tournaments has been a difficult one," said UIL Executive Director Dr. Charles Breithaupt. "The tournaments have enjoyed a rich tradition in Austin, but in order to provide the best experience for student-athletes, coaches and fans, it is best to move the UIL basketball state tournaments to another excellent venue in Texas, the San Antonio Alamodome."