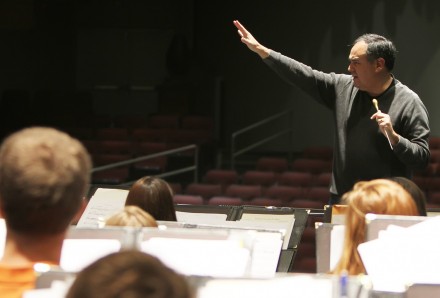 Kerry Taylor works with the band at Westlake High School. He has directed the UIL marching band there for more than 30 years.
Photo by Lily Painter
By Kate Y. Hector, Media Coordinator | Tuesday, February 10, 2015 2:18 PM
The University Interscholastic League is proud to recognize 15 of the best UIL sponsors in Texas as the 2014 UIL Sponsor Excellence Award winners.
The winners were selected by a panel of judges in the areas of academics, athletics and music from nominations submitted by school principals and superintendents across the state.
The award, now in its 24th year, was created to identify and recognize outstanding sponsors who enable students to develop and refine their extracurricular talents to the highest degree possible within the educational system.

"Interscholastic competition and student performance have innumerable benefits that are only possible through the hard work and dedication of sponsors, coaches and directors like these," said UIL Executive Director Dr. Charles Breithaupt. "On behalf of the UIL I commend these outstanding educators."
Each winner will receive $1,000 and a symbolic memento from the UIL in recognition of their outstanding achievements in the pursuit of educational excellence through interscholastic competition. The League continually strives to strengthen and promote the role of extracurricular activities in Texas through programs like the UIL Sponsor Excellence Award.
By Lauren Kelley, UIL intern | Tuesday, February 10, 2015 2:46 PM
Rebecca Kinz
"Home is where you want to stay longer," and for recent UIL hire Rebecca Kinz, this statement rings true. After senior music administrative associate Patty Esfandiari retired this winter, Kinz stepped in as a UIL employee for a second time.
"I have always dreamed about working back at UIL again," Kinz said. "I worked with Patty when I was an intern for the music department my last year in college."
Before returning to the League, Kinz was the performance librarian for the Butler School of Music at The University of Texas.
More Articles in this Issue
By Kate Y. Hector, Media Coordinator | Tuesday, February 10, 2015 2:42 PM
Dr. Kay Waggoner, superintendent at Richardson ISD, was selected as the UIL Legislative Council Chair for the 2014-2105 school year. As chair, Waggoner is looking forward to continuing to hear proposals for increased student involvement as well as the opportunity to review UIL rules.
"I think the UIL is one of the best organizations in this nation for students," Waggoner said. "It is about expanding opportunities for student involvement, developing life skills and strengthening character traits such as commitment, dedication, leadership and sportsmanship. It is about learning to win but also learning to lose."

Dr. Charles Breithaupt, UIL executive director, said Waggoner's leadership and dedication to doing what is best for all the students in Texas make her an excellent chair for the Council.
"She has served on the Council for several years and always puts the needs and best interests of all young people first and foremost," Breithaupt said of Waggoner. "We have an exciting opportunity with the UIL Constitution rewrite process this year, and I believe Dr. Waggoner will lead us through it with flying colors."
By Lauren Kelley, UIL intern | Tuesday, February 10, 2015 2:30 PM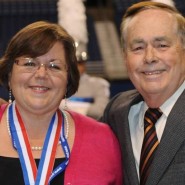 Former Music Director Richard Floyd (pictured left) and current Music Director Dr. Brad Kent honored Patty Esfandiari at the 2014 State Marching Band Contest at the Alamodome.
For 19 years, Patty Esfandiari embodied the UIL motto, "Making A World of Difference" as she served the state's high school band directors, music directors, students and more.
Former UIL Music Director Richard Floyd said she was the "perfect example of the motto" as the administration associate in UIL.
"Her cheerful voice and caring demeanor will cheer you up immediately," Floyd said. "She was and is a wonderful musician and it was immediately evident that she could relate with the music educators we serve."
In December after almost two decades of working for UIL, Esfandiari retired.