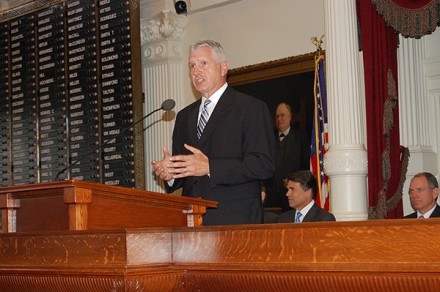 Dr. Charles Breithaupt was inducted into the Texas High School Football Hall of Fame this month.
By Kate Y. Hector, Media Coordinator | Tuesday, May 13, 2014 1:52 PM
University Interscholastic League Executive Director Dr. Charles Breithaupt has been selected for the Texas High School Football Hall of Fame Class of 2014, announced the Texas Sports Hall of Fame. The hall of fame list includes coaches and administrators who have positively impacted high school football in Texas.
Dr. Breithaupt will be inducted in a class of eight individuals, one coach and one inductee from each decade from 1950-2000. Dr. Breithaupt is being inducted in the category of Dave Campbell Contributor to the Game. The Dave Campbell contributor to the Game is a special category of inductees that has included team doctors, school administrators, media members, among others.

Members are selected by a statewide committee made up of sportswriters, high school football coaches and members of the Texas high School Football Hall of Fame Board of Trustees.
By Jamie Oberg, UIL Intern | Wednesday, May 14, 2014 12:37 PM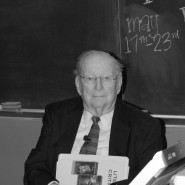 Dr. Fred Tarpley was the first state director for the Literary Criticism Contest.
Dr. Fred Tarpley, the first state Literary Criticism Contest director and driving force behind the contest, passed away on March 1 at the age of 82.
Tarpley graduated from high school at 16, received both a bachelor's and master's degree from East Texas State University (now Texas A&M- Commerce) and a Ph. D. from Lousiana State University in 1960. He was a professor at Texas A&M, Commerce from 1957 until his retirement in 1992 and was named Professor Emeritus of Literature and Languages in 2004.
In the early 1980s, Tarpley "instigated the Literary Criticism contest and provided an opportunity that students had not had before," said Treva Dayton, former UIL Academic Director. "The literary criticism contest is the perfect example of his constant willingness to give."
More Articles in this Issue
By | Tuesday, May 13, 2014 3:17 PM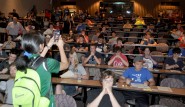 Thousands of students compete at the Academic State Meet each year.
Photo by Jeanne Acton
The UIL State Academic Meet is set to start Monday May 19 and wrap up in the wee hours of Wednesday, May 21. Thousands of competitors and academic coaches will descend on the University for the meet.
Academic Director David Stevens said he is looking forward to the state meet because it's his time to reconnect with coaches and students.
By Jeanne Acton, Journalism Director | Tuesday, May 13, 2014 2:04 PM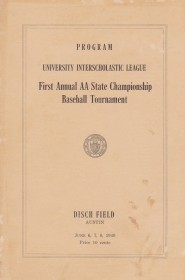 1949 State Baseball Championship program
To celebrate the 65th anniversary of the UIL State Baseball Tournament, UIL will honor Robert Leach, who in 1949 was named the first outstanding player in a state championship. Baseball Tournament Director Darryl Beasley will honor Leach with a framed certificate before the 5A state championship game at the Dell Diamond on Saturday, June 7.
"We are going to share his many accomplishments before the crowd," Beasley said. "Mr. Leach had a pretty amazing life in baseball both during the state tournament and after graduating from Denison High School."
During the 1949 state tournament, Leach, a 16-year-old left-handed pitched, shut down Marshall High School with 21 strikes outs and a 10-inning no-hitter. Leach's team won the game 1-0.