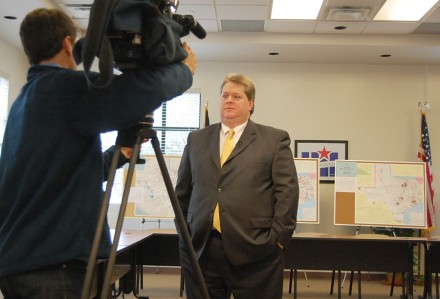 After the release of the 2012-14 Reclassification and Realignment, Dr. Mark Cousins, the athletic director, gives an interview to a local cable news station. The maps that the staff creates for each district within a conference stand in the background.
Photo by Jeanne Acton
By Jeanne Acton, UIL Journalism Director | Tuesday, February 07, 2012 8:21 AM
For Athletic Director Mark Cousins, the 2012-14 Football and Basketball Reclassification and Realignment process was much the same as previous years.
He and his colleagues spent many long days and late nights working with enrollment figures trying to get the most equitable conferences and districts for 1,300 plus high schools in a state that spans more than 265,000 square miles. And while some still don't believe it, he still used more than 1300 blue push pins and more than 250 orange rubber bands to paint the visual picture of each district.
"It's a difficult balancing act," Dr. Cousins said. "We try to limit travel and keep the most equity in the districts that we can."
But not everything was the same as years past. Dr. Cousins and his staff added a new feature this year to R&R — interactive maps of each district and conference. The maps will help the public see what the districts actually look like.
By Chris Schmidt, Communications Officer | Tuesday, February 07, 2012 8:47 AM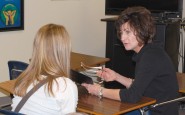 UIL Sponsor Excellence Award winner Kelly Martin of Stamford High School works with a student during class.
The University Interscholastic League is proud to recognize 15 of the top UIL sponsors in Texas as the 2011 UIL Sponsor Excellence Award winners.
The winners were selected by a panel of judges in the areas of music, athletics and academics from nominations submitted by school principals and superintendents across the state.
The award, now in its 21st year, was created to identify and recognize outstanding sponsors who enable students to develop and refine their extracurricular talents to the highest degree possible within the educational system.
More Articles in this Issue
By McKensie Wallesen, UIL intern | Tuesday, February 07, 2012 8:44 AM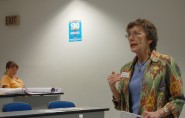 At the Capital Conference, Academic Director Treva Dayton presents a session to help academic coordinators organize and plan the upcoming year.
Photo by Julianne Coyne
Academic Director Treva Dayton may finally have time to eat.
After 22 years of service as a UIL contest consultant or staff member, Dayton decided to retire on Jan. 31.
"Often I would go to Treva's office in late afternoon, and she would look up from a pile of work and say, 'Oh my gosh! I haven't eaten today," Journalism Director Jeanne Acton said. "It was crazy. She was so driven in her work that food just escaped her mind."
While eating isn't Treva's main focus for retirement, she will have more time since she no longer will be running the largest academic competition program in the nation.
By Jana Riggins, Speech and Debate Director | Tuesday, February 07, 2012 8:41 AM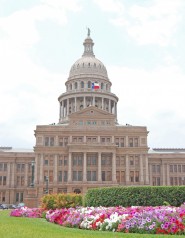 Photo by Jeanne Acton
Football has its Cowboys Stadium. Marching Band fills the Alamodome. Basketballs bounce at the Erwin Center. Track & Field sets records at UT's Myers Stadium.
Now, the championship rounds of Cross-Examination Debate will have a new venue worthy of its competition. The UIL State Office is pleased to announce that the semifinal and final rounds of all conferences will be held at the Texas State Capitol.