By Kate Y. Hector, Media Coordinator | Thursday, January 24, 2013 1:35 PM
The University Interscholastic League is proud to recognize 16 of the top UIL sponsors in Texas as the 2012 UIL Sponsor Excellence Award winners.
The winners were selected by a panel of judges in the areas of music, athletics and academics from nominations submitted by school principals and superintendents across the state.
The award, now in its 22nd year, was created to identify and recognize outstanding sponsors who enable students to develop and refine their extracurricular talents to the highest degree possible within the educational system.
More Articles in this Issue
By Jamie Oberg, UIL Intern | Thursday, January 24, 2013 1:21 PM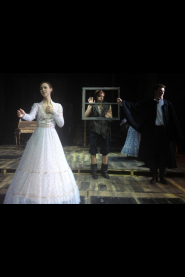 Texas students will perform Coram Boy in Lincoln, Nebraska, this summer at the International Thespian Society's 50th festival.
This summer and fall Theatre Director Luis Muñoz spent several weeks and many weekends directing a group of 90-plus students from around the state in the production of Coram Boy for the All-State Thespian company. The hard work paid off with a successful performance at the state theater convention last November and an invitation to perform at the International Thespian Society's 50th festival this summer in Lincoln, Nebraska.
"When I got the call, it was like I was going to state for the first time again," said Muñoz, who began directing at age 17 and has served as UIL Theatre Director for the past 10 years.
By Chris Schmidt, Public Affairs Representative | Thursday, January 24, 2013 12:45 PM
The latest update to the UIL Lone Star Cup standings was posted on January 11 and after points from the fall season of events have been tabulated the race for the cup in each conference is heating up. The current standings include State and Area Marching Band, Team Tennis, Cross Country, Volleyball and Football.
The UIL Lone Star Cup is awarded annually to five high schools, one in each of the five UIL classifications (1A, 2A, 3A, 4A and 5A), based on their team performance in district and state championships. The winning schools in each classification will receive the UIL Lone Star Cup trophy and a $1,000 scholarship, also presented by the UIL.