COVID-19 Information
The UIL building is closed to visitors due to COVID-19 until further notice. Staff is available to answer questions. Please see our contact page to find the appropriate department.
---
Updated 7/21/20
2020-2021 UIL COVID-19 Risk Mitigation Guidelines
The following guidance related to UIL activities, based on the public health situation as we understand it today, applies to the 2020-2021 school year. This guidance is effective August 1, 2020. Changes to the public health situation may necessitate changes to this guidance:
---
The University Interscholastic League (UIL) is presenting modifications to the 2020-2021 UIL calendar and updated COVID-19 risk mitigation guidelines, set to take effect August 1, 2020.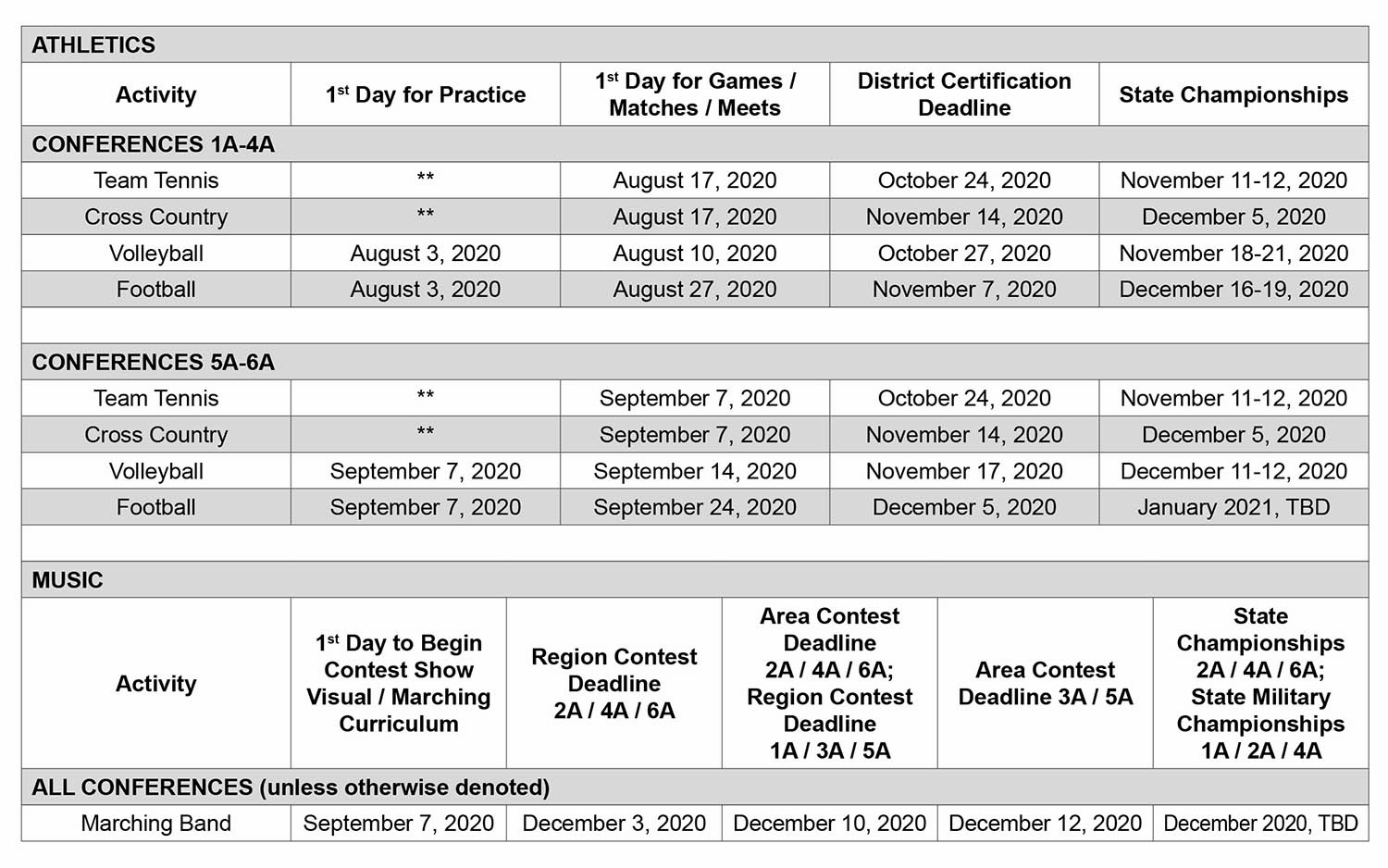 ---
2020-2021 UIL Athletic Calendars
Football Calendar
Volleyball Calendar



---
2020-21 UIL Music
2020-2021 COVID-19 UIL Music Updates

Remote Learning
Academic Eligibility
REC Concerns & Contest Schedules
Practice and Rehearsal Regulations
Performance Regulations
Updated Calendar
2020-21 UIL Athletics
---
Updated 7/10/20
Remote Learning, Academic Eligibility, Credit Requirements
As schools prepare for a variety of learning options for the coming school year, UIL is providing the following information related to those options and UIL student eligibility.
Students participating in remote learning offered by their school district, whether synchronous or asynchronous (as defined by TEA), may participate in UIL activities if they meet all other UIL eligibility requirements. Students must be enrolled in remote learning options through the school the student will represent. Schools may develop local policies with additional requirements for participation. You can find more information related to the full-time student rule in the UIL Constitution and Contest Rules.


Schools should develop grading policies for remote learning options that outline the criteria for determining if a student is passing all courses at the end of grading and evaluation periods. Days when school is not in session should be treated as school holidays for purposes of determining academic eligibility for both remote and in-person learning. All students are academically eligible when school is not in session for a full calendar week or more. More information related to no pass-no play can be found in the TEA-UIL Side by Side Manual.


For the 2020-2021 school year, UIL eligibility requirements for the first six weeks of school have been modified to allow a student to be eligible for the first six weeks if they accumulated at least two and a half credits since the start of the 2019-2020 school year. Schools may impose additional requirements.
---
Updated 07/08/20
COVID-19 Summer Strength & Conditioning, Skills Instruction and Marching Band Practices & Rehearsals
---
2020 June UIL Legislative Council Meetings
The June UIL Legislative Council meetings were held via Zoom, and were live streamed on the UIL YouTube channel as well as the UIL Legislative Council web page. Please note that in order to ensure safe social distancing during the COVID-19 pandemic, there was no physical location for the meetings.
Click here to see the meeting agenda and results.
Click here to see all the live streamed meeting videos.
5/01/20 Legislative Council Meeting Approved Resolution & Amendments
---
UIL Cancels All Remaining Spring Activities and State Championships​
UIL PRESS RELEASE 04/17/2020:
With the announcement from Governor Greg Abbott that all Texas schools are to remain closed to in-person learning for the remainder of this school year, and in an effort to help protect the health and safety of Texans, the University Interscholastic League (UIL) is canceling all remaining 2019-2020 spring activities and state championships.

"Our staff had been working hard on plans to resume activities this spring, but without schools in session, interscholastic activities cannot continue," said UIL Executive Director Dr. Charles Breithaupt. "Our highest priority during this challenging time is ensuring the health and safety of our students and communities and making progress in the containment of COVID-19 in Texas. We are now turning our attention to the 2020-2021 school year."

Practices, rehearsals, and workouts remain suspended until further notice. The previously communicated information allowing remote instruction remains in place. The UIL will continue to follow the direction of state authorities and will work closely with member schools to navigate this unprecedented time.

"I am grateful to the UIL staff for their leadership and dedication to students," said UIL Legislative Council Chair Curtis Rhodes. "Together we will get through this and we look forward to the day students are once again able to participate in education-based interscholastic activities."

Further details will be forthcoming. Please continue to check the UIL website and social media accounts for updates.
---
Remote Learning/Coaching
During statewide school suspension, remote learning/coaching of UIL activities is allowed through electronic, video or teleconferencing type methods. Schools shall limit instruction for UIL activities to a maximum of eight hours per week per activity, in addition to a maximum of sixty minutes per day Monday through Friday.
For athletic activities that are out of season, schools shall limit remote instruction to a maximum of sixty minutes per day Monday through Friday.
The UIL will continue to provide timely, ongoing updates and is reassessing this ever-changing situation daily. Please continue to  check the  UIL website  and social media accounts for further updates.
---

"We are urging our member schools and their communities to stay vigilant and take every possible precaution to remain safe and healthy," said UIL Executive Director Dr. Charles Breithaupt. "We understand there is a lot of uncertainty during this unprecedented time. Please know UIL leadership is working diligently to adjust to this rapidly evolving situation and will share updates as soon as possible."

As this is a fluid situation, the UIL will continue to follow the direction of state and local officials to monitor this situation and will make additional announcements as needed.