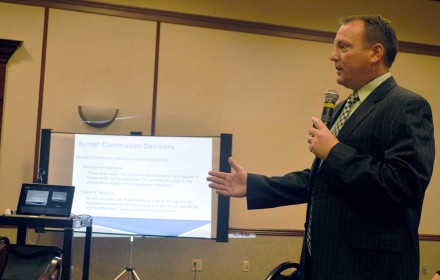 At the Legislative Council meeting, UIL Deputy Director Dr. Jaime Harrison reviews the plans for the rewrite of the Constitution and Contest Rules.
Photo by Jeanne Acton
By Lauren Kelley, UIL intern | Monday, November 17, 2014 1:37 PM
The University Interscholastic League will introduce three new pilots to Texas schools for the 2015-16 school year. At the October 2014 Legislative Council meeting, the council approved pilot contests in both academics and music.
To promote the development of STEM (Science, Technology, Engineering and Mathematics) activities, the academic staff proposed a pilot robotics competition, and the council unanimously approved it.
"Robotics incorporates numerous STEM components, including mechanical and software engineering, computer programming and mathematics," Academic Director Dr. David Stevens said. "Participation in robotics fosters creativity and innovation, while teaching students to work collaboratively, and to think critically and analytically."
By Lauren Kelley, UIL intern | Monday, November 17, 2014 1:56 PM
Baylor alumni Kevin Johnson recently joined the UIL staff as the new IT director. After seeing a message on IT talk that the former director Kelly McCollum was leaving, Johnson's interest was piqued because of the varied responsibilities of the job. "Most job postings are for a very specific skill set, but this was very wide and diverse," he said.
As a high school student, Johnson participated heavily in UIL activities, stating this was one of his main attractions to the job. He competed in the Calculator contest, the Number Sense contest and the Science contest, where his team won state his senior year.
More Articles in this Issue
By Lauren Kelley, UIL intern | Monday, November 17, 2014 1:46 PM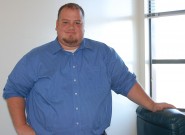 Photo by Lauren Kelley
Kevin Jones may be new to the UIL team, but the organization is not new to him. Since he was a young student, the League has been a fundamental part of his life — from student-athlete to principal and now to UIL policy director.
"I am honored by the opportunity to work for such an influential statewide organization," Jones said. "Like millions of other Texans, UIL has had a lasting impact on my life."
By Jeanne Acton, Journalism Director | Tuesday, September 09, 2014 12:00 PM
Change is hard.
Athletic Director Dr. Mark Cousins is experiencing this firsthand. He and his staff launched a new and improved online Rules Compliance Program system this summer, and while the move will be much better for coaches and administrators in the long run, it doesn't change the fact that a new system needs an adjustment period.
To his staff who is fielding hundreds of calls and emails from coaches and administrators needing assistance, Cousins describes the new RCP system like this: "It's short-term pain for long-term gain."
The long-term gain will mean better communication, efficient training programs and a more interactive system.