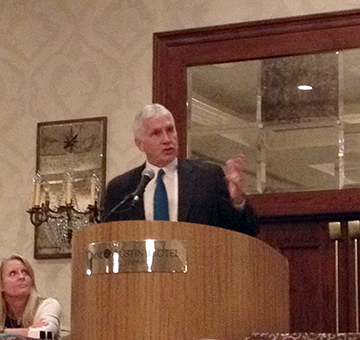 Dr. Breithaupt speaks after receiving the TGCA award.
Photo by Kim Carmichael, Chief of Staff
By Chris Schmidt, Public Affairs Representative | Friday, September 06, 2013 2:03 PM
University Interscholastic League Executive Director Dr. Charles Breithaupt was selected as a recipient of the Texas Girls Coaches Association Citation of Merit Award given to him at the association's annual summer convention.
Breithaupt, a coach and educator for 17 years before joining the UIL, is only the second recipient of the TGCA's highest honor. The award is given to individuals who have gone above and beyond in contributing to the success of the TGCA and is only awarded on odd years when the association's convention is held in Austin.

"There is no more deserving person than Dr. Charles Breithaupt," TGCA Executive Director Sam Tipton said. "It's been a great, great partnership, and we just wanted to give back a little to him for what he has done for girls athletics and the Texas Girls Coaches Association."
By Kate Y. Hector, Media Coordinator | Friday, September 06, 2013 1:55 PM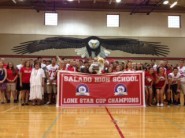 Each of the first five editions of UIL NOW for the 2013-14 school year will feature one of last year's UIL Lone Star Cup winners, like Salado High School.
Photo by Jana Riggins, Speech and Debate Director
The University Interscholastic League's video series, UIL NOW, has undergone some changes over the summer. In its previous format, the video focused on upcoming events and deadlines. The new format will feature several new sections and, a video will be published every two weeks, as opposed to every week.
In an effort to provide more detailed and timely content the videos will include sponsor spotlight, UIL flashback, activity spotlight, coaches corner and special Lone Star cup sections in various editions of UIL NOW.

More Articles in this Issue
By Jamie Oberg, UIL Intern | Friday, May 31, 2013 10:29 AM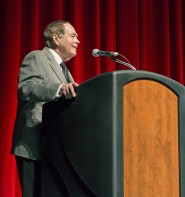 Richard Floyd, who started at UIL 29 years ago, will retire this summer. On June 27, Floyd will be one of 13 individuals inducted in the National High School Hall of Fame in Denver, Colorado
UIL Music Director Richard Floyd wears his philosophy close to his heart. In fact, it's merely inches from it.
It's a necklace that encourages him daily to always take chances and embrace life's unpredictability.
"If you turn it certain ways it reads 'Go for it,'" he explained.
Only Floyd, his wife Cheryl, and his son Weston have the necklaces, which Floyd designed himself and commissioned a local jeweler to create.
"Go for it if you have a vision, just move forward with passion," Floyd said. "That's what I've tried to do, and I hope people remember me as being passionate and caring and committed."
And Texas music educators will have no problem remembering that.