By | Friday, May 31, 2013 8:37 AM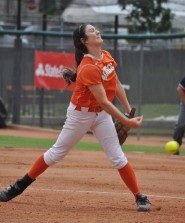 Mineola High School will play for the 3A State Championship at 10 a.m. on June 1. Mineola beat La Grange High School 7-1 in the semifinal game.
Photo by Jeanne Acton
The State Softball and Baseball Championships will wrap up a year of competition for high school athletics.
The Softball Tournament will conclude June 1 at Red and Charline McCombs Field at the University of Texas at Austin. The Baseball Tournament will run Wednesday, June 5 through Saturday, June 8 at Dell Diamond and UFCU Disch-Falk field at the University of Texas at Austin.
But while the tournaments and meets will conclude in early June, training and learning opportunities will continue throughout the summer in all departments of the League.
More Articles in this Issue
By Jeanne Acton, Journalism Director | Friday, May 31, 2013 8:15 AM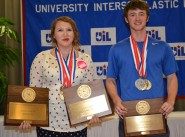 Lindale High school student Jessie Elliot and White Oak High School student Austin Jordan display their medals and plaques after the journalism awards ceremony at the Academic State Meet. Both students were in all four journalism contests, and both students medaled in each of the four contests.
Photo by Suzanne Bardwell
For the 2013 Academic State Meet, held May 20-22, more than 3,000 Texas students descended on the University of Texas at Austin to compete for the ultimate prize – a State Championship.
And while not every student walked away with a gold medal, every student walked away as a winner, said Academic Director Dr. David Stevens.
"Each year, I am in awe of the talents of the students at the State Meet," Dr. Stevens said. "You don't make it to that level of competition without intelligence, dedication and commitment."
This year to add more prestige to the award ceremonies, Dr. Stevens secured auditoriums for most award ceremonies.
"These students deserve the best, and that is what we strive to give them," he said.
By Jamie Oberg, UIL Intern | Friday, May 31, 2013 7:44 AM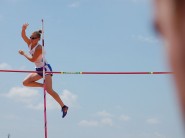 As her coach watches, sophomore Charlotte Brown clears the bar at the UIL State Track Meet. Brown, who is legally blind, placed eighth in the 3A competition.
Photo by Jamie Oberg, UIL intern
At this year's UIL State & Field Championships, Charlotte Brown, a pole-vaulter at Emory Rains High School, was presented with the 2013 Section 6 National High School Spirit of Sport Award by the National Federation of State High School Associations.
The National Federation of State High Schools Associations Spirit of Sport Award was created to recognize those individuals who exemplify the ideals of the spirit of sport that represent the core mission of education-based athletics. The NFHS divides the nation into eight geographical sections, with Texas in Section 6.
Although legally blind, the sophomore placed eighth in the state in pole vaulting.
Brown's visual abilities are similar to looking through a tiny straw. She cannot distinguish shapes or colors, and has no depth perception.