Leaguer: March/April 2012 Issue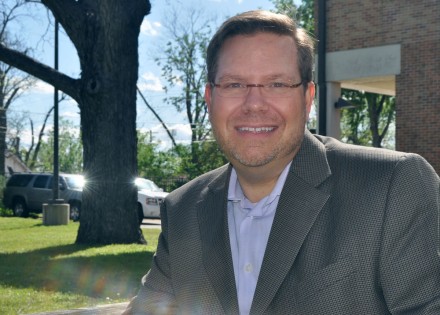 Dr. David Stevens
By Jeanne Acton, UIL Journalism Director | Wednesday, February 22, 2012 4:26 PM
The new UIL Academic Director, Dr. David Stevens, wants academic coordinators and coaches to know he's been in their shoes.
"I've been stuck on the online entry system – trying to figure out how it works," he said. "I've forgotten my UTEID. I've missed the deadline to set up our UIL meet. I know what they are going through."
As a former teacher, academic coordinator, Spring Meet chair and school administrator, Stevens has been in the chaos and understands how hard it all can be.
"I know teachers are at school from 8 a.m. to 4 p.m. for all of their classes, and then after school all of the extra stuff, like UIL, comes in," he said. "Teachers have the best intentions to make deadlines and fill out paperwork, but once they walk in through the school door, all these fires happen. They have to deal with real life."
That's where Stevens plans to step in.
By Chris Schmidt, Communications Officer | Friday, March 30, 2012 12:17 PM
View video from the 2012 UIL CX Debate State Meet.
More Articles in this Issue
By Chris Schmidt, Communications Officer | Friday, March 30, 2012 11:51 AM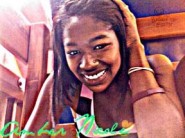 Amber Holcomb, a junior at Shepherd High School, made it to Hollywood to compete in American Idol. Holcomb runs track and field at her high school.
Photo by Photo courtesy of Amber Holcomb
"Congratulations, you're going to Hollywood!"
For the past decade, aspiring pop divas and rock stars have longed to hear that phrase because it means they have aced their first audition on their way to becoming the next American Idol. On the latest season of the singing competition, Amber Holcomb, a junior at Shepherd High School, heard those very words.

"I was so excited I didn't know what to do," Holcomb said. "I've been wanting to audition [for American Idol] ever since I was probably about 13 or 14."
By Trudy Richards, Speech and Debate | Friday, March 30, 2012 11:30 AM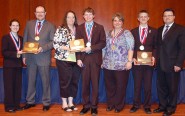 Eleanor and coach Russell Kirkscey from Blanco High School. Coach Kristi Hodgkiss and Carver from North Lamar High School. Coach Angela Teachout and Hunter Hall from Farwell and Tra Hall from Munday High School.
Each year, several students coached by their parents make it to the CX State Meet. Their experience is in some ways much like that of their peers. They work hard and put in plenty of time and effort hoping to make it to finals. But in other ways, their experience is very different.
Eleanor Kirkscey vividly remembers her introduction to debate when she was so young she rode in her car seat on the bus to overnight tournaments with her father Russell Kirkscey of Blanco High School.

"I knew I had her hooked when, as a six-year-old, she listened to one of my Super Conference lectures and took notes," Russell Kirkscey said.