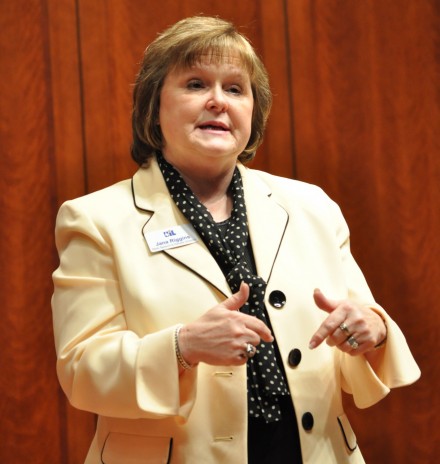 Jana Riggins has been the UIL Speech and Debate Director for the past 16 years.
Photo by Jeanne Acton
By Jamie Oberg, UIL Intern | Friday, March 01, 2013 10:55 AM
Jana Riggins, Assistant Academic director at UIL, will receive the National Federation of High Schools (NFHS) prestigious Citation Award this summer in Denver, Colorado.
Designed to honor individuals who have made significant contributions to high school sports and performing arts, the NFHS Citation is one of the most highly regarded achievements in high school activities. Citation Awards are issued in six categories, including Speech and Debate, where it is the highest honor possible.
When first notified of her recognition, Riggins said she felt "very humbled."
By | Friday, March 01, 2013 1:18 PM
On Feb. 26, the Texas Interscholastic League Foundation held its annual 2013 Celebration of Academic Excellence Banquet honoring TILF scholarship recipients attending the University of Texas at Austin. The banquet was held at the Alumni Center on the University of Texas campus. TILF, the UIL scholarship foundation, awarded more than $1 million in scholarships last year. TILF donors, UT scholarship recipients and League staff attended the banquet where students had the opportunity to thank their donors and talk about the impact UIL had on their lives.
More Articles in this Issue
By Jeanne Acton, Journalism Director | Friday, March 01, 2013 11:07 AM
In terms of medical issues, the University Interscholastic League pushes to be ahead of the curve to keep athletes safe.
"We have mandatory trainings for coaches, concussion protocols in place, mandatory physicals and much more" Deputy Director Dr. Jamey Harrison said. "Our coaches and many of our athletes are aware of these things, but our parents and the general public don't always get that information. We haven't done a good job advertising what we are doing."
To solve that problem, Executive Director Charles Breithaupt and his executive team decided to create three-minute videos to provide information regarding processes and procedures the UIL has in place for the health and safety of students.
By Michelle Carrigan, UIL Intern | Friday, March 01, 2013 10:41 AM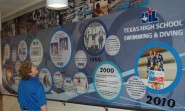 The timeline highlights the growth of UIL Swimming and Diving.
Photo by Jeanne Acton
The University Interscholastic League in collaboration with the Lee and Joe Jamail Texas Swimming Center unveiled their new swimming and diving timeline at a ceremony during the state swimming and diving meet Feb. 22. The timeline displays the history, growth and development of swimming and diving with the UIL.UIL staff worked closely with Charles Logan, director of the Lee and Joe Jamail Swimming Center to chronicle the progression and highlights of UIL swimming and diving and the state meet.
Dr. Charles Breithaupt, UIL executive director, said he was grateful for University of Texas and its support of the timeline and the multiple state championships it hosts.
"If you know the University of Texas like we have known them, they don't do anything halfway," Dr. Breithaupt said. "If the University of Texas does it, it is first class and Charles [Logan] epitomizes that."