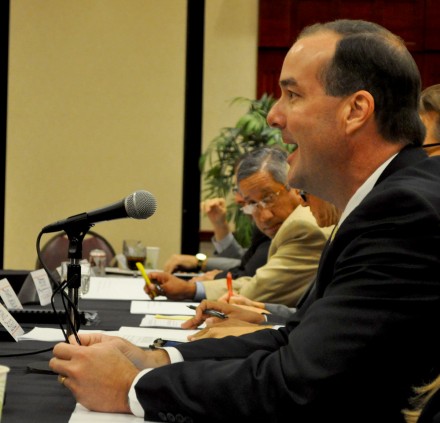 Dr. Dan Troxell presents the Academic Committee proposals to the full Legislative Council at the annual meeting in October.
Photo by Jeanne Acton
By Kate Y. Hector, Media Coordinator | Tuesday, December 10, 2013 9:58 AM
Dr. Dan Troxell, superintendent of Kerrville Independent School District, was elected the University Interscholastic League Legislative Council chair for the 2013-14 school year.
The UIL has been a part of Dr. Troxell's life since high school. As a student-athlete at Round Rock High School, he competed in football and basketball.

"The most important thing I learned is the importance of team work and teammates," Troxell said.
By Mervin Malone, UIL assistant | Tuesday, December 10, 2013 10:02 AM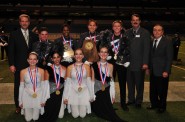 4A Conference Champion Vandergrift High School
Photo by Photo courtesy of Jolesch Enterprises
UIL music history was made this year at the State Marching Band Contest when the Leander Independent School District became the first Texas school district to take the top three spots in the 4A division.
Vandergrift High School won the title of Conference 4A State Champion title. Cedar Park High School, the reigning 4A State Champion, won second place, and Vista Ridge High School brought home third place.

"This accomplishment would not have been possible until about 12 years ago because UIL marching band advancement procedures did not allow for more than two bands from any Area Marching Contest to advance to State " Dr. Bradley Kent, UIL music director, said.
More Articles in this Issue
By Jeanne Acton, Journalism Director | Tuesday, October 22, 2013 2:18 PM
Shopping at UIL just got a whole lot easier. No more faxes or filling out paper forms to get what you need.
This month UIL re-launched its online store with additional materials and more purchasing options.
"Our goal was to create a store that was in line with what a customer would expect of online shopping," Technology Director Kelly McCollum said.
By Jamie Oberg, UIL Intern | Friday, September 06, 2013 1:52 PM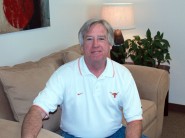 Leo Barnes is the new Director of Policy and Compliance.
Photo by Kate Y. Hector
Formerly an Associate Vice President for Legal Affairs at the University of Texas at Austin, Leo L. Barnes began working at the UIL as the Director of Policy and Compliance in June 2013.
A native Texan who grew up in Houston and attended Spring Branch High School, Barnes received his undergraduate degree from the University of Texas and graduated cum laude from the St. Mary's School of Law in San Antonio.