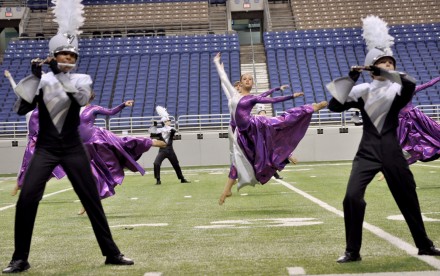 At the 4A State Marching Band Competition, Vandergrift High School performs at the Alamodome in San Antonio. Vandergrift HS placed ninth at the state competition. Cedar Park High School won the 4A title. Queen City High School won the 2A title, and Sundown High School won the 1A title. For a full list of results, go to http://utdirect.utexas.edu/uilsmbc/lbw2_sched_results.WBX?s_conference=1A&s_round=2&s_display_sw=R.
Photo by Jeanne Acton
By McKensie Wallesen, UIL intern | Monday, December 05, 2011 8:41 AM
For the first time in the history of the UIL State Marching Band Contest, parents, fans and bands across the state were able to see the performances live without making the trip to the Alamodome in San Antonio.
Over the two-day contest, the webcast received more than 60,000 hits without even much advertising to promote the event.
One of those hits was from a parent who had emergency surgery days before the marching contest so she couldn't travel to see her daughter play.
By Chris Schmidt, Communications Officer | Tuesday, December 06, 2011 8:42 AM
The Water Valley High School Lady Wildcats celebrate the win over Iola High School in the 1A State Volleyball Championship game. The Lady Wildcats won the match in three games.
Photo by Darryl Beasley
The State Volleyball Tournament was held Nov. 17-19 at Strahan Coliseum on Texas State University campus. The 2011 UIL Volleyball State All-Tournament Teams, as selected by the Texas Girls Coaches Association Volleyball Committee follow.

More Articles in this Issue
By Jeanne Acton, UIL Journalism Director | Tuesday, December 06, 2011 7:25 AM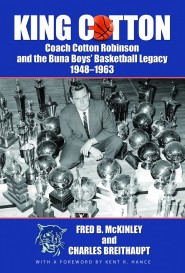 A draft of the cover of the book.
King Cotton: Coach Cotton Robinson and the Buna Boys' Basketball Legacy, 1948-1963.
"I've been writing this book in my head for the past 20 years," said UIL Executive Director and co-author of the book, Charles Breithaupt.
It makes sense.
Breithaupt grew up in Buna during the era of Coach Cotton Robinson.
"Since elementary school, I idolized him," he said. "Anyone who grew up in the town did."
By Jeanne Acton | Monday, December 05, 2011 1:40 PM
The 2011 Cross Country State Meet held at Old Settlers Park in Round Rock Nov. 12 was a grueling race. Participants had to battle dry terrain and 30-mile an hour wind gusts. To view results from the State Championships visit this link:
www.uiltexas.org/cross-country/state/results.