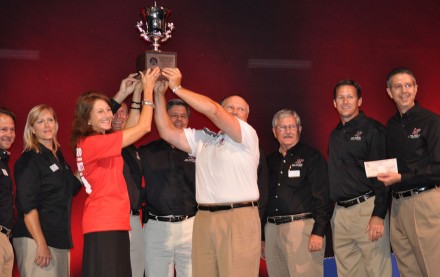 Lake Travis activity coordinators, school board members and the superintendent (far right) celebrate the Lone Star Cup win at the district convocation ceremonies. Assistant Athletic Director Traci Neely presented the trophy and a $1,000 check to Superintendent Brad Lancaster.
Photo by Jeanne Acton
By Chris Schmidt, Public Affairs Representative | Monday, August 27, 2012 2:03 PM
Each year, schools around the state compete for the right to be called UIL state champion. Those state champions then compete for the right to take home the UIL Lone Star Cup.

The UIL Lone Star Cup Award recognizes five high schools – one in each of the five UIL classifications – each year based on their overall team achievement in a variety of sanctioned academic, athletic and music championships. In 2012, Southlake Carroll, Austin Lake Travis, Argyle, White Oak and Lindsay won the coveted trophy with their overall excellence in UIL competitions.
With five state championships in the 2011-12 season, Southlake Carroll High School captured its third Lone Star Cup victory and first in Conference 5A with 100 points. The Dragons' five state titles, most among Lone Star Cup winners, came in football, boys' and girls' cross country and boys' and girls' swimming and diving
By Chris Schmidt, Public Affairs Representative | Monday, August 27, 2012 5:45 PM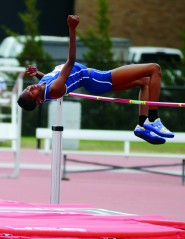 When Brigetta Barrett was at Duncanville High School she brought home the 5A high jump state championship in both 2008 and 2009. At the London Olympics, she won the silver for the same event.
Photo by Photo courtesy of Duncanville High School
Olympic competitors are some of the most talented and well-trained athletes in the world so it's no surprise that many of them were successful high school student-athletes. Several former UIL state champions made waves representing Team USA during the 2012 London Olympics. Several even medaled at the games.
The following is a rundown of how former UIL state medal winners fared at the 2012 Olympic Games.
More Articles in this Issue
By Jeanne Acton, Journalism Director | Monday, August 27, 2012 5:24 PM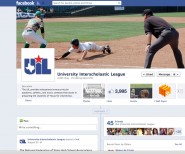 This is not your parent's organization.
Over the past five years, UIL has moved quickly and thoughtfully into the technology age.
The printed Leaguer is gone. Athletic manuals are posted online. The UIL even has a Facebook page and Twitter feed.
By David Stevens, Academic Director | Monday, August 27, 2012 3:26 PM
The Student Activities Conference scheduled at West Texas A&M University on Oct. 20 has been cancelled.
Due to marching band contests on the original date and other conflicts throughout the fall, we are unable to reschedule this SAC.
The UIL will still host three conferences.

September 15 — Tyler Junior College, Tyler
September 22 — Texas A&M University, Corpus Christi
September 29 — The University of Texas at Austin
The conferences are a crash course of all things academic related and are designed to help high school students and coaches begin to prepare for spring contests. Conferences will begin at 9 a.m. and will end by 1:30 p.m. All Student Activity Conferences are free and pre-registration is not necessary.