State Marching Band Goes Live (on the Web)
By McKensie Wallesen, UIL intern | Monday, December 05, 2011 9:41 AM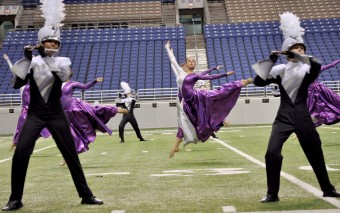 At the 4A State Marching Band Competition, Vandergrift High School performs at the Alamodome in San Antonio. Vandergrift HS placed ninth at the state competition. Cedar Park High School won the 4A title. Queen City High School won the 2A title, and Sundown High School won the 1A title. For a full list of results, go to http://utdirect.utexas.edu/uilsmbc/lbw2_sched_results.WBX?s_conference=1A&s_round=2&s_display_sw=R.
Photo by Jeanne Acton
For the first time in the history of the UIL State Marching Band Contest, parents, fans and bands across the state were able to see the performances live without making the trip to the Alamodome in San Antonio.
Over the two-day contest, the webcast received more than 60,000 hits without even much advertising to promote the event.
One of those hits was from a parent who had emergency surgery days before the marching contest so she couldn't travel to see her daughter play.
"The mother was so grateful that she had the opportunity to see her daughter's last performance in high school," UIL Music Director Richard Floyd said.
President of Mr. Video Productions, Kevin Heart, initiated the pilot project with UIL Director of Music Richard Floyd.
"Kevin [Heart] contacted me in August and asked if we'd be interested in streaming the competition," Floyd said. "All we had to do was come up with funding."
Just a week before the competition, Yamaha, a musical instrument manufacturer, volunteered to sponsor the webcast event.
"Heart told Yamaha that a couple thousand people might tune in," Floyd said. "The results far exceeded our expectations."
Because of the timing, UIL had little time to promote the live streaming prior to the contest. Floyd said he was overwhelmed by the response.
Viewers as far away as India watched marching bands compete for the state title. While the official number of hits was more than 60,000, Floyd estimates that 100,000 to 150,000 people could have been viewing at peak times.
"We heard that bands who weren't competing set up TVs in their band rooms and watched the competition as a group," Floyd said. "They got to see what other schools were doing at the state level."
Roger Eaton of Yamaha was flooded with "thank you" emails after band directors were asked to tell parents to express their gratitude to the sponsor.
"I've been so impressed with these heartfelt emails," Eaton said. "It's so nice to know that we make a difference."
Due to this year's success, Floyd hopes to continue to stream the Texas State Marching Band Contest next year.
"I can't begin to tell you the quantity and quality of feedback we have received regarding the webcast," Floyd said. "We hope to continue the partnership."