Former UIL Athletes Compete in London Olympics
By Chris Schmidt, Public Affairs Representative | Monday, August 27, 2012 5:45 PM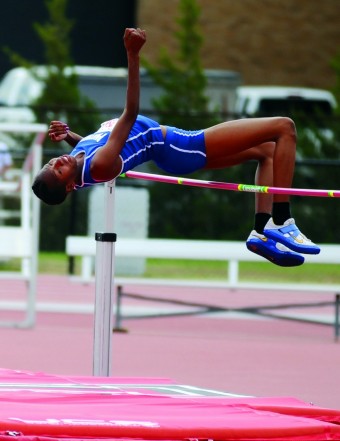 When Brigetta Barrett was at Duncanville High School she brought home the 5A high jump state championship in both 2008 and 2009. At the London Olympics, she won the silver for the same event.
Photo by Photo courtesy of Duncanville High School
Olympic competitors are some of the most talented and well-trained athletes in the world so it's no surprise that many of them were successful high school student-athletes. Several former UIL state champions made waves representing Team USA during the 2012 London Olympics. Several even medaled at the games.
The following is a rundown of how former UIL state medal winners fared at the 2012 Olympic Games:
Camille Adams, Houston Cypress Woods HS: Adams was the fastest swimmer in the Conference 5A 500-yard freestyle event winning gold at the 2010 UIL Swimming and Diving State Championships. In the Olympic pool, Adams qualified for the 200-meter butterfly finals and placed fifth right behind fellow American Kathleen Hersey.
Brigetta Barrett, Duncanville HS: Barrett won the silver medal in the high jump at her first Olympic games in London. She was also an outstanding high jumper in high school as she won the UIL Conference 5A high jump state championship in both 2008 and 2009.
Michelle Carter, Red Oak HS: The Carter family is high school shot put royalty as both Michelle and her father Michael are the national high school record holders in girls and boys shot put. Michelle, like her father, was also the Conference 4A UIL shot put state champion all four years of her high school career (2000-03). In London, she was the only American to make it to the finals and placed fifth overall.
Tamika Catchings, Duncanville HS: In 1997, Tamika Catchings led her Duncanville High School girls' basketball team to a 40-0 record and a Conference 5A UIL state championship. The 33-year old captured her third Olympic gold medal in London scoring seven points and grabbing eight rebounds against France in the final game.
Kerron Clement, La Porte HS: Clement was a three-time UIL gold medalist, winning the 5A 110-meter hurdles in 2002 and the 300-meter hurdles in 2002 and 2003. He competed against fellow Team USA hurdler Jason Richardson for each of these medals. In the finals of the 400-meter hurdles in London, Clement placed eighth overall.
Tervel Diagnev, Arlington HS: Diagnev may not have been a UIL state champion, but he did win a bronze medal in the 215 lb. weight class at the 2003 UIL Wrestling State Championships. In Olympic men's freestyle wrestling, he was a semifinalist just missing a spot on the medal stand.
Diamond Dixon, Houston Westside HS: Dixon was a two-time UIL 400-meter dash state champion in Conference 5A winning in 2009 and 2010. In London, she ran the second fastest split among her 4x400-meter relay team members during the qualifying rounds, however she did not race in the finals where Team USA took home the gold.
Jimmy Feigen, San Antonio Churchill HS: During his high school career, Feigen won multiple UIL gold medals in the pool. In 2008, he won state championships in the 50-yard freestyle, 100-yard freestyle, 200-yard medley relay and 400-yard freestyle relay. Feigen swam in the qualifying heat for the 4x100-meter freestyle relay team in London, but did not swim in the finals where Team USA took home the silver medal.
Marquise Goodwin, Garland Rowlett HS: The Texas state high school record holder in the long jump won multiple state championships in both long jump (2007-09) and triple jump (2008-09) throughout his high school career. Though he came out of the qualifying round with the longest jump at the Olympics, he finished at No. 10 in the finals.
Destinee Hooker, San Antonio Southwest HS: Though Hooker was a standout volleyball player for San Antonio Southwest, it was actually in high jump where she earned her UIL state gold. After a runner-up finish in 2003, she won back-to-back gold in 2004 and 2005. Her amazing jumping ability coupled with a 6-foot-4-inch frame made her one of the best attackers on Team USA. The women's indoor volleyball team took home the silver medal at the games.
Micah Lawrence, Pflugerville HS: Lawrence never took home a UIL gold medal, but she was a runner-up in multiple events at the 2007 UIL Swimming and Diving State Championships. The former Pflugerville High School swimmer placed sixth in the 200-meter breaststroke finals in London.
Leo Manzano, Marble Falls HS: While at Marble Falls High School, Manzano was a state champion in the 1,600-meter and 3,200-meter runs in 2001 and 2002. He was also a Conference 4A state champion in cross country each year from 2001 to 2003. In the men's 1,500-meter final at the Olympics, Manzano won the silver medal finishing only .71 seconds behind the first-place runner.
Jason Richardson, Cedar Hill HS: Richardson was an outstanding hurdler in high school, winning state championships in the 300-meter hurdles in 2004 and the 110-meter hurdles in 2003 and 2004. As an Olympic hurdler, he won the silver medal in the 110-meter hurdles finishing only behind fellow Team USA member Aries Merritt.
Dana Vollmer, Granbury HS: Vollmer was quite possibly the most decorated Olympian from Texas at the games. She won three gold medals in addition to setting two world records (100-meter butterfly and 4x100-meter medley) and an Olympic record (4x200-meter freestyle). In high school, she was the Conference 5A 200-yard freestyle and 100-yard butterfly state champion at the 2005 UIL Swimming and Diving State Championships.
Jeremy Wariner, Arlington Lamar HS: At the 2002 UIL Track and Field State Meet, there was no one faster than Wariner in the 200-meter and 400-meter dash as he took home gold in both events. As an Olympic athlete Wariner has won three gold medals (one in the 400-meter dash and two in the 4x400-meter relay). He was selected to be a part of his third Olympic 4x400-meter relay team in London but had to pull out with an injured hamstring. Team USA won the silver medal in the event.
Deron Williams, Lewisville The Colony HS: As a forward in high school, Williams led Lewisville The Colony to the semifinals at the 2001 UIL Boys Basketball State Tournament. He scored 16 points and dished eight assists in the loss to Bryan High School. At the Olympics, he was a spark plug off the bench at point guard. Williams averaged nine points and 4.6 assists on his way to a second Olympic gold medal.
Other Texas high school graduates at the Olympics: Dennis Bowsher, Dallas White HS – Modern Pentathlon; Glenn Eller, Katy Taylor HS – Men's Double Trap Shooting; Marlen Esparza, Pasadena HS – Women's Flyweight Boxing (Bronze); Jonathan Horton, Houston Cypress Fairbanks HS – Gymnastics; Diana Lopez, Fort Bend Kempner HS – Women's Featherweight Taekwondo; Steven Lopez, Fort Bend Kempner HS – Men's Welterweight Taekwondo; Darvis Patton, Richardson Lake Highlands HS – Men's 4x100-Meter Relay (Silver – did not race in finals); Khadevis Robinson, Fort Worth Trimble Tech HS – Men's 800-Meter Run; Timothy Wang, Alief Kerr HS – Table Tennis; Jason Young, Dallas Samuell HS – Men's Discus Throw.