Girls Basketball State Tournament Honor Teams
Presentation Schedule - Saturday, March 4, 2017
Honoring the 2007 tournament champions.
Teams to be presented at the halftime of the listed game time.
8:30 AM - 1A Game
Conference 1A, Division 2 - Nazareth
Conference 2A - Poth
1:30 PM - 2A Game
Conference 1A, Division 1 - Lindsay
Conference 4A - Fort Worth Dunbar
7:00 PM - 4A Game
Conference 3A - Canyon
Conference 5A - Rockwall
2007 Teams
1A Division 1 - Lindsay
Members of the Conference 1A Division I Girls State Champions Lindsay basketball team include: Stephanie Neu, Elizabeth Martin, Katelyn Brewer, Rose Hermes, Beverly Knabe, Bailey Kuhn, Emily Fuhrmann, Chelsea Hermes, Kayla Hess, Emily Copeland, Rhiannon Robinson, Kaileigh Hess, Autumn Murrill, Karissa Reter, Christina Eckhart, Brittany Anderle, Hillary Hoelker, Amanda Hess, Don Neu, Robin Hess
1A Division 2 - Nazareth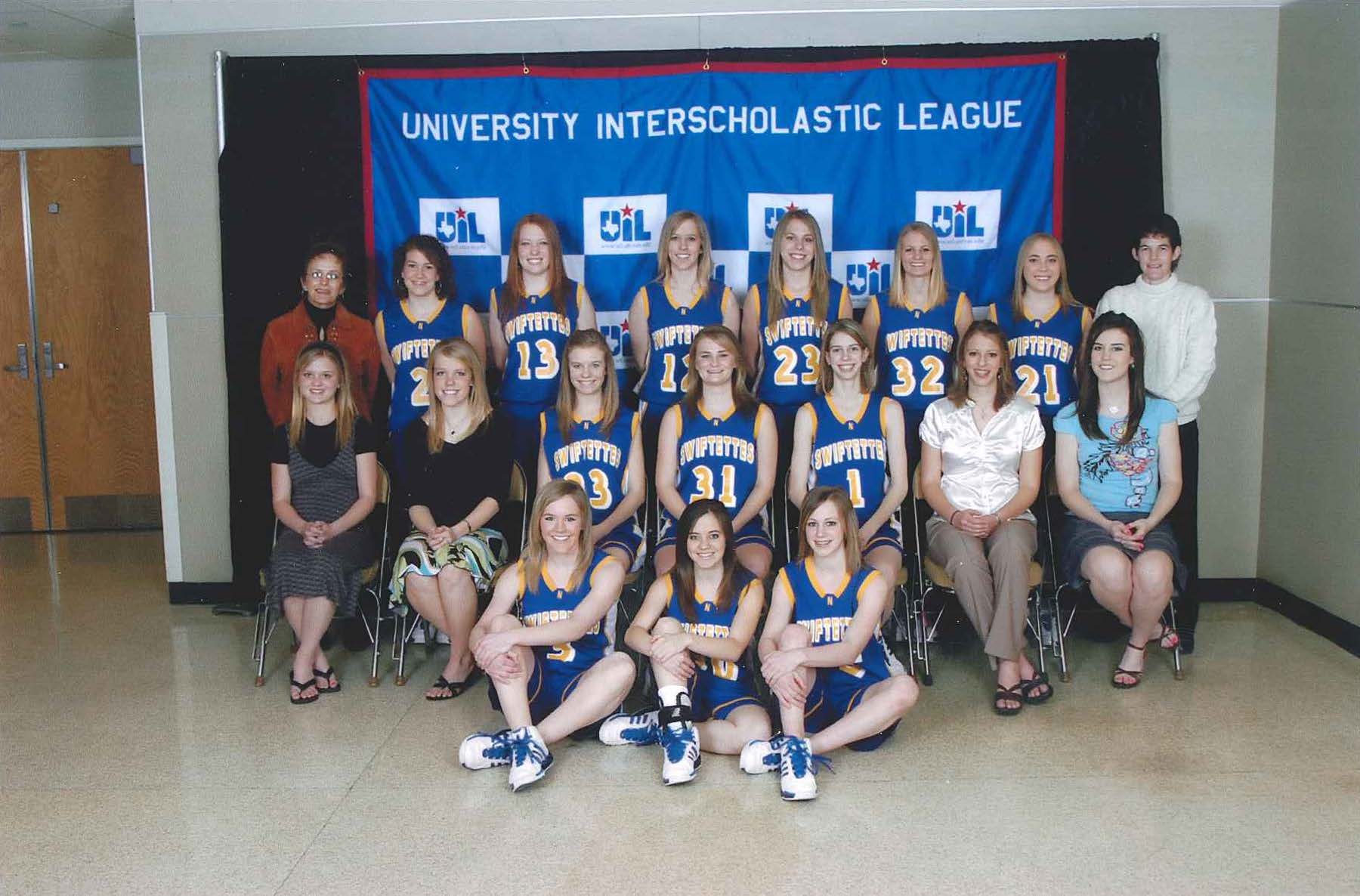 Members of the Conference 1A Division II Girls State Champions Nazareth basketball team include: Caitlin Huseman, Kelby Myrick, Amanda Acker, Tylar Peterson, Amber Huseman, Jenny Merritt, Kelcy Albracht, Kami Rundell, Brittany Birkenfeld, Brittany Nelson, Macee Shulte,Candace Birkenfeld, Holly Klemen, Jennifer Acker, Lacey Acker, Heidi Ramaekers, Brenda Shulte, Amy Huseman.
2A Champions - Poth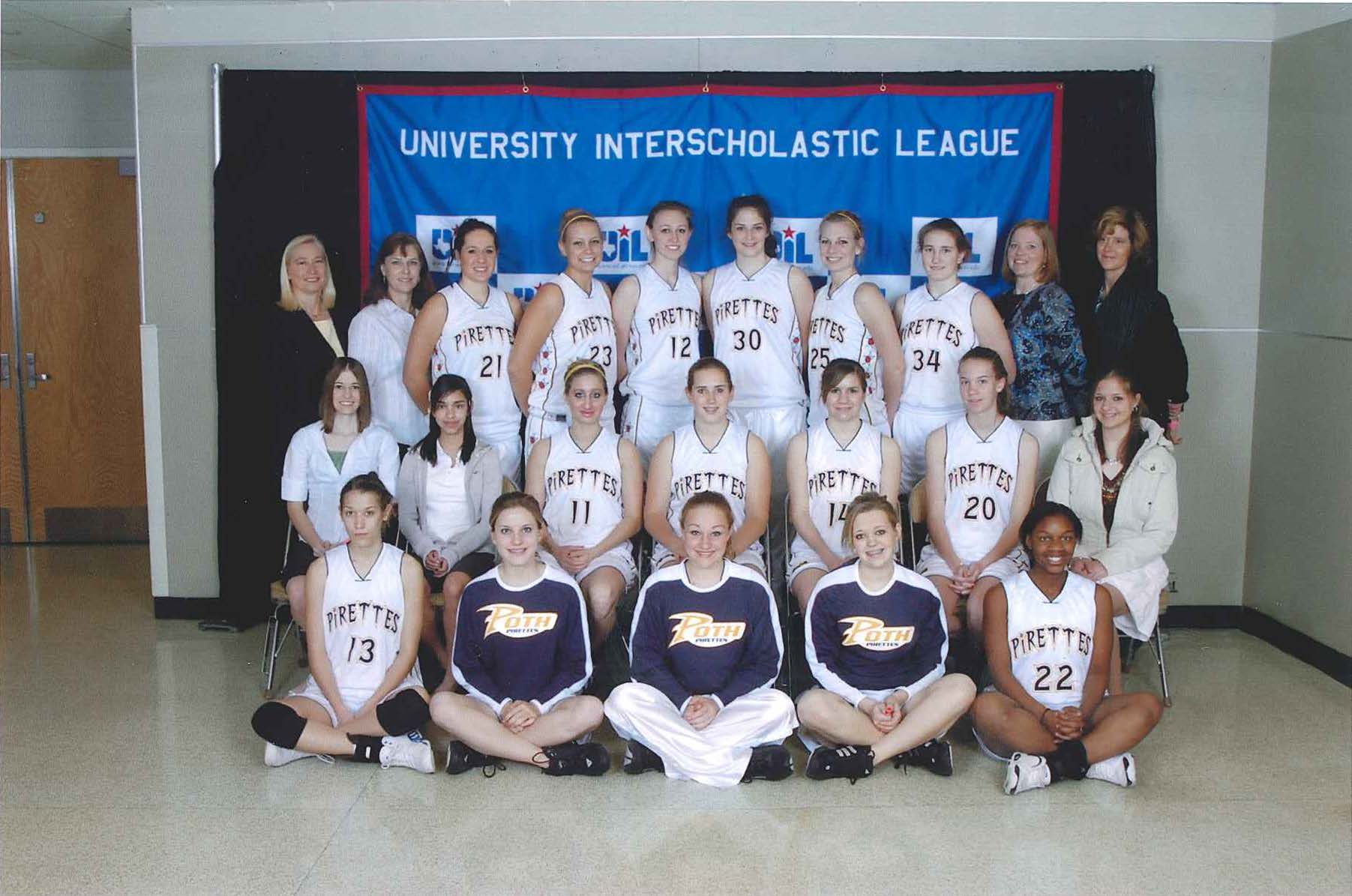 Members of the conference 2A Girls State Champions Poth basketball team include: Erica Moczygemba, Shaynna Schleffer, Kendra Labus, Magan Koenig, Samantha Wiatrek, Lauren Losoya, Kasey Harlos, Brooke Boenig, M'Lis Kilgore, Bethany Friesenhahn, Victoria Moczygemba, Peggy Hosek, Judy Scheffler, Desi Dzuik, Whitney Wehmeyer, Amanda Waclawczyk, Kelsey Titzmann, Lauren Waclawczyk, Lyndsey Dockery, Patti Zenner, Lark Harlos.
3A Champions - Canyon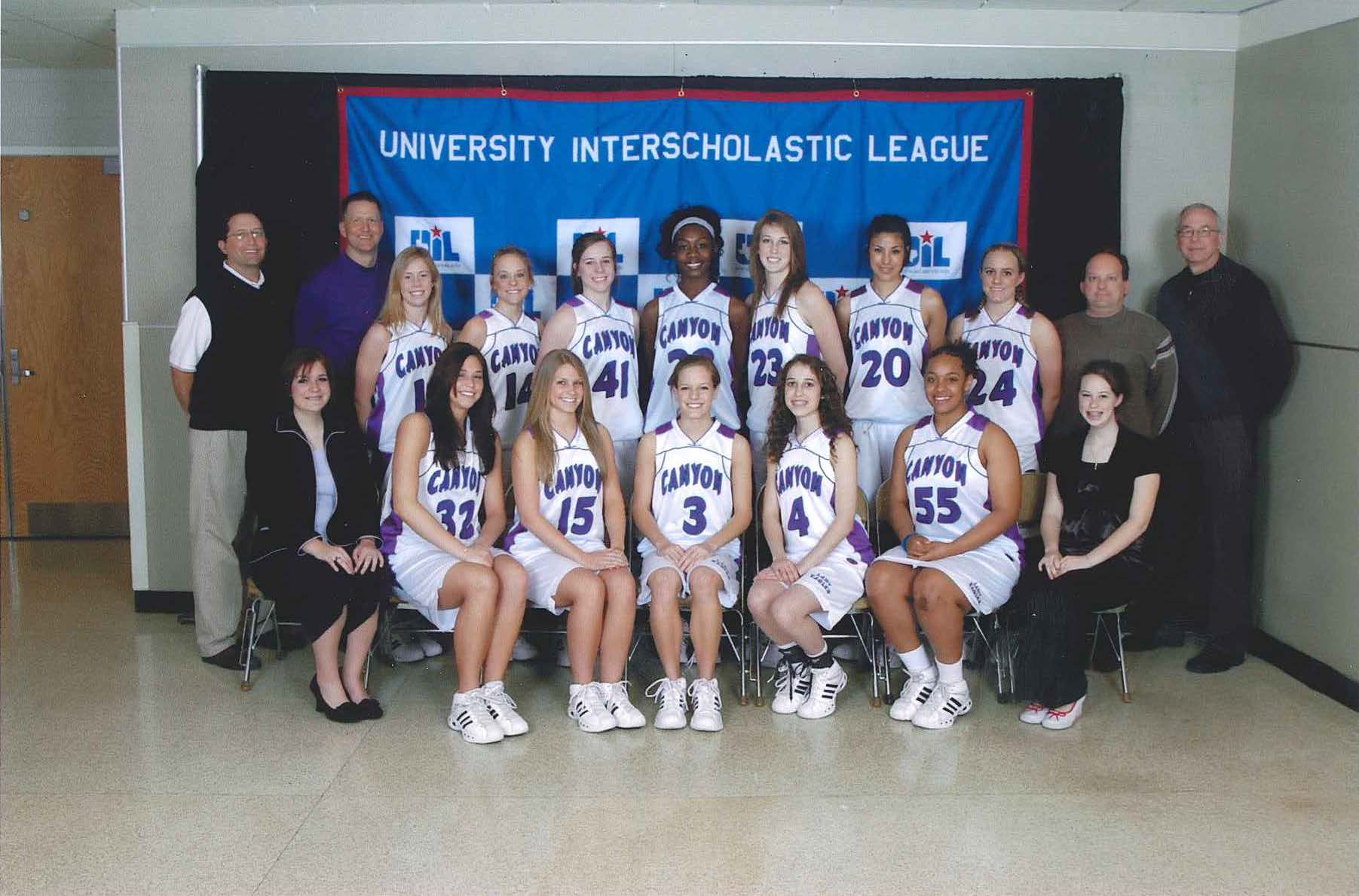 Members of the Conference 3A Girls State Champions Canyon basketball team include: Liz Hall, Lauren McClintock, Nicole Gerlach, Whitney Grimes, Brittany Hampton, Emily Wiliams, Samantha Woodward, Johnny Hampton, Todd Bowman, Stephani Rhoten, Lauren Simpson, Rainie Borchardt, Jade Tinner, Shaela Calhoun, Cherilyn McMenamy, Karah Gilbert, Bryan Linter, Joe Lomard.
4A Champions - Fort Worth Dunbar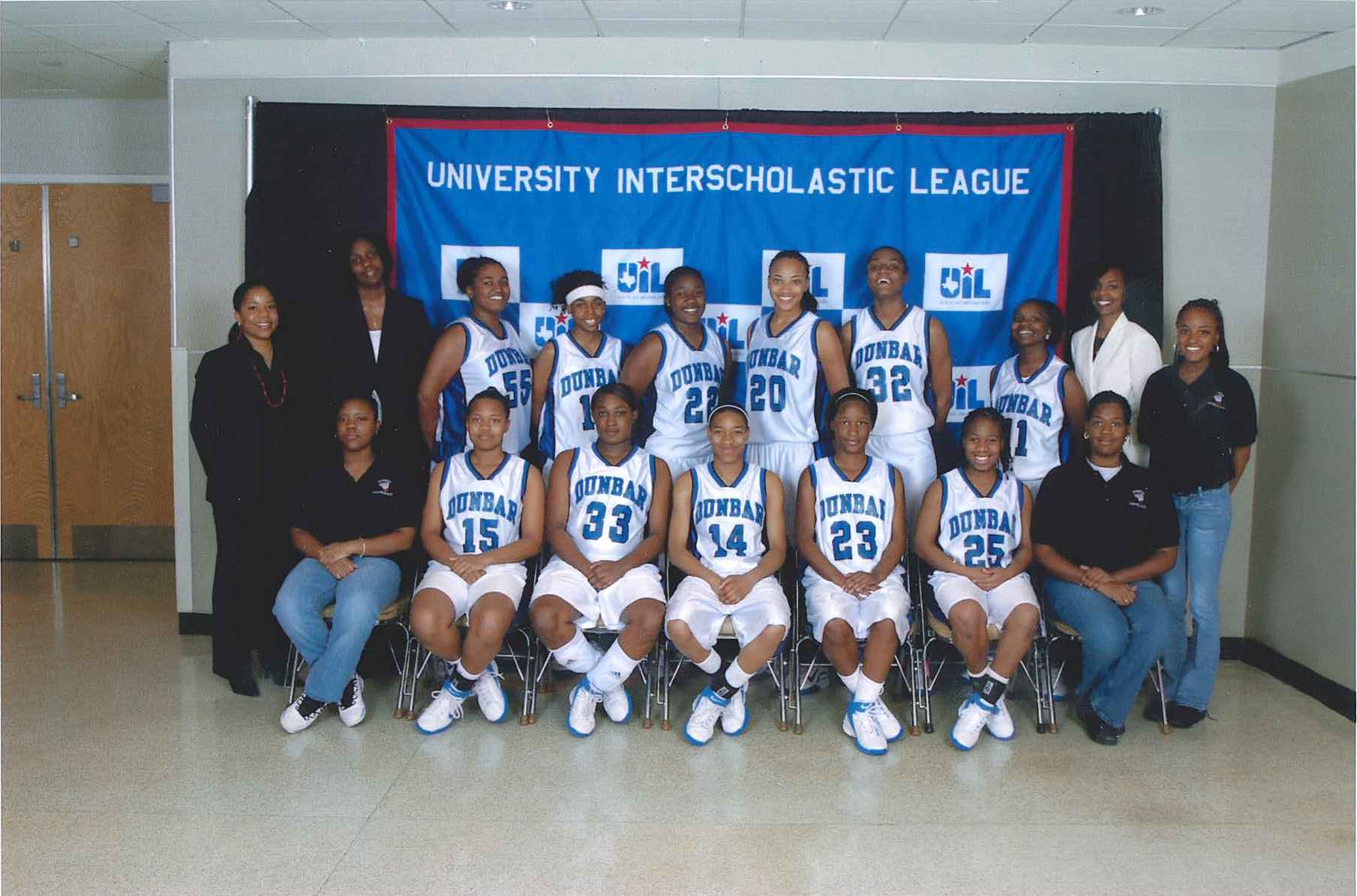 Members of the Conference 4A Girls State Champions Fort Worth Dunbar basketball team include: Latoyeia Hill, Taylor Collier, Tiesha Martin, Shaunderion White, Christian Jones, Bryana Green, Myronique Birks, Nicole Collins, Andrea Robinson, Kristien Gray, Jessica Copeland, Roni Withers, Laura Lewis, Brooklyn Pope, Lashandra Hill, Meka Gailliard, Alicia Lewis.
5A Champions - Rockwall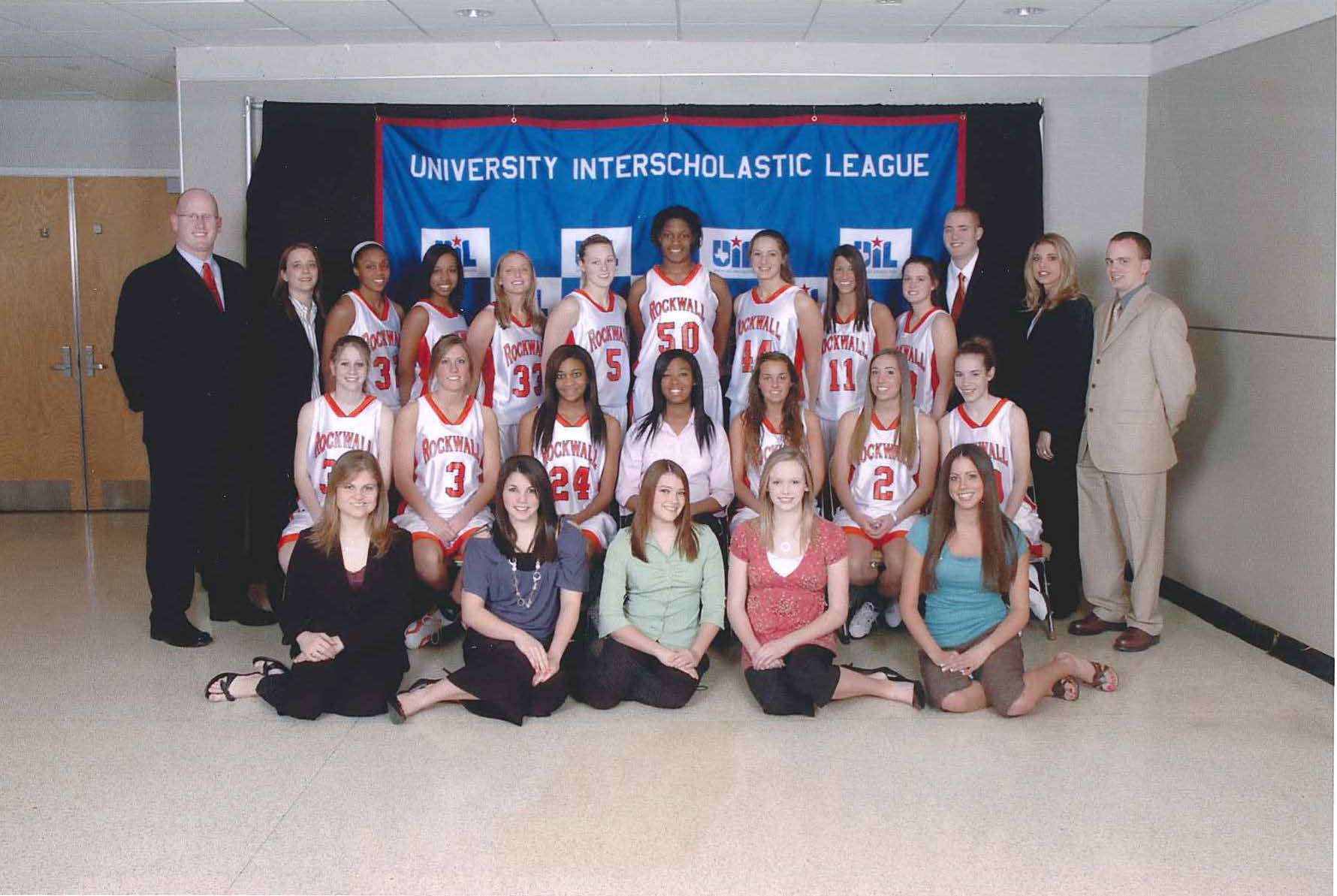 Members of the Conference 5A Girls State Champions Rockwall basketball team include: Lauren Hurt, Nicole Schueneman, Taylor Whitehead, Katherine McBee, Rebekah Jones, Kayla Kimmons, Emily McCallum, Brittany Coleman, Ashlie Strange, Sunny Satery, Shelby Adamson, Peyton Adamson, Casey Reeves, Jill McDill, Ariel Coleman, Arielle Andres, Genevieve Campbell, Haley Day, Kiara Slaton, Lindsay Wack, Samantha Shaw, Meridth Gordon, Brad Blalock, Heather Craft, Cody Christenberry.